They are only a year late, but if we are to take the Herald Sun as a guide, the mainstream media (MSM) has turned bearish on Melbourne housing.
An article entitled Sad end to a 'Super' day as home sales plummet encapsulates the change in sentiment:
VICTORIA'S only Super Saturday of the year, with about 1000 properties put to auction, has failed to rally homebuyers as sales plummeted to the lowest clearance rate in eight years…

About 1000 properties were scheduled to go under the hammer, with the Real Estate Institute of Victoria reporting an initial clearance rate of 53 per cent from 885 auctions lodged with it by late yesterday afternoon.

The number is set to drop further during the week as the REIV chases down missing results.

The washout comes as new data shows the number of properties for sale in Melbourne has slumped to a 15-year low, according to figures from property research firm RP Data.

Some 72,666 property sales were recorded in Melbourne in the past financial year, 23.1 per cent fewer than the previous 12-month period and the lowest sales volume since 1995-1996.

Across the state, 98,888 sales were recorded in the 2010-2011 financial year, 21.2 per cent fewer than the previous year and the lowest since 1996-1997…
I am sure Melbourne's real estate agents are getting very nervous. Given they rely on transaction volumes to make ends meet, the drop in sales is likely to hurt many: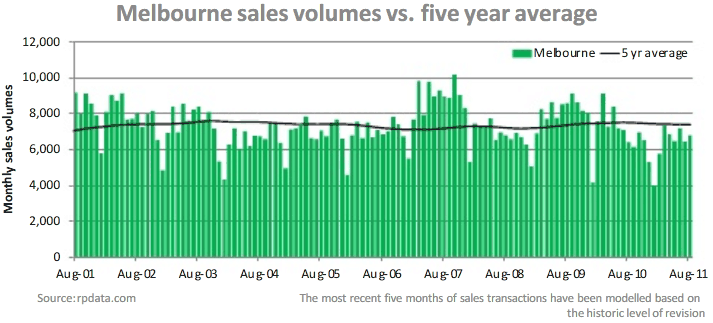 Spare a thought too for the Victorian Government, which has wrongly budgeted for steadily increasing stamp duty receipts over the forward estimates. Expect big revenue downgrades in the lead-up to next year's state budget.
The article also highlights the explosion of listings in Melbourne which, when combined with the current housing construction boom, is likely to weigh on prices for a long time:
The time it takes to wrap up a sale has also blown out, with houses averaging 52 days to sell compared with 38 days a year earlier.

Flats, on average, are taking 45 days to sell, up from 37 days a year earlier.

Stock levels in Melbourne remain at record highs, with 49,613 properties for sale at the end of last month, up by about 42 per cent on the same time last year, according to figures from property research firm SQM Research.

Listings have risen every month in Melbourne since April last year.

"The tide hasn't turned," SQM Research director Louis Christopher said. "The worst is still in front of us. There is a huge overhang of stock for the market to work through and it is going to get worse before it gets better."
In case you haven't seen it, below is the chart showing the explosion of listings: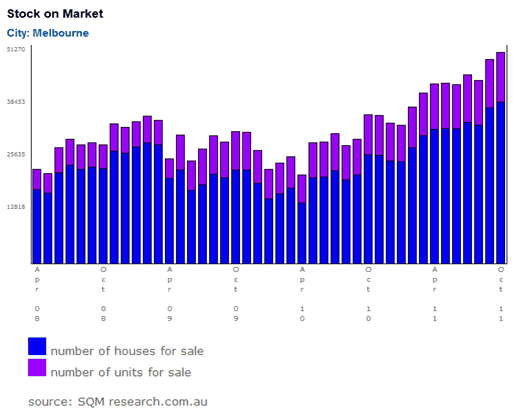 Finally, the article shows how sentiment has changed amongst buyers. Gone are the days where investors and first time buyers would rush to enter the market to avoid 'missing out'. Most buyers now expect Melbourne home prices to stagnate or fall, and are happy to take a 'wait and see' approach:
Footscray couple Andrew and Sherley Nash were typical of auction-goers – looking, but in no rush to raise their hand.

"We're just going around and getting an idea of prices," Mr Nash, 32, said.

"If the right thing comes along, we can jump on it, but we are in no rush. Prices are steady, so we have time."
I am interested to hear from readers in the Melbourne area. In particular, have you noticed any discernible weakening in prices/activity over the past few months? While the aggregate data is useful, nothing beats eyes on the ground.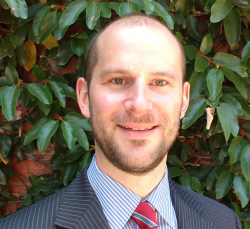 Latest posts by Leith van Onselen
(see all)