The European sideshow soap opera continued overnight with the two main focal points, Greece and Italy, doing their best to provide some quality entertainment. Greece now seems to be reaching some form a political stability with Papandreou out of the picture and a new unity government forming even though at this point it isn't too clear who they will be standing behind:
A former deputy head of the European Central Bank emerged on Monday as frontrunner to become Greek prime minister, as party leaders bargained over who will lead a "100 day coalition" to push through a bailout before the nation runs out of money.

Under EU pressure, an unaccustomed spirit of compromise seeped into Greek politics as the top parties haggled over the jobs in a government which will run Greece only until early elections in February.

A source at the opposition conservatives said nothing had been agreed yet with the ruling socialists on who should lead the government of national unity, and refused to comment on speculation that former ECB vice president Lucas Papademos would get the job.

However, the opposition source told Reuters that his New Democracy party accepted that socialist Finance Minister Evangelos Venizelos could stay in his job at a time of national crisis.
It really doesn't matter who is running the country. The underlying economy is completely broken and until the issue of competitiveness in the Euro is addressed and the existing debt written off to a far more sustainable level there is nothing any Greek politician can do about it. It is yet to be seen whether a parliament made up of various parties can work together, but even if they can their mandate is to continue to enact policy that is killing the economy. The markets may see this as some sort of resolution but in my opinion it changes very little. The following charts demonstrate that Greece continues to in-debt itself to the rest of the world while austerity strangles employment and production: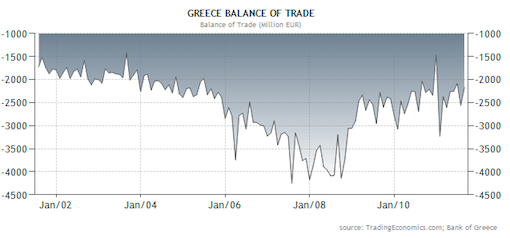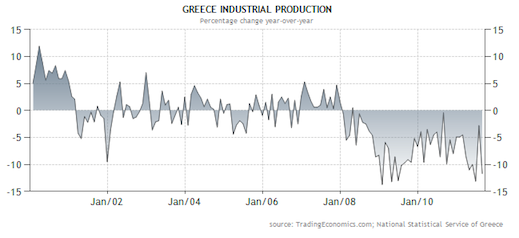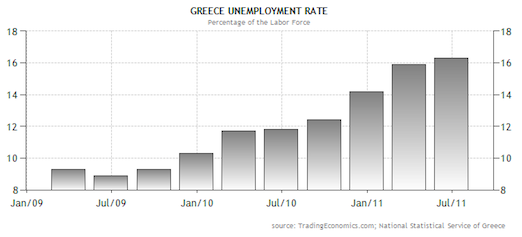 On a positive note, at least in the short term, Greece seems to have returned to some sort of political stability and is therefore likely to continue to receive external funding. The same obviously can't be said for Italy:
With Silvio Berlusconi's fate resting on a group of party rebels threatening to pull the rug from under his government next week, the Italian prime minister is using carrot and stick to try to win over the doubters and pull off yet another parliamentary escape.

Estimates vary widely over how many center-right deputies will jump ship in a crunch vote on public finance in the Chamber of Deputies on Tuesday. Berlusconi's message to potential "traitors" is clear: you have nowhere else to go and you will be rewarded if you stay.

The 75-year-old media tycoon has defied all calls to step down and is adamant that he can battle on.

"We have checked in the last few hours and the numbers are certain, we still have a majority," he told party followers on Sunday.
Berlusconi will be able to test that majority on Tuesday when the parliament meets for a vote on the budget. With Italian 10-year bond yields at a 4-year highs of over 6.6% and only staying there, ECB operations in the country appear to be running out of time. The markets obviously perceive Berlusconi as a problem because last night, when there was a rumour that he was resigning, the European markets rose sharply. To add to the politicking Berlusconi was quoted as saying overnight that the IMF inspections of Italy were voluntary and he could stop them whenever he decides to. Obviously this sideshow has longer to run.
Overnight France announced its new austerity budget in an attempt to hold on to its AAA rating with saving of  65 billion euros over 4 years. The main details are as follows:
VAT: France has a discounted sales tax of 5.5% on a range of services and products including water, cattle food, and books. The government plans to raise the discounted VAT rate to 7% from January 2012. Prime Minister Fillon said some "essential products" would be spared the tax hike.

Retirement: The French government will speed up its flagship pension reform and raise the minimum retirement age to 62 in 2017, one year ahead of schedule. That measure should save some €4.4 billion between 2012 and 2016, according to French Prime Minister Francois Fillon.

Tax: Fillon wants to save an additional €2.6 billion by cracking down on tax loopholes and various tax relief schemes, known as "niches fiscales" in France. For instance, the government plans to scrap the popular Scellier scheme, which allowed investors in buy-to-let housing to offset part of the acquisition cost against income tax.

Social security cuts: The famed French social security scheme won't be spared by the latest austerity measures as Francois Fillon announced €700 million cuts in health spending from 2012. The government has decided to index housing and family benefits on the country's anemic growth rate instead of the projected inflation rate of 2.2% in 2012.

Corporation Tax: The corporate tax rate will be raised by 5% on companies with annual turnover of more than €250 million in what Francois Fillon described as a "temporary" contribution to be imposed on big corporations.

Last but not least: Francois Fillon announced a freeze on salaries paid to French President Nicolas Sarkozy, as well as to all government ministers. However, it is not clear whether that will be enough to make French voters forget that one of Sarkozy's first moves when he was voted into office was to grant himself a 150% pay rise.
With all this austerity occurring across Europe it shouldn't be too much of a surprise that the underlying economy continues to struggle. We have already seen this in the PMI, but other data is also starting to show the same trend:
Euro-zone retail sales fell sharply in September and German factory output slumped, raising the likelihood of recession as consumers, businesses and governments retrench at the same time.

Retail sales in the 17-nation currency bloc fell 0.7% in September from August and were down 1.5% on the year, statistics agency Eurostat said Monday. It was the first fall since May.

….

Germany's economy ministry reported separately that industrial production in that country, the euro zone's manufacturing center, fell an adjusted 2.7% in September from August. Production will weaken further in the coming months as fewer orders come in, it said.
The predictions of other future data don't seem much better either:
European Central Bank Executive Board member Juergen Stark said the euro-area economy may not grow at all in the final three months of the year.

"Possibly we will see, and I say this with all caution, a red zero in the fourth quarter," Stark said in a speech in Frankfurt today. Growth will be "very weak" going into 2012 and "there are consequences for price and wage developments," he said.
As I recall, one the primary mechanisms by which recession can be turned around is fiscal stimulus. Everything looks set to worsen for the Eurozone.