Overnight Angela Merkel addressed her party congress calling for an overhaul of the European Union:
German Chancellor Angela Merkel called for an overhaul of the European Union, advocating closer political ties and tighter budget rules, in her most explicit prescription for ending the debt crisis.

Speaking to her Christian Democratic Union party's annual congress in the eastern German city of Leipzig today, Merkel said leaders must create a "new Europe" by deepening ties in the 27-nation EU. At the same time, she repeated Germany's rejection of jointly sold euro bonds.

"The task of our generation now is to complete the economic and currency union in Europe and, step by step, create a political union," Merkel said. "It's time for a breakthrough to a new Europe."
CDU delegates also voted and approved a motion to permit euro nations to exit the currency without exclusion from the European Union, however they they rejected an amendment to change the voting rights at the European Central Bank so that it is corresponded to the size of each nations economies.
This was obviously a political message aimed at her own country, European nations and the markets, but it does seem to support the rumours that Europe is heading for an overhaul with the introduction of a two-speed Europe that would involve establishing a more integrated and potentially smaller euro-zone.  Obviously it is still early days but it is hard to deny, at least in my mind, that the evidence is mounting that this is the new goal. The introduction of an "opt-out" clause for the euro is a huge step in that direction and appears to fit well with recent comments made by Sarkozy. What does it mean in a practical sense? Who knows ? But it is obviously a gigantic shift for Europe and I am not sure the markets are prepared for what it could entail. Obviously I will be watching.
In the meantime, Europe in its current form continues to flounder:
Portugal's gross domestic product fell 0.4 per cent in the third quarter from the second, data showed today, as the country's recession deepened under the weight of sweeping austerity.

The National Statistics Institute's (INE) flash GDP estimate showed a decline of 1.7 per cent year-on-year, with consumption and investment slumping.

In the second quarter, GDP posted a revised decline of 0.1 percent from the previous quarter and slumped 1.0 per cent year-on-year. The initial readings were zero and 0.9 per cent, respectively.

Portugal slid into recession in the first quarter of this year after growing 1.4 per cent for the whole of 2010.
In Italy, Prime Minister-designate Mario Monti began talks to create a new government of non-political experts as a letter has appeared outlining Italy's plans for austerity including plans to cut 300,000 public-sector jobs by 2014, raise the pension age and cap the amount of debt local governments can carry. There have also been a number of reports circling stating that the ECB held back on bond purchases last week in order to apply pressure to Berlusconi to leave office. The ECB seems to have been back on board last night with Italy managing to sell  €3 billion of five-year bonds at an average yield of 6.29%. Not a good outcome by any stretch and equities sold off on the result, but it was better than a failed auction which is incidentally what Slovakia managed. To top Italy's bad run UniCredit, the country's largest retail bank, reported a massive €10.6 billion third quarter loss.
In Greece the path out of the economic mess is as murky as ever. The fact that it took 4 days to select a new government probably should have been a warning that political agreement would be fleeting. Overnight it looks as though the politicking over the bailout has begun once again:
…. the leader of Greece's main conservative group Antonis Samaras said on Monday his New Democracy party would not vote for any new austerity measures and said the mix of policies demanded by international lenders should be changed.

"We will not vote for any new measures," Samaras told a meeting of his own MPs.

He added that he would not sign any letter pledging a commitment to austerity measures, as has been demanded by EU Economic and Monetary Affairs Commissioner Olli Rehn, and that a verbal pledge should be sufficient.

Rehn has said the EU and IMF will not release the tranche without written assurances from all Greek parties that they will back the measures.
Another story to watch closely.
Finally, Eurostat released European industrial production figures last night and the headline number weren't too good:
European industrial production declined the most in 2 1/2 years in September, led by capital and consumer goods, as the sovereign-debt crisis pushed the economy toward a recession.

Production in the 17-nation euro area dropped 2 percent from August, when it rose 1.4 percent, the European Union's statistics office in Luxembourg said today. Economists had forecast a drop of 2.3 percent, according to the median of 35 estimates in a Bloomberg News survey. From a year earlier, September production increased 2.2 percent.
Although the YoY figure still shows growth the chart appears to show that production growth has stalled and is heading for a roll-over: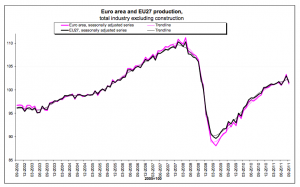 Big changes coming to Europe ? Maybe….. but not before a crappy economic winter.