I follow the key Roy Morgan economic data sets as a useful counterpoint to ABS data. The Roy Morgan database is very large and their data generally raw so it can be useful in pinpoint turning points.
In that vein, RM yesterday released consumer confidence and unemployment numbers for October, which show a much stronger divergence than we've seen in the Westpac and ABS numbers. First up, unemployment: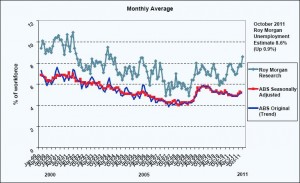 As you can see, the Roy Morgan data is more volatile (it is not seasonally adjusted) than the ABS Labour Force survey but is a useful analog in trend terms. There's not much mistaking it's current direction. Indeed, the index has broken out of a range that effectively bound it since early 2007:
In October Australia's total unemployment as measured by Roy Morgan was 1,026,000 (8.6%), up 107,000 (0.9%) from September 2011 and up 266,000 (up 2.2%) since October 2010 – Australia's highest unemployment rate since March 2004 (8.8%). It is also the highest number of unemployed Australians for nearly a decade – since January 2002 (1,075,000).
I had a chat to Michelle Levine, CEO at RM, and she had an interesting take on the recent jump, putting it down to two main factors. The first is a slowing of flood reconstruction activity in Northern NSW and Southern QLD. Both areas showed a sharp rise in unemployment in the recent survey, especially amongst men. The second reason is that school leavers, who might usually see this period as a bit of time off, are instead looking to find work as soon as possible, driven by the uncertainty of the times.
Yet, contradicting the rise is the second survey: consumer confidence: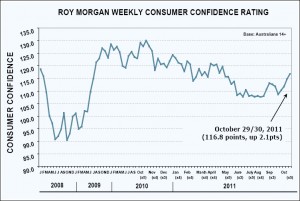 As, you can there is also a clear breakout with a pretty decent trend:
Consumer Confidence rose to 116.8pts, (up 2.1pts in a week – its highest since May 7/8, 2011) according to the Roy Morgan Consumer Confidence Rating conducted last weekend (October 29/30, 2011). Consumer Confidence is now 11pts lower than a year ago, October 30/31, 2010 (127.8).

This week's rise in Consumer Confidence has been driven by increasing confidence amongst Australians about Economic conditions in Australia over the next year and also in buying major household items.

About Australia's economy over the next twelve months, 36% (up 4%) expect Australia will have 'good times' financially during the next twelve months (the highest since May 28/29, 2011) compared to 28% (down 5%) that say we'll have 'bad times' (the lowest since May 21/22, 2011).

An increasing majority of Australians 58% (up 3%) say 'now is a good time to buy' major household items compared to 18% (down 1%) that say now is a 'bad time to buy'.

Now 31% (unchanged) of Australians say their family is 'better off' financially than a year ago compared to 31% (up 1%) that say their family is 'worse off' financially than a year ago.
According to Levine, the research is showing three reasons for the jump (which is more consistent than the Westpac survey). First and foremost, recent discussion and delivery of rate cuts. Secondly, and paradoxically, recent global strife has reinforced a sense that Australia is an island of stability and prosperity. Third, there is a large a growing divergence in confidence between Labor supporters and LNP supporters. Confidence is rising for both but the recent successful passing of the carbon tax bill and diminishing of divisive debate has Labor voters feeling chipper.
My own take is that we like troubled times because they deliver rate cuts and ease up the mortgage. In short, our indebtedness has led to a rather perverse outlook.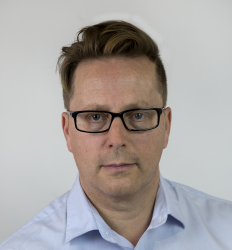 Latest posts by David Llewellyn-Smith
(see all)