As H&H  mentioned,  the ABS updated housing finance data yesterday. The dataset that was updated is the ABS 5609 which contains the breakdown of housing finance for owner occupiers. In order to get the full picture, including the breakdown of investor financing, we need to wait for the ABS 5671 dataset, but it will not be updated until the 14th.
In the meantime I thought I would provide some charts comparing owner occupier housing finance for existing houses, in both volume and dollar terms, to AFG's mortgage volume figures as this seems to be a good indicator of where the market is heading in the short term. Obviously these figures are before any effects, if any, from the latest rate cut.
Firstly on a national basis the trend looks flat with a falling bias next month: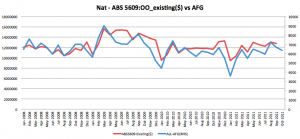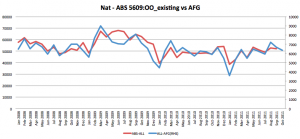 NSW is looking a bit more like growth, but again with a slight falling bias next month: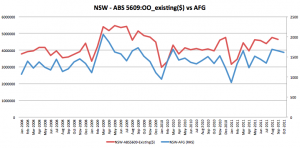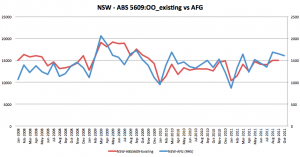 Victoria is looking flat, which again is a big concern given the supply side: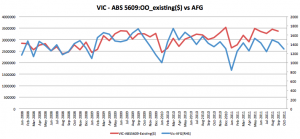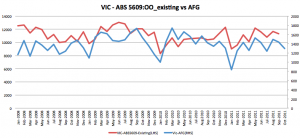 WA looks to be attempting some growth, but next month doesn't look like it is going to help: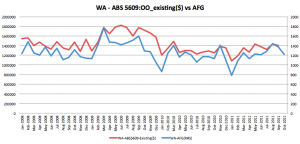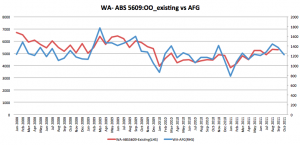 And finally QLD remains in the doldrums: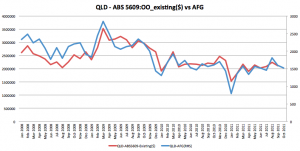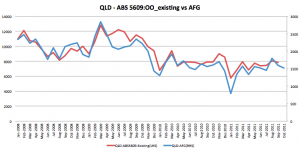 So overall there doesn't seem to be much of a pickup from the owner occupiers for the purchase of existing houses. The real area of growth in the headline figures is refinancing from both New South Wales and Victoria.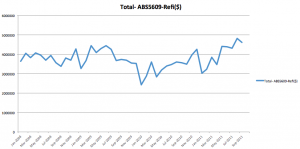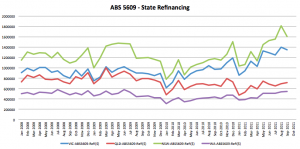 On those figures I would predict the slow melt continues.