The S&P/ASX 200 Index closed 55 points or 1.3% lower to 4298 points after popping above positive territory at lunch. In after hours trading, the index is down another 15 points, with Euro and US markets pointing to similar losses.
Asian markets experienced similar losses, with Japan's Nikkei 225 down 0.16% at 9036 points, the Hang Seng losing 1% to 19791. The Shanghai Composite is also slipping at currently down 0.49% to 2613 points.
In other risk assets, the AUD was sold off heavily, breaking below 1.06, currently at 105.31 cents USD coming into the interest rates decision by the RBA tomorrow, whilst WTI crude slipped 1%, now at $92.50 USD a barrel.
Gold lost almost 2% during the Asian session and is currently at $1715 USD an ounce or $1627 AUD an ounce.
Movers and Shakers
A red board on the ASX today, with all sectors down, materials the worst losing 2.1% and utilities/IT fearing the best, slipping slightly.
The banks all finished in negative territory, with ANZ losing 1.8%, Commonwealth (CBA) 1.4%, National Australia Bank (NAB) a little over 1% and Westpac (WBC) down 1.6%.
Macquarie (MQG) faired better, only losing 1%, whilst healthcare standouts Cochlear (COH) slipped 0.4%, its "twin" CSL fell 0.8%. Telstra (TLS) also took a hit, down 0.3%
BHP Billiton (BHP) was a big contributor to falls today, down some 2.3% whilst Rio Tinto (RIO) only lost 1.4%, gold miner Newcrest Mining (NCM) lost 2% as gold fell during the Asian session, even though the fall in AUD/USD offset some of this.
Fortescue (FMG) finished down 3% and Woodside Petroleum (WPL) was the lucky "House and Hole" stock to finish up for the day – over 1.5%
Woolworths (WOW) was steady, but shaky at its multi-year low. Maybe an interest rate cut will have the punters deciding to add that deck or do some landscaping?
The Charts
No philosophical wand waving today, let's get into it:
Last week I explained that the conclusion of the downtrend from the April high to the October low either means we are seeing the start of a new bull market, or the continuation of a bear market rally, or perhaps a bull trap.
Today's action on the ASX and indeed overseas markets could rightly be construed as a "dip" and that the bulls would urge you to buy this dip, as they successfully advised all to do so during the QE2 crack up rally in August last year.
Apart from the myriad macro and fundamental problems behind this advice, the technicals are not yet confirmed. The daily chart below shows the ASX200 has now dropped below the 4300 resistance line, and is heading for the small uptrend line (marked in green). A breach of this line will see support at 4100 points tested next.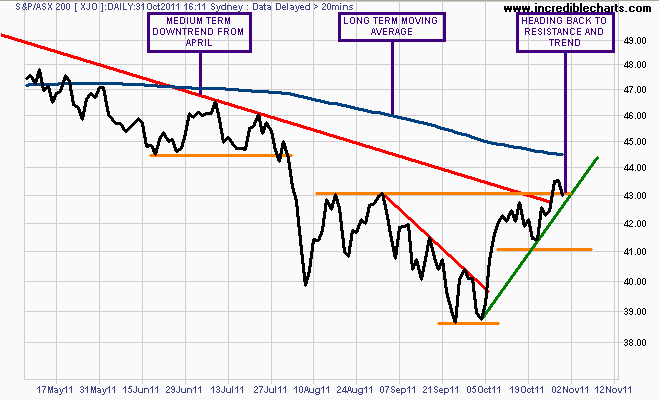 The "snare" of the bull trap is more easily seen on the weekly chart as the current price is barely above the downtrend and some distance away from the congestion area that would confirm a sustained rally: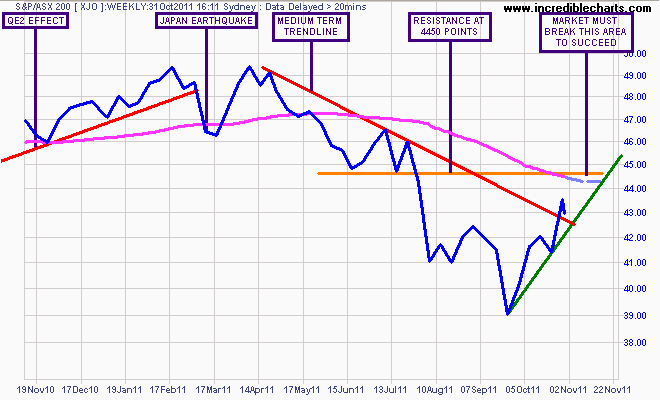 The current short term trend is still intact, and indeed savvy and risk taking investors would make excellent returns adding to their longs from there, but the market has still not broken through to the upside congestion area above 4450 points on a weekly basis which increases the risk of another downturn.
Hedged (i.e those who want to protect their portfolio vs hoping for protection) medium to longer term "long" equity investors should still be "NOT LONG" in this environment.
Watch my "Chart of the Day" posts for continued analysis of US, Euro and Asian markets which will lead the way.