The S&P/ASX 200 Index closed up 143 points or 3.5% today to 4069 points following gains on risk markets around the world. In after hours trading, the index is off slightly, with Euro and US markets also pointing to strong opens.
Asian markets experienced similar moves, with Japan's Nikkei 225 trading up 1.4% at 8500 points, whilst the Hang Seng rose over 4% to 16951 points.
In other risk assets, the AUD is currently trading at 96.48 cents USD, whilst WTI crude steadied after rallying overnight, and is at $79.60 USD a barrel.
Gold had a relatively quiet day in the Asian session, currently at $1647 USD an ounce or $1707 AUD an ounce.
Movers and Shakers
A bright shiny green board on the ASX, with all sectors up the biggest winners financials (nearly 4%), energy and materials.
All of the banks were up strongly, with ANZ up 4.5%, Commonwealth (CBA) up 4.3%, NAB up 5% and WBC up 4.6%. Macquarie (MQG) was bid up strongly rising 6.9% for the day.
Cochlear (COH) zoomed ahead 5.88% to close above $49, whilst CSL also put on 3.2%.
BHP Billiton (BHP) had a good day – up 3.3% and Rio Tinto (RIO) was up nearly 5%, whilst Newcrest Mining (NCM) went up 3.5% and Fortescue (FMG) up nearly 7%
Paladin (PDN) was the biggest winner on the ASX200 today up 16%, amongst a slew of mining/materials/energy stocks. Only 8 losers out of 200 stocks today – the biggest loser was Sundance (SDL) down 3.2%.
The Charts
So, what to make of all this? Are we seeing just more volatility or the start of something new?
Let's start with some clarity – this is at least, a cyclical bear market where prices have fallen 20% and moreover, all price action subsequent to the 2008 Crash REQUIRED the use of monetary and fiscal stimulus for continuation.
Bear markets always have rallies, anywhere between 10 and 20%. This is perfectly normal and to be expected. Be wary that the secular bears use these opportunities to create longer term shorting opportunities.
Let's continue with a story of where we've been. At the start of the week the market opened just below its short term downtrend (red line), and closed below 3900 points. Tuesday brought about some indecision, but generally, the bears licked their paws with glee as the market intraday broke across support at 3850, but then weakly closed just above.
Yesterday's action was a small bounce off that support at 3850 points, as seen in yesterdays chart below:

As I said:
the short term downtrend from the late August retreat from the 4300 resistance level is still intact. This pattern could morph into a small base in the coming days, or continue the meltdown to the 3700-3800 target level.
The small base thesis revolves around the concept of a double bottom, with strong support at 3850 points. The top of this base is approx. 4100 points, an area of congestion fought by bulls and bears throughout August.
That leads us to today. As a position trader, I am wary of putting substantial weight on a single day's action. However, markets can turn on these single days (or appear to in hindsight – a selling strategy for trading system spruikers).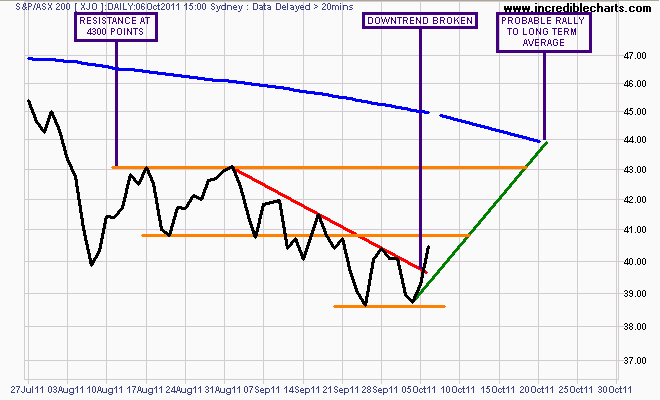 But there is some clear evidence of a short to medium turn bear market rally underway. Today's action broke the short term downtrend (red line), as seen in the chart above. The gains were broad, across all sectors and sustained for the whole day. Candlestick traders would call today's action a bullish engulfing pattern – a powerful reversal pattern indeed.
So what to look for in the coming days and weeks?
First, the ASX200 follows Europe and US so watch for their leads. Next, the local market needs a weekly price close (a daily peek above is not enough) above the medium term moving average at the congestion area at 4100 points.
Further support of the rally will come when very strong resistance at 4300 points is breached and therefore the road is clear to the long term moving average at around 4400-4500 points.
The risks? A failure to breach the 4100 point level is obvious. If the rally is maintained above this level, the risk rises as it approaches its long term moving average. There is also the likelihood of price action maintaining a trading range for several weeks (or months like the sideways market of June to September last year). Very bad news from Europe (or the US) during periods of consolidation increases the risk of capitulation and a return to the bear market downtrend.