The Australian's China correspondent, Michael Sainsbury reckons you should worry about Europe, not China:
To read some of the headlines this week about Australia's biggest export, iron ore, one might have thought the sky was falling.

One might have concluded the iron ore worm had suddenly turned, that by far our biggest market, China, had suddenly got what three years of wailing did not manage to achieve: pricing power for its steel mills.

The trigger for all this angst was the news that Brazil's Vale had sold quantities of iron ore into the Chinese market at prices lower than the latest quarterly contracts and even a touch lower than current, still falling, spot prices.

But the truth is, after hitting a record high earlier this year largely because of the Chinese government's two-year 4 trillion yuan ($613bn) stimulus package that sloshed buckets of money into the economy, things are starting to settle down.

Rather than "caving in" to China, as some have put it rather hysterically, Vale has been using its own pricing mechanisms to take advantage of market prices and — surprise, surprise — improve its market share.
Sorry to say, Michael, but for the time being at least, the sky is falling on iron ore.
That Sainsbury failed to foresee the current rout in the iron ore market is forgivable. Iron ore has made a goose out of me several times too. But, let's not add obfuscation to error. The worry right now is most definitely the ore price.
Here are your iron ore charts for this morning. The sell off for Shanghai rebar continued Friday, down 0.7%: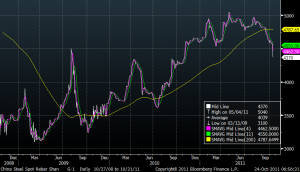 That looks a like a very big head and shoulders top to me, with plenty of room to fall.
There was no good news in the ore price either, down another 2% plus to $142.60: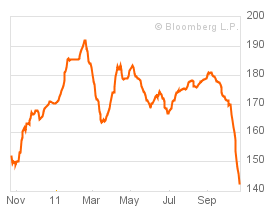 Looks like we're going to plough straight through Westpac's forecast low for next year, this week. We're now down some 22%, which, if sustained, will punch a 7-8% hole in our terms of trade.
Some better news in the swaps market with a stable price on Friday: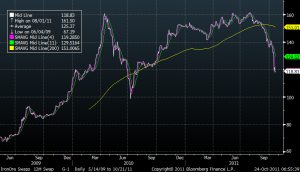 But the damage is done. The plunge is beginning to rival the GFC crash. It's interesting to note that the iron ore price lagged the swaps price by about $17 in the 2008 dump so if swaps were to stabilise and bounce from current levels, we would not have that much further to fall in the real price.
The latest coal prices I have (which are delayed) showed a better result with some stabilisation for coking coal: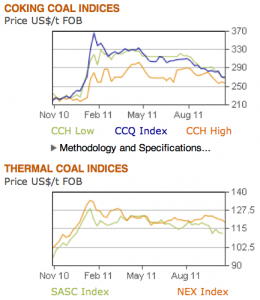 Probably down 5% or so on the quarter. My guesstimate is that on today's prices, we'll shortly be confronting a 9-10% hole in the terms of trade.