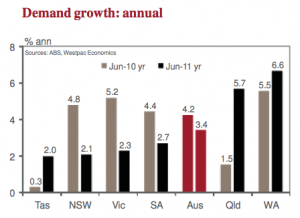 Find below Westpac's "Coast to coast" document for September. It's a useful note that splits much of the national data, state by state. Here's Bill Evans overall prediction:
On 15 July we downgraded our growth forecasts for the world economy and Australia. Recent developments, globally and domestically, have reinforced our expectations that activity will be weaker than suggested by the consensus view. We are forecasting Australian GDP growth to average 1.2% for 2011, upgraded fractionally from 1.0% following the release of the June quarter national accounts, and we have left our growth forecast for 2012 unchanged at 2.5%. The RBA view stands in contrast to ours, with the Bank in their 5 August quarterly Statement on Monetary Policy forecasting growth of 2% for this year and 4½% for 2012.

We also changed our interest rate forecast to expect a total of 100bps in rate cuts over the course of the 12 months beginning in December 2011. At the time all other forecasters in the official Bloomberg Survey were forecasting rate hikes with a range of 5.0-6.5% in the RBA cash rate by September 2012 compared to our forecast of 3.75%. Over time markets and some forecasters have moved in our direction. However our views remain a considerable distance from Consensus and, more importantly, the views of the Reserve Bank.
What Bill does not mention here is that his 100 basis point cut also assumed a messy outcome from the European crisis. Despite the stock market concern for Europe, I don't think we've had any outcome at all to date. So there is something of a contradiction emerging in Bill's forecast. If there's a European accident, involving soveraign defaults of some kind, it is very unlikely that Australia will enjoy 2.5% growth in 2012 and rate cuts will be deeper than 100 basis points. Or, there won't be a European default, but ongoing ructions over the bailouts will keep Australian growth subdued at around 2.5%. But, in that event, there won't, in my view, be such deep cuts in rates.
The most unlikely scenario of all is the RBA's 4.5%. That's must be for some other Australia.
WestpacCoasttoCoastSeptember2011[1]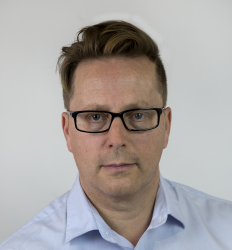 Latest posts by Houses and Holes
(see all)