I've spent some time pointing out the flaws in the Australian Industry Group (AIG) approach to defending its manufacturing membership against the annihilation that Canberra's economic boffins have planned for it. To me it is plainly obvious that to save manufacturing, the AIG must go way beyond its efforts to date. Those efforts have largely consisted of reasoned debate, spearheaded by the always rational and impressive Heather Ridout asking for small favours in nipping this tax or tucking that regulation.
This approach is entirely admirable and, in a sane world, a world where reason swayed policy, would no doubt be highly effective.
But that is not the world we inhabit. The world we inhabit is insane. It is driven by wildcat financial markets that blow historic asset market bubbles with the ease of a child in the park. Commodities are only the latest. We inhabit a world where the power that accrues to the winners of these bubbles enables them  to further their own ends. We inhabit a world where policy is the servant of these vested powers, not the umpire or even the setter of the rules of the game.
In such a world, as the AIG has illustrated all of this year, the reasoned approach to influencing policy is totally ineffectual.
I believe in a sane world and an objective policy approach. But I believe more in the preservation of a manufacturing base for Australia. Heather Ridout does not and so she must resign.
I do not make this call lightly. I have never made such a call before. And I do not blame Heather Ridout at all for this failure. She is simply the wrong person in the wrong place at the wrong time.
The AIG has just missed an extraordinary opportunity. The Tax Summit has passed and as predicted was a complete flop. Yet, it was a tailor made platform to hijack in the cause of shifting the tax system in favour of Australia's tradable goods sectors.
Months ago, the AIG should have allied itself with a tourism and education. It should have commissioned a series of economic reports from Australia's economic 'guns for hire' outlining the dire consequences of mining's domination of Australian exports. It should have drafted senior business figures and the unions into a coordinated assault upon on mining vested interests and the government. It should have engineered a total moral panic about a nation destroying "manufacturing crisis".
The Tax Summit could have been stolen and turned into the "last chance to save manufacturing summit". It could have been a moment where the government was forced to confront a national emergency with the obvious corollary that inaction would cost it votes. That is how to change policy in our insane world.
None of this happened because the AIG stuck to its losing script. Witness this debate from ABC's 7.30 (h/t Mav) in which Ridout spends all of her time attacking Paul Howes, her natural ally in the struggle for a mining tax and associated relief for manufacturing. You have to ask yourself, why is Ridout prioritising a tired class conflict over the mining tax reform she championed as a member of the failed Henry Review?
But, you don't need to believe or agree with me. The AIG's own research damns its boss. Here is last month's PMI: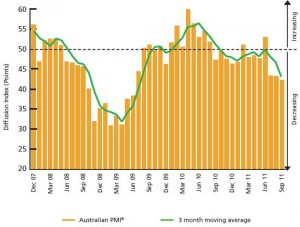 That's a ceaseless twelve month recession and accelerating. Time for new blood and a new direction in the manufacturing lobby.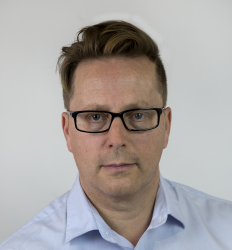 Latest posts by Houses and Holes
(see all)