The Pascometer offers an advertorial today for "Queensland Mining and Gas Jobs Expo" which:
…rolls into Caloundra on the Sunshine Coast today with organisers expecting 2000 people to attend.  On Wednesday 10,000 people turned up for the expo's Gold Coast gig. The patchwork economy is working.

Those with longer memories will recall job applicants queueing around the block for the chance of a position at some new business during harder times, never mind Sydney's dire Hungry Mile and similar Depression-era stories.

…The lure at the expos, for those with what it takes, is the possibility of combining coastal life style with well-paid employment at fly in/fly out operations. It's hard work, but it has the potential to secure a base for a thrifty individual.

And there are resources towns keen to attract stayers, to build regions as more than temporary mining camps.

In time it may be seen as another of the great Australian stories, of working men and women building the nation. The Snowy River was small by comparison.
I don't have much to add except to say expect more such efforts to overcome the labour infungibility problem. But I thought I'd take the opportunity to post a couple of charts from a recent BHP investors presentation on the labour boom described. First, there's the operational staff: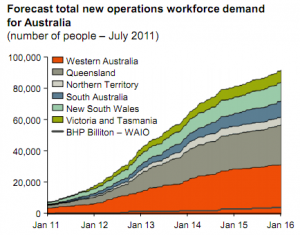 And then the construction staff: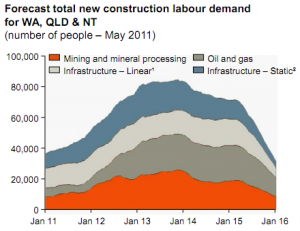 These are projections for the entire resources industry, which, to my mind, is more evidence of just how limited direct job creation is in the mining sector. The current Australian full time workforce is 8.4 million souls. Let's say that it will grow by 3% per annum, by 2014 it'll be a bit above 9 million and the new jobs in mining will be 2% of that, around 180k guessing from the two charts.
Now, there'll obviously be significant flow on effects as billions upon billions of investment flow during construction. Many more service sector and manufacturing jobs will also be created. But as you can see, once the investment phase abates, ALL of those jobs disappear.
I'm in no way blaming mining. Bring the investment and jobs on. But you really have to ask yourself, is the macroeconomic strategy of "making room" for this by shedding other export sectors really that bright?
David Llewellyn-Smith is Chief Strategist at the MB Fund and MB Super. David is the founding publisher and editor of MacroBusiness and was the fouding publisher and global economy editor of The Diplomat, the Asia Pacific's leading geo-politics and economics portal.

He is also a former gold trader and economic commentator at The Sydney Morning Herald, The Age, the ABC and Business Spectator. He is the co-author of The Great Crash of 2008 with Ross Garnaut and was the editor of the second Garnaut Climate Change Review.
Latest posts by Houses and Holes (see all)