Time for some perspective – in equity markets around the world, the bulls are popping champagne and hysterically bidding up anything and everything (including iron ore stocks whilst iron ore is crashing), whilst the bears have gone back into hibernation, with sore bottoms and damaged pride.
The realists observe that this volatility and switch between despair and exuberance is just the normality of human controlled markets – and in particular, bear markets are renowned for such mania.
But an observation by the ebullient bulls has this analyst scratching his head: they contend that the recent correction was the pre-cursor to a March 2009 type low, and from that observation we stand at the threshold of a new bull market (or new bear market rally).
First, the all-important US S&P500 (sorry folks, but decoupling is not over – you need to study US markets first) which is now almost 90% above its March 2009 low.
From Doug Short: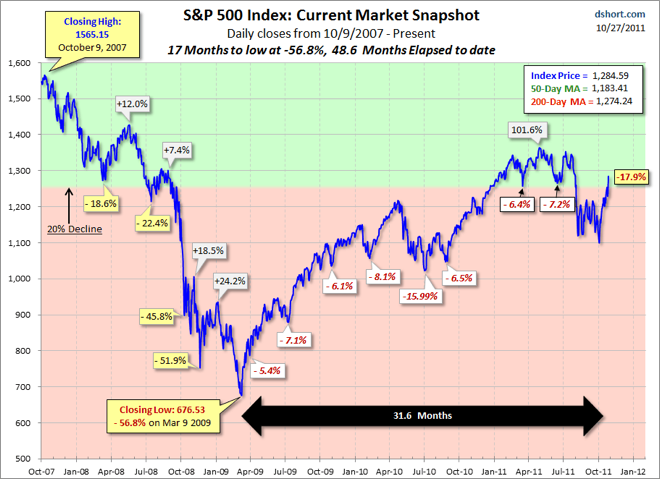 From the October 2007 high the S&P500 fell 56.8% (which included two "normal" corrections of approx. 20%) and its recent correction – completely normal in a bear or bull market rally – was only 17.9%.
I've compiled a similar chart using the ASX/S&P200 which I analyse daily on my Trading Day posts:
From a high in November 2007 to the low in March 2009, the Aussie market fell 54%, similar to the S&P500. From the high in April 2011 to the low in late September, the market fell 22% – slightly more, but a similar magnitude and a typical market correction during a bear market (bull market corrections are usually half this size).
But the market at its lowest point in September was still 22% above the March 2009 low and is now almost 40% above this level.
Putting aside the very weak numerical magnitudes of these falls, if we compare the current position of the market and this rally to an analog to the March 2009-April 2010, the market would hit 6000 points by mid 2012.
As I showed in my recent study for a 8000 point target, there are some serious problems with this analogy, but most importantly, the macro outlook has not changed.
The Greek haircut (or as I like to put it – an eyebrow wax, as that will be the impact) will ensure austerity measures not just for the public sector, but the private sector. European banks, by composition within the European bourses, are much larger than the US (and similar to our engorged oligopoly) and will now have their Return on Equity (ROE) permanently reduced. This is the same effect that occurred to Australian industrial stocks during the dilutive equity raisings of mid-2009.
That means reduced valuations and reduced PE ratios across the board as Europe heads into a long stagnation.