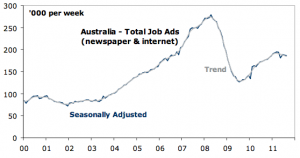 The softening of the jobs market predicted at MB earlier this year is showing more evidence, with ANZ job ads slowing again in September:
Job advertisements on the internet and in newspapers decreased by 2.1% in September. Annual growth in total job advertisements decelerated to 3.1% y/y.

• Newspaper job ads were flat in September, while internet job advertising decreased by 2.2% m/m. Newspaper advertising is now 12.8% lower than a year ago, while internet advertising is 4.0% higher over the same period, in part reflecting the continuing structural shift to online advertising.

• In trend terms, total job ads fell by 0.6% m/m in September with the annual growth rate slowing to 3.8% y/y. The monthly trend in job advertisements began slowing in January and has been negative since April.

ANZ Head of Australian Economics and Property Research Ivan Colhoun said:

• The number of job advertisements continued to decline in September, falling 2.1% m/m to be just 3.1% above year ago levels. The fall in job advertising was due to a 2.2% m/m fall in internet advertising, while newspaper advertising remained steady. This is the first month newspaper advertising has not fallen since February. Further monitoring of trends in newspaper advertising is warranted over coming months as newspaper advertising tends to lead online advertising trends, notwithstanding the continuing structural change towards online advertising.

• Moderating job advertising points towards a further softening in employment growth in the months ahead and a modest rise in the unemployment rate. To date, the weakening trend for job advertising is more like the 1995-96 experience rather than the sharp slowdown during the global financial crisis in 2008-09 or even the more significant slowdown experienced in 2000-01. During 1995-96 the unemployment rate rose 0.4% between June 1995 and December 1996, while in 2000-01, unemployment rose around 1 percentage point.

• ANZ forecasts the unemployment rate to rise to 5.5% by mid-2012. This forecast is consistent with modest employment growth of less than 6,000 jobs per month.

• In line with a rising unemployment rate, wages and underlying inflation pressures are likely to moderate. Accordingly, there is scope for the RBA to reduce interest rates a little as insurance against weaker than expected growth outcomes and even higher unemployment. We expect the first of two 25bp cuts are likely to be enacted at the next board meeting in November. This would be a prudent move given global uncertainties and downward revisions to global growth forecasts. However, ANZ does not expect the more significant interest rate cuts currently priced by markets and sees only a move back to a more 'neutral' stance from a 'slightly restrictive' stance at present.

• Trends in job advertising are again beginning to reflect the emergence of a more noticeable geographic split to Australian economic growth. Job advertisements are rising solidly in Western Australia and the Northern Territory and the declining trend is moderating in Queensland (together the states with the greatest exposure to mining). At the same time, advertising is continuing to slow reasonably quickly in NSW and Victoria.

• The ABS publishes September labour force data on Thursday. ANZ expects employment growth of 7,000 jobs and an unchanged unemployment rate of 5.3%.
So, it's essentially an adjustment overshoot then. NSW and VIC is falling too fast for WA and QLD to absorb. All things being equal, I agree with the ANZ projections, though I think the unemployment rate may rise further owing to an unwind of the labour hoarding phenomenon.
Obviously, however, I don't expect all things to remain equal on the international front.
111010 – ANZ Job Ads September 2011 (1)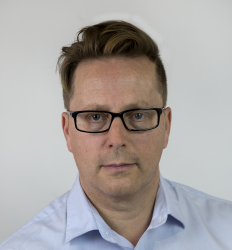 Latest posts by Houses and Holes
(see all)