..there must be some data that they could have used to address the "value" of having future food security.
This was a request once made of me in the context of losing productive capacity in agriculture from cutting water entitlements on environmental grounds.  It certainly got me thinking.  Given the recent conflicts between farmers and gas companies over potential land and groundwater contamination from coal seam gas extraction, questions around whether we should preserve agricultural productive capacity, and how best to do it, appear to be important for policy makers.
The UN, in line with arguments of Amartya Sen, suggest that food security is not a concept of national food self-sufficiency, but more closely aligned to distribution of income, so that people have physical, social and economic access to sufficient, safe and nutritious food which meets their dietary needs and food preferences for an active and healthy life. This definition is not particularly helpful in this context, given Australia's relative wealth and generous welfare system.
Much of the hype surrounding the topic, including one key focus of the recently finalised Senate inquiry into food production capacity, leads one to believe that food security means national self-sufficiency of food production.  As the inquiry notes:
From Australia's perspective, it is imperative that we maintain a productive base capable of meeting the food needs of the domestic population to ensure food security in the event that other countries become unwilling to trade food grown within their borders. Even more important, however, is the need for Australia, as a major food exporter, to contribute to meeting the global food task and thereby prevent the potentially disastrous consequences of major food shortages.
While this is a valid argument for some degree of self-sufficiency, partly aligning with a defence strategy (or insurance policy) in the event of a breakdown in global trade, thinking that being able to meet domestic food demand during peacetime equates to being able to easily meet food demand if international trade ceases is flawed.
Modern food production involves a complex supply chain and our agricultural and food distribution networks rely heavily on foreign made machinery and equipment.  Unless we can self-sufficiently support the maintenance and replacement of this associated capital stock, and can provide the energy to support the whole food supply chain, we can't be produce food at the same level of production as during peacetime.  A degree of diversity in our productive capacity would go a long way to providing an insurance policy against a breakdown in global trade, rather than a single focus on current food production capacity at the farm level.
With a diverse economy, even if we were a net food importer, if trade breaks down market forces (or government intervention) will ensure a pickup in food production.  Food price increases will encourage more land to be devoted to farming.  Land devoted to producing non-food crops would be devoted to essential food crops, and prices changes would lead to diets changing to prefer foods more easily grown domestically.
With the defense argument for food security in mind – that a diverse economy is an insurance policy against global trade breakdown – it is surprising that most agricultural policies are directed not at preserving productive capacity, but preserving the businesses of farmers themselves (eg. drought and flood assistance, subsidising water supplies).  In the greatest of ironies no policy has yet protected the productive capacity of the soil and land itself from external threats to from mining.
One could argue that perhaps the current agricultural subsidies for farm businesses are not that suprising since the government signed some very one-sided free-trade agreements, pitting Australian producers against heavily subsidised foreign agriculture (particularly in the US).  Indeed, the farming lobby argues that Australia and New Zealand have the lowest agricultural subsidies of the major food exporting countries.  In this context perhaps the remaining agricultural subsidies do have an element of food security at their core.
The international data shows that food exporters generally have the lowest agricultural subsidies in any case (including Australian, New Zealand, South Africa, Chile, Ukraine and Brazil). The graph below shows the proportion of exported agricultural production against agricultural subsidies for selected OECD countries (produced with data from here – apologies from the low resolution).  From this data we are fairly middle-of-the-road, although perhaps the measure overstates Australian subsidies to a degree (eg. counting the non-agriculture specific fuel-tax credit).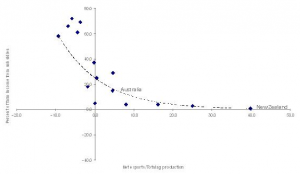 Leaving aside the question of international competition, and the fairness of our free-trade agreements, a policy to ensure long-term food security in the event of global trade breakdown should not be focused on farm business viability, but on preserving the land and soils.  If a farm business fails, the productive capacity remains for the next buyer of the property. But if land, soil and water supply irreversibly damaged (eg. groundwater contamination), then potential food production capacity is destroyed.
A bizarre situation can arise where a farmer is being paid drought assistance to protect his business, while he is busy negotiating to subdivide his land for residential lots, or having his land explored for minerals, which would takie the land out of production permanently.
In this light, Queensland is developing a new Strategic Cropping Land Policy.  The policy aims to provide a way to prevent development on 'strategic cropping land' where it will result in its permanent alienation or diminished productivity.  This may include subdivisions, excavation works, or mining and gas extraction.  The map below shows some of the identified areas that will fall under the policy in Southern Queensland.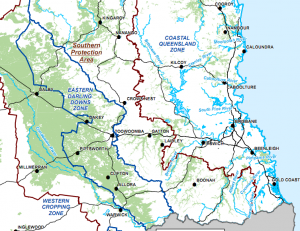 While it is early days on this policy, and the full effectiveness of the integration of this new policy and the existing resources legislation is yet to be seen, it does appear to be a step in the right direction of an agricultural policy that delivers some of the promises of food security to deliver value in terms of national insurance against a breakdown in global trade.
Tips, suggestions, comments and requests to [email protected] + follow me on Twitter @rumplestatskin
Latest posts by Rumplestatskin
(see all)