Housing data provider, Australian Property Monitors (APM), yesterday released its September quarter house and unit price figures. It was another poor result with house price falls accelerating, declining -1.6% nationally in the September quarter compared with a -1.2% fall in the June quarter. Unit prices were more resilient, falling -0.6% in the September quarter, matching the -0.6% decline registered in the June quarter.
Below are the key tables from the APM release via SmartCompany:

I've charted the APM data to show you how far losses have mounted. The below charts shows the peak-to-trough declines for each capital city and nationally: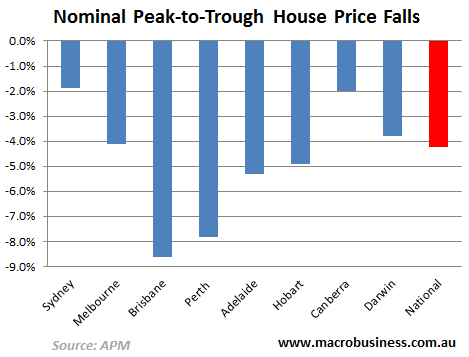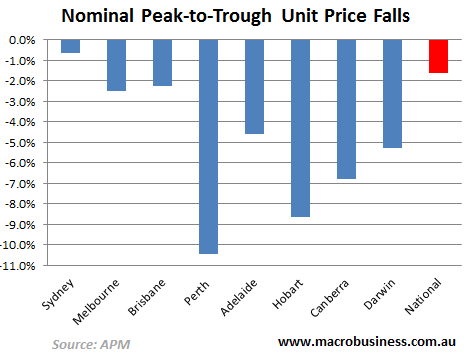 Nationally, house prices have fallen by around 4% from their peak, lead by Brisbane (-8.6%) and Perth (-7.8%), followed by Adelaide (-5.3%), Hobart (-4.9%), Melbourne (-4.1%) and Darwin (-3.8%). Canberra and Sydney have proven more resilient, falling only -2.0% and -1.9% respectively.
The story is more varied for units, where prices have fallen -1.6% nationally. Perth (-10.4%), Hobart (-8.6%), Canberra (-6.8%), Darwin (-5.2%), and Adelaide (4.6%) have been hit hardest, whereas Melbourne (-2.5%), Brisbane (-2.3%) and Sydney (-0.6%) have held-up better.
When inflation is taken into account, the real losses in values have started looking quite nasty in some markets: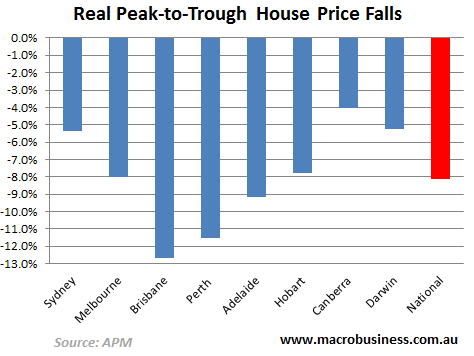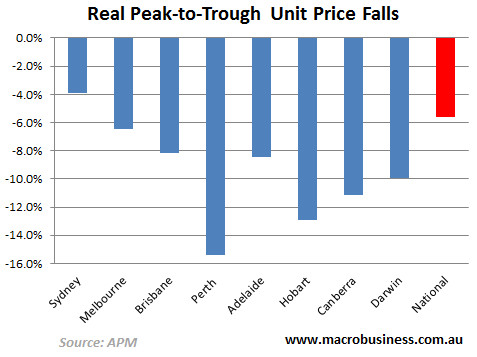 Nationally, house prices have fallen by -8.1% in real terms since their peak, whereas real unit prices are down by -5.6%. Brisbane (-12.7%), Perth (-11.6%) and Adelaide (-9.2%) are leading the housing losses, whereas for units, the largest real price falls have been experienced in Perth (-15.4%), Hobart (-12.9%) and Canberra (-11.2%).
Below are a series of charts showing the evolution of prices since the beginning of the APM price series in June 2004. Note the huge run-up in prices in Perth and Darwin in the lead-up to the current slowdown, as well as Sydney's laclustre price performance.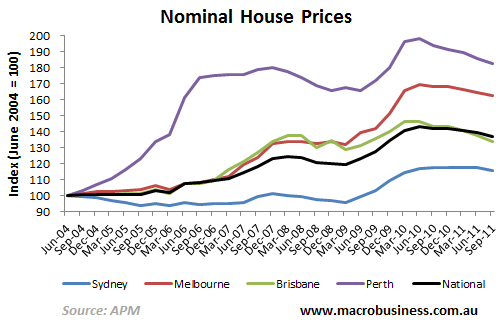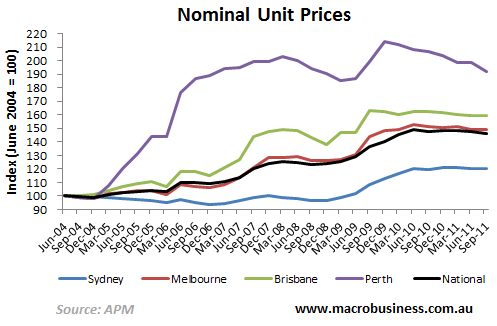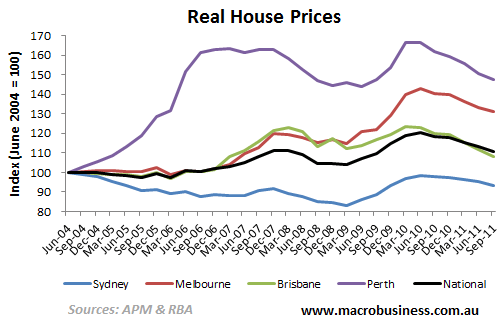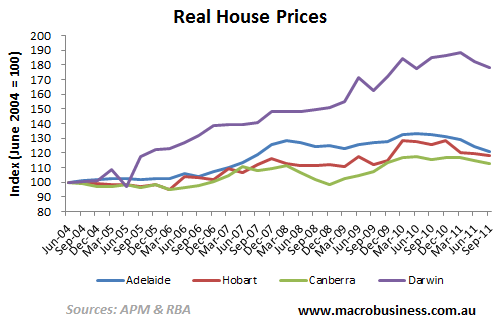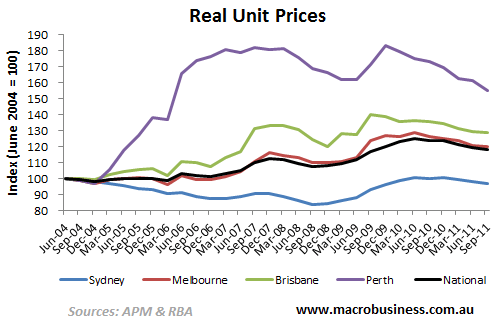 It will be interesting to see whether the RP Data's hedonic figures, which are due to be released for the month of September on Monday, confirm the APM results.