Late yesterday, the Lowy Institute released a fascinating new study by John Lee (a former colleague of mine at The Diplomat) into whether or not China will be able to convert its growing economic power into strategic dominance. Regular readers will know that the schism in Australian policy on this topic has been a bugbear of mine for some time. The Great Straddle, as I call it, is the uncomfortable position we find ourselves in with the left leg of our economic dependence  headed in one direction as the right leg of our defense posture goes entirely in the other, leaving us in perennial danger of a nasty rip in the trouser.
But there is some reassurance today from Dr Lee. He argues that the architecture of US strategic power is so entrenched and that the motives for Asian nations to trust China are so paltry that US hegemony is assured for many years to come. Here's a snapshot:
In August 2010, China officially surpassed Japan to become the world's second largest economy. As the Lowy Institute's Power and Choice observes, economic size matters. China's rise and subsequent influence is built on the back of an economy that has been doubling in size every decade for the past thirty years. As a result, the capacity of the People's Liberation Army (PLA) 'for sophisticated, high-intensity operations along China's maritime periphery has improved dramatically in recent years', while China's 'interests, actions and intentions are assuming prominence in the calculations of other regional powers – not only major ones like the United States, Japan and India.'

The common and generally correct assumption is that lasting strategic influence is built on the back of economic power. Today, however, Beijing is confronted with the uncomfortable reality that it has been unable fundamentally to shift the strategic alignment of even one major Asian capital. While China has emerged as the largest trading partner for countries such as Japan, South Korea, India and Australia, all these countries have begun 'hedging' against China's rise, with varying degrees of intensity, by deepening strategic relations with America and each other. A similar dynamic is at work among the countries of Southeast Asia, despite the landmark China-ASEAN Free Trade Agreement coming into force in January, 2010.

By contrast, China's only true allies in the region are weak or failing states – North Korea, Burma and Pakistan. This makes China one of the 'loneliest rising powers in world history'. The reality of China's relative strategic isolation suggests two related conclusions. First, America will remain the preferred security partner and pre-eminent strategic actor in the region for a number of reasons that will be difficult to alter. And second, China's capacity for translating economic size into strategic leverage is problematic now and likely to face sharp limits into the future.
This is one of those occasional papers that inverts conventional thinking in a powerful way.
The argument holds up well, but misses a couple of points that I think are important. The first is that it assumes no serious ongoing decline in US economic clout, as least to the extent that the US military, especially navy, isn't inhibited. In general I agree that that is unlikely. But there are still things China can do to crimp the US military-industrial complex, the most potent being to create an alternative reserve currency in the yuan.
The second is that Lee's representation of the Chinese as a lonely power is accurate if you're confining your view to the Pacific theatre and the likelihood or not of some direct Great Power conflict there.
It is less accurate if you look away from the Pacific. China's Shanghai Cooperation Organisation (SCO) is a kind of proto-Nato and it's mutual defense agreements stretch across the entire Asia continent west of China: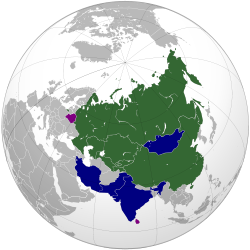 Moreover, the SCO includes a lot of oil reserves and holds very significant strategic positioning vis-a-vis the Middle East.
With the world approaching, at, or past, peak oil, that raises the prospect of very serious Great Power proxy conflicts in oil rich regions in the future. Whilst that's better than open war at our doorstep, it's still not a great prospect and may represent the tear in the trouser that I fear. What would we do if two Middle Eastern states went to war with China on one side and the US on the other? With both demanding diplomatic allegiance or else?
Third, there is a downside to Dr Lee's assessment. Great Powers, especially rising Great Powers, have a tendency to demand a certain amount of strategic respect. If Dr Lee's assessment of the Pacific theatre is correct, then that does not necessarily imply less conflict. I agree that the US is not engaged in active containment of China. But it has certainly surrounded it. If the respect coming from the other direction is insufficient to satiate its strategic self-regard, China may simply decide to push back one of these days, just because it can and deserves it.
Still, all of that is no doubt distant, so I'm happy to have been reassured that the national trouser is safe enough for the time being. Enjoy, Lonely Power, Staying Power: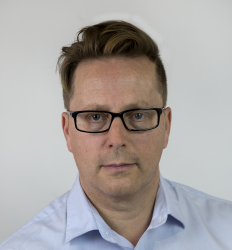 Latest posts by Houses and Holes
(see all)