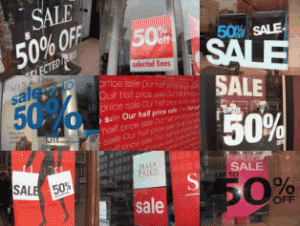 Yesterday's announcement by the Reserve Bank of Australia (RBA) that the official cash rate would remain on hold provoked a stinging response from the Australian Retailers Association (ARA):
The Australian Retailers Association (ARA) says the Reserve Bank of Australia's (RBA) decision to hold interest rates has left retailers struggling to hold on.

The ARA had sought a cut in interest rates, which it hoped would give consumers more confidence to spend in the lead up to Christmas.

ARA executive director, Russell Zimmerman,  said while the decision to leave the cash rate unchanged may have been a response to growth in parts of the economy and other factors such as inflation, the retail sector had been left on dangerous territory as consumers retract their spending even further.

"Consumer confidence is at an all time low, which has left the retail sector in the negative as year on year trade figures show declines across categories which rely on discretionary spend.

"Key events such as spring racing and the lead up to Christmas would usually see retailers employ more staff, bring in more stock and generally seize opportunities to post some healthy growth as consumers restock their wardrobes and start shopping for presents.

"However, with more pressure than ever on household budgets as a result of taxes, mortgage stress and the soaring cost of living, retailers will be reigning in on stock availability and staffing levels.

"In light of a struggling sector, retailers can only live in the hope that the strain of interest rates will be eased for consumers in time for the festive season by way of a rate cut in October," Zimmerman said.
Certainly, the ARA's concerns are warranted, with retail sales at near 10-year lows: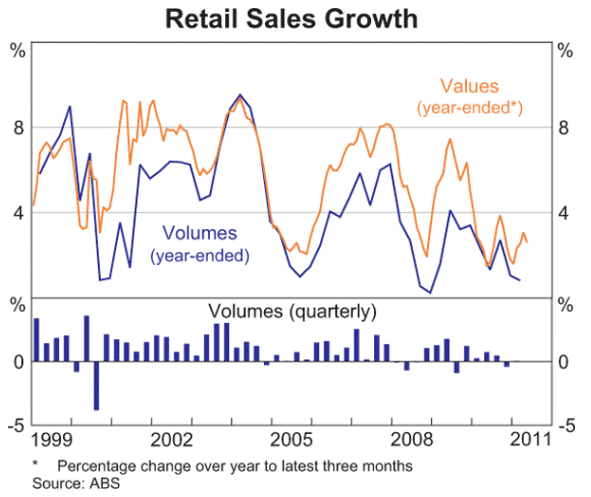 A number of inter-connected reasons have been put forward for the slump in sales, including:
(1) the sharp increase in the household savings rate to near 25-year highs: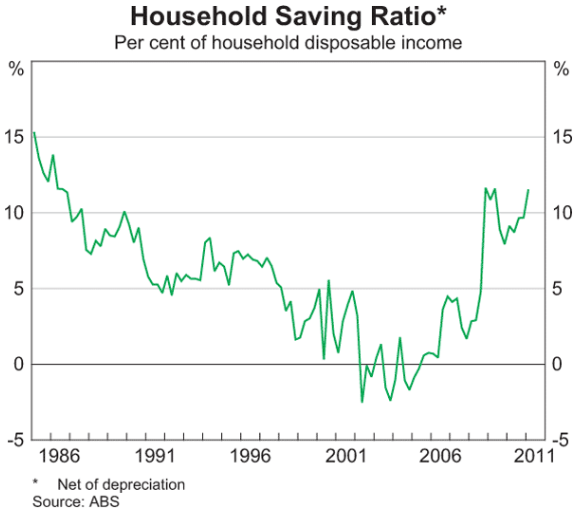 (2) The reaching of peak debt by Australian households: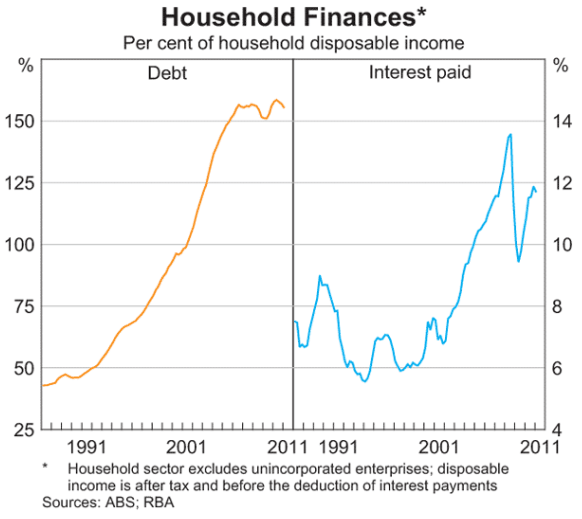 (3) And falling household net worth on the back of declining home prices: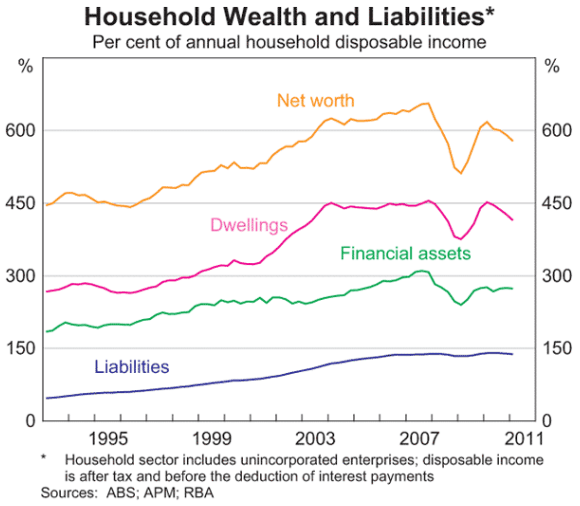 While all of these explanations are valid, there is another that is likely to create headwinds for the retail sector for decades to come – Australia's ageing population.
Yesterday, the Australian Bureau of Statistics (ABS) released the 2009-10 Household Expenditure Survey, which provided some fascinating insights about the spending patterns of different age groups.
According to the Survey, household expenditure peaks between the ages of 45 and 54 before declining sharply. And a household headed by someone over 65+ years of age spends roughly half of what a 45 to 54 year-old household spends.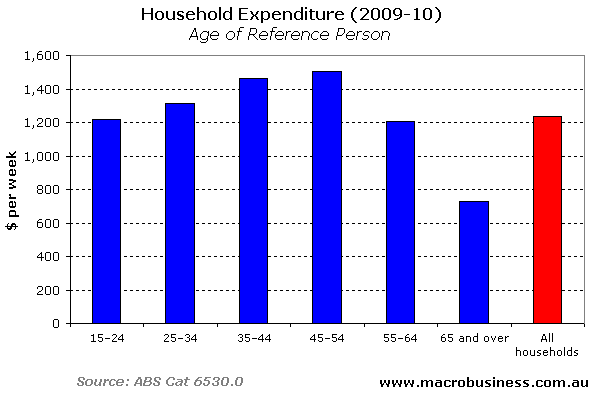 As presented, the data is a bit misleading, since a typical 65+ household comprises less people than the younger cohorts (see below chart), suggesting that aggregate expenditure might not actually be significantly affected by population ageing if Australia ends up with a larger number of older households spending less.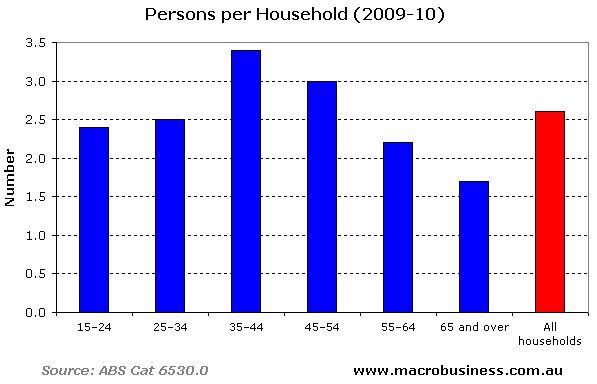 To overcome this bias in the Survey, I have adjusted the above household expenditure data by the average number of people in each household group to derive the per person equivalent level of expenditure at each age group: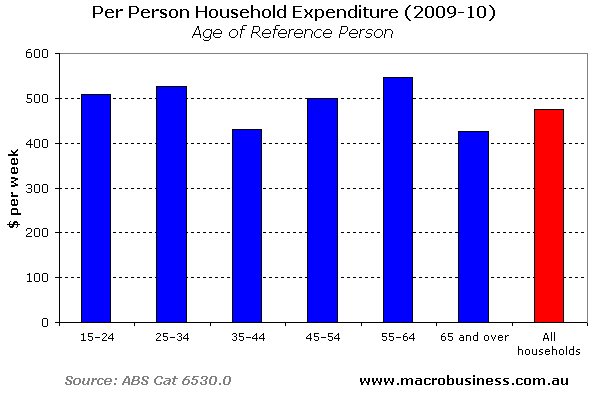 As you can see, per person household expenditure peaks between the age of 55 and 64, followed by those aged 25 to 34, 15 to 24, and then 45 to 54. Those aged 65 and over spend the least, followed closely by those aged 35 to 44.
So what does all this mean for the retail sector? Well, according to the ABS population projections, the percentage of the population aged 65+ is expected to skyrocket (see below chart). And given expenditure by the older cohort is typically the lowest of all the age groups, it follows that retail expenditure will decline, other things equal.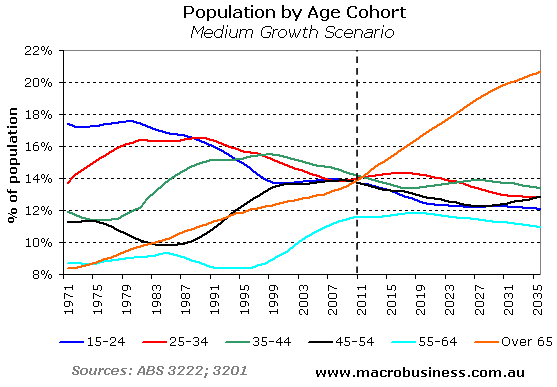 This analysis is supported by the projected dependency ratios for Australia – defined as the ratio of the non-working population, both children (<15 years old) and the elderly (over 65 years old), to the working age population.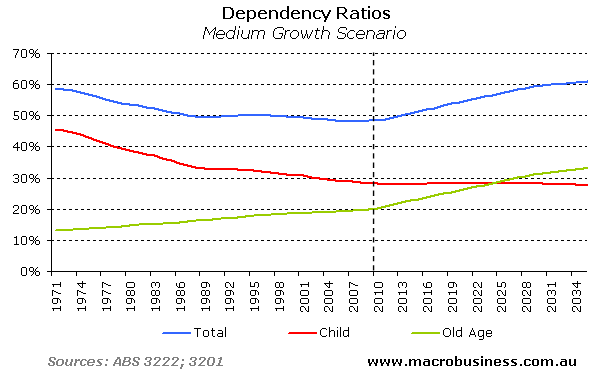 As you can see, Australia's total dependency ratio is projected to increase sharply, from around 50% currently to just over 60% by 2035. This increase in the dependency ratio is driven by a steady increase in the proportion of the population aged over 65 (the standard 'retirement age'), offset partly by a reduction in the child dependency ratio (i.e. those aged under 15 years of age).
If the saying "demographics are destiny" is true, then Australian retailers are likely to face a prolonged period of sluggish growth and disappointment.