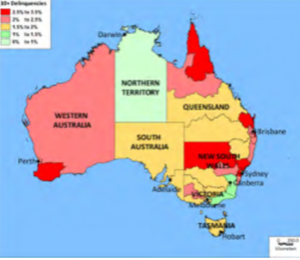 Moody's has produced its annual report into Australian mortgage arrears. Below is their findings. Below that find the reports themselves, including a list of the 300 most delinquent post codes. For a bit of fun you can surf around and compare the newspaper reports that have reproduced the press release with…ahem…very little alteration. These are long documents, all comments and observations will be welcome.
Moody's Investors Service says the ability of Australian homeowners to keep up with their mortgage payments has declined over the past year, despite the strength in the economy, or more specifically the boom in the mining sector.

"Mortgage performance has shown a material deterioration since our last regional delinquency report in October 2010. Indeed, between March 2010 and June 2011, while the national delinquency rate — as calculated by Moody's — rose to 1.67% from 1.36%, regions performing poorly or very poorly increased fourfold to 28 from seven," says Arthur Karabatsos, a Moody's Vice President and Senior Analyst.

"Of Australia's 65 regions, those performing very poorly, that is, with more than 2.5% delinquencies, increased to 11 from two, and those performing poorly increased to 17 from five," adds Karabatsos.

Karabatsos was speaking on the release of a special Moody's report on residential mortgage performance over the last 12 months, and which projects regional delinquencies onto "heat maps" for ease of analysis. At the same time, Moody's released a supplementary report which looks at delinquencies according to postcode, and which highlights the 20 worst performing postcodes and lists the 300 worst.

"In our primary report on performance, we classified 11 regions as performing very poorly, and six were from New South Wales (NSW), four from Queensland (QLD) and one from Western Australia (WA)," says Karabatsos. "NSW remains the worst performing state overall with six of its regions performing very poorly."

At the same time, the biggest declines in mortgage performance have been experienced in QLD and WA, the two states which have been the biggest beneficiaries of Australia's ongoing mining boom, the report says. Previously, all QLD regions performed satisfactorily or better, but now four regions are performing very poorly. And before, only one of WA's seven regions was performing poorly. Now it is four performing poorly and one very poorly.

"This apparent paradox is partly explained by the fact that non-mining jobs still account for most of the employment in both states, and such sectors lag the mining sector in growth. For example, the strong Australian dollar has weakened the tourism industry, which accounts for more than 5% of employment in QLD," says Karabatsos.

"Overall, mining accounts for just 1.8% of employment in Australia, and then 2.4% in QLD and 7.1% in WA. Now QLD's tourism-dependent Gold Coast region not only has Australia's third worst mortgage performance with 3.11% delinquencies, but also contributes the most delinquent loans outright with 6.9% of such loans in Australia located in the region," adds Karabatsos.

"And, previously, while all of Victoria's (VIC) regions were satisfactory or better, two now perform poorly. By comparison, South Australia (SA) is the best performing state with all of its regions performing satisfactorily," says Karabatsos.

And when each of Australia's 65 region's current ranking is compared to their March 2010 ranking, what is revealed is that even if a region improved its ranking, it did not necessarily mean that it had performed better, just that its performance had not deteriorated as much those others which moved down. Only three regions recorded improvements on last year, but their gains were only marginal.

Within each housing market, the level of equity a borrower has in their home is a key predictor of their ability to maintain mortgage repayments. Each market's heat map reveals that the performance of mortgage deteriorates as they radiate away from city centers and home equity decreases. Home buyers in the more expensive housing areas have more home equity, due to larger down-payments than regions with cheaper housing, and where borrowers with less financial means borrow more against their home. Even though houses within the more expensive regions have experienced the greatest year-on-year declines in prices, they are performing relatively better.

In the supplementary report, Moody's explains that for each postcode, it calculates the number of borrowers who have failed to make at least one or more mortgage repayment (30 plus days delinquent), and highlight the 20 worst performing postcodes as well as list the 300 worst.

The supplementary report shows that the worst performing postcode is in WA, one of the states to benefit most from the mining boom. Postcode 6168 (encompassing suburbs such as Rockingham, Hillman, Garden Island and Peron), some 30 km south of Perth, has a delinquency level of 5.31%, more than three times the national average of 1.67%, as calculated by Moody's.

WA also has the 5th worth performing postcode — 6167, (encompassing suburbs such as Bertram, Kwinana Beach and Parmelia) with 5% delinquencies.
Report-Aussie Mortgage Delinquencies Sep2011
Report-Aussie Mortgage Delinquencies by Postcode Sep2011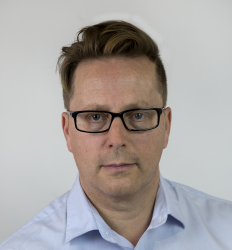 Latest posts by Houses and Holes
(see all)