I was going to ignore today's Genworth Home Buyer Confidence Survey. I saw the press release this morning and it was so loaded with positive spin that I didn't think it credible enough to report upon. However, I've noticed that both Bloomberg and Fairfax are now running the release so I thought I'd better take a look at the longer survey presentation.
As some may know, Genworth is one of Australia's two dominant LMIs. It commissions this survey from independent research firm, RFi. There are 1250 respondents, which is big enough to provide results within a reasonable margin for error for the nation but not especially large for a survey that purports to drill down to the state level.
The survey's headline results were:
The national Index fell (2%) from March 2011 however overall sentiment was buoyed by a return to confidence in Queensland.
And here's the shift in selected state attitudes over time: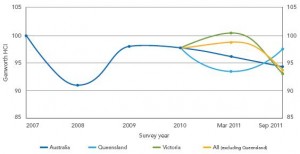 The survey noted three material shifts in sentiment. A big bounce in QLD and big falls in WA and VIC.  The survey ascribes these shifts to the waning impact of floods in QLD, the effect of carbon and mining taxes in WA and the impact of mortgage stress in VIC.
Perhaps, but I wonder if a more simple explanation is that VIC prices are now stratospheric, whereas QLD prices have fallen towards more affordable levels. WA is a mystery but I don't know anyone that is put off buying a house because of largely irrelevant taxes.  The survey's headline result is derived from five questions:
1) Proportion of monthly income currently used to service debts
2) Maximum LVR comfortable in borrowing
3) Last 12 months repayment history
4) Next 12 months repayment ability
5) Whether it is a good time to buy a home.
But if we isolate the last question, the theory that cheaper prices improves sentiment is also born out in WA: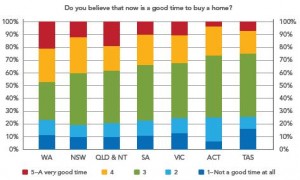 You could argue too that because NSW prices have risen the least in the past 8 years, it is also affordability that has it positioned well on this chart. Then again, I feel rather like I'm running on the spot.
Anyways, here are the five question results: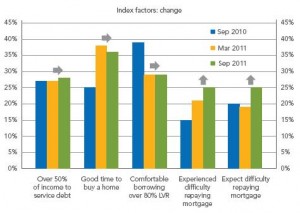 We already know sentiment is down from diminishing sales. But the more recent Westpac consumer confidence survey showed a big jump in September: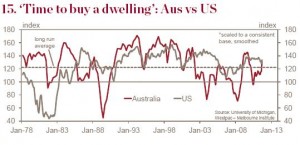 The chart is from The Westpac Red Book, which is out today (find it below), in which Westpac agrees with my summation that it is affordability that drives sentiment:
― The sub-index tracking views on 'time to buy a dwelling' posted a surprisingly strong 15.1% rise in Sep that also takes the index to a surprisingly strong level. At 131.9, it is 9.7% above its long term average and at its highest since Sep 2009.
― Somewhat incredibly the Sep reading is also the highest reading since Mar 2002 (excluding the 2008-09 period when mortgage rates were sub-6% and generous first home buyer incentives were being rolled out). The state detail shows a broad-based improvement, but would-be buyers in Qld and Vic are the most upbeat (by their own historical standards) with the latter recording a particularly large rise in Sep.
― While this is positive heading into the Spring selling season, we caution that it does not guarantee an upturn. The index often says more about aff ordability than market prospects, i.e. the Sep rise may have more to do with softer prices and shifting rate views. A similar series for the US did not capture the extent of the slump there and has shown strong buyer sentiment since Feb 2009. US housing has yet to recover.
― For Australia, this measure is best used in conjunction with unemployment expectations. Taken together they point to a net softening in demand conditions rather than a pick-up.
A I've said elsewhere, I am expecting a small bounce in mortgage issuance but I agree with Westpac that the rise in sentiment will not translate into sustainable gains. Until the threat of a Western recession lifts, this looks like a bull trap for housing.
Genworth Streets Ahead GHCI Sept 2011_FINAL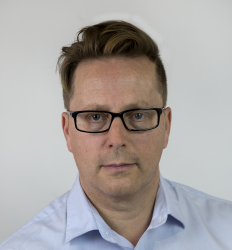 Latest posts by David Llewellyn-Smith
(see all)