My readers will know that I am bearish on housing and have been for over a year. In June 2010 while I was predicting the coming house price falls the media was busy providing real estate industry propaganda to the contrary. Now that there has been an obvious change in both sentiment and the market, the media has done a 180 degree turn. The problem is that their over exuberance works both ways and I am now finding stories where they are leaving out key pieces of information in order to "jazz up" the doom and gloom stories.
Back in January, Brisbane suffered significant flooding. This flooding has led to unseasonal falls in both price and sales volumes across certain suburbs of Brisbane, particularly inner city south-west suburbs that are close to the river.
Today I noticed that the Fairfax newspapers were running a story about highlighting falls in the Brisbane area, however for some reason I can find the word "flood" in the article anywhere: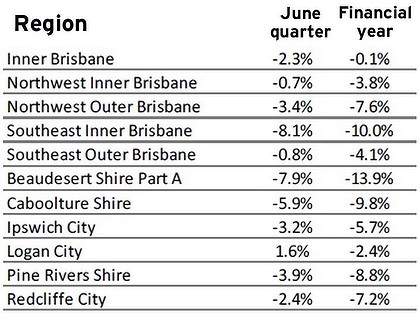 Brisbane's southside has recorded a larger slump in house prices than any other region in all state capital cities, new analysis shows.

Prices in the city's inner southeast tumbled 8.1 per cent in the three months to June, according to figures released by RP Data yesterday.

The median house price across the region, which takes in suburbs from Tennyson and Moorooka, to Murarrie and Cannon Hill and then Holland Park and Carindale, fell from $587,500 in March to $561,250 by the end of June.

By comparison, property prices in the inner northwest dipped just 0.7 per cent over the quarter and 3.8 per cent over the financial year.

In the past financial year, sale prices in premium inner-city suburbs including Bulimba, Balmoral, Hawthorne, East Brisbane and West End fell 10 per cent overall, the research shows.

Not one Brisbane region recorded positive growth in house values over the 12 months to June, said RP Data research analyst Cameron Kusher.
The numbers for parts of Brisbane sound big, and under any normal circumstances I would be screaming "Minsky moment" from the roof tops, but the areas of Brisbane with the largest falls were directly affected by flooding. The fact that this point wasn't mentioned in the article is quite misleading, especially when the article is reprinted across the country and read by people who have no local knowledge.
A quick check clearly shows that river front areas have taken large write-downs on previous values ( 3 examples below) and I suspect this will continue to be the case until after the next wet season independent of what happens to credit issuance.



I know that medians are not always that trustworthy especially in small markets but I think it is quite bullish that people are still willing to pay such large amounts of money for properties that are totally uninsurable against flooding while being perched on a river bank. Ok, maybe a I find it wrecklessly stupid as well, but that doesn't make it less bullish.
Someone actually paid $550,000 for these blocks of land recently. A good deal for someone with a very short term memory. I wonder if they were from out of town?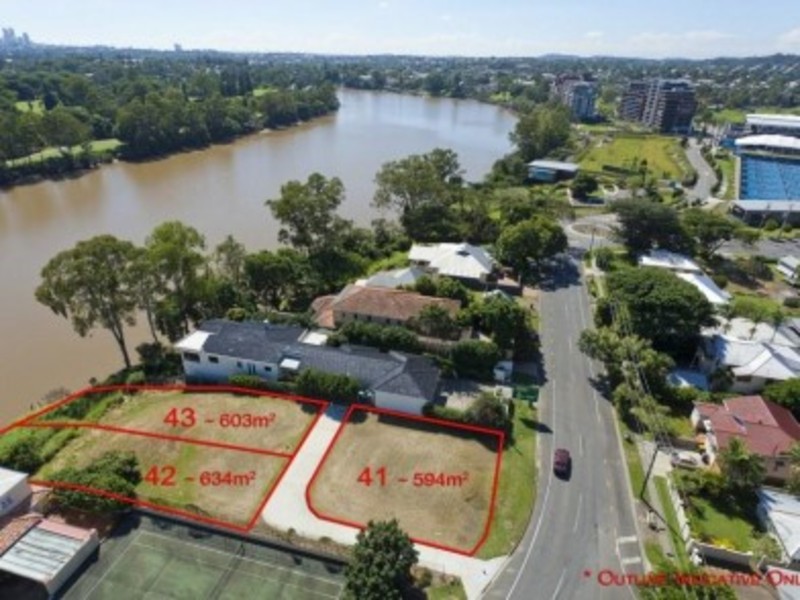 That unit complex you can see in the background is actually the Mirvac apartments I mentioned in a previous post.
If you took the flooded suburbs out of the dataset I suspect you would see figures much more in line with the rest of Brisbane, and this story wouldn't be such a big deal. That is not to say that the 3.4% fall in 3 months for Northern West Brisbane isn't terrible, it is. But in my opinion it doesn't represent some sort of catastrophic failure of the Brisbane market, at least not yet, to read it as such could lead to a wrongly informed decision.
Just as it annoyed me when they spruiked the market up with sloppy reporting, so it does when they talk it down with sloppy reporting. It would be hypocritical of me to report otherwise.
I must admit however that I have no excuses for either Beaudesert or Caboolture. They just look plain awful. In their defence, and it is a very weak defence, it is possible to find some worse numbers in the Gold Coast area in a recent RPData Gold Coast housing report.