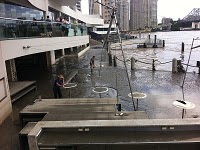 Today some Brisbane property owners woke up to this. 6 inches of horrible sticky mud absolutely everywhere. Luckily businesses on the river have insurance, which we hope will be paid out. For others it is a different story.
Queensland Premier Anna Bligh and Prime Minister Julia Gillard have both implored insurance companies to be flexible when it comes to processing the thousands of claims being lodged.

"I call on insurance companies to act with compassion in the face of this event," Ms Bligh told ABC Radio.

"It's not in the interests of anyone in our community, including those companies, to stall or delay recovery."

Rather, insurers should show "flexibility".

The Insurance Council of Australia has warned that insurance companies would pay out on claims according to the terms and conditions of policies.

"If people do not purchase flood cover insurance, they will not be covered," an ICA spokesman said yesterday.

It is estimated more than half of all insured homes in Queensland are not covered for flood damage.
So imagine this; You purchased a house in the last two years, you didn't insure it for flooding because you were told that the Wivanhoe dam meant Brisbane would never flood. Now you have a $300,000 mortgage on a house that it under 10 feet of water that is literally worthless in every way.

You owe $21,000 per year on a property that you can't live in and you cannot sell, but the debt on it means you can't afford to move somewhere else. The banks are giving you a 3 month reprieve.
AUSTRALIA'S big banks will freeze mortgage repayments for up to three months for home owners hit by Queensland's devastating floods.

Many lenders will also offer emergency increases to credit card limits and allow some to make early withdrawals of term deposits to get access to funds.

Those moves came as analysts predicted the floods were likely to cause a rise in bad loans because of defaults.
Which will give you 3 months to find a solicitor to declare bankruptcy.

The reason we are talking about this is because we met someone in this situation today, it was terribly heartbreaking; but we know they are not alone, there are probably thousands of people just like this.

The federal government's response to this disaster in the coming weeks and months will be very telling. We would hope that during a disaster of this kind, when thousands of Australians are suffering so horribly and so many have lost their lives, that someone within the economic elite of the government who actually understood how the Australian economy functioned had the internal resilience to explain to the PM how to use the economy to provide the best outcomes for the disaster effected.
But given the recent focus by the PM on keeping the surplus intact it seems that even in the worst of times economic ignorance and stupidity still wins through. We hope this is will not the case , but if it is then we expect the economic outcome will be just as horrible as the initial disaster.

---
Disclaimer: The content on this blog is the opinion of the author only and should not be taken as investment advice. All site content, including advertisements, shall not be construed as a recommendation, no matter how much it seems to make sense, to buy or sell any security or financial instrument, or to participate in any particular trading or investment strategy. The author has no position in any company or advertiser reference unless explicitly specified. Any action that you take as a result of information, analysis, or advertisement on this site is ultimately your responsibility. Consult someone who claims to have a qualification before making any investment decisions.