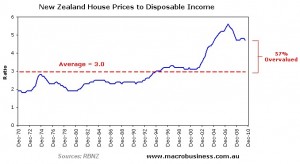 Don Brash, leader of the New Zealand ACT Party and former governor of the Reserve Bank of New Zealand (1988 to 2002), has delivered some stirring speeches recently lamenting the declining level of housing affordability in New Zealand. 
On 25 August, Dr Brash gave a speech in which he noted the role played by regulatory constraints on land/housing supply in making New Zealand's housing unaffordable – an issue with direct relevance also for Australia given our state governments operate similar urban containment policies:
It is impossible to avoid the conclusion that the interaction of the RMA, the Local Government Act and local government staff all over the country has produced a major obstacle to improved living standards.

One of the ways this has happened is through the way in which this interaction has pushed the price of housing well beyond the reach of far too many New Zealanders – or more accurately, has pushed the price of residential land well beyond the reach of far too many New Zealanders.

We know, from the annual surveys undertaken by the Demographia organisation, that housing in our major cities is now among the most expensive in the world, relative to household incomes. And why? In large part because too many local governments have quite deliberately limited the supply of residential land.

Arthur Grimes, now chairman of the Reserve Bank, found that the effect of the Metropolitan Urban Limit [urban growth boundary] imposed by the Auckland Regional Council had increased the price of land just inside that Limit by some 10 times compared with the price of land just outside the Limit.

This is absolutely nuts, in a situation where New Zealand is one of the most under-populated countries in the world, and where Auckland is one of the most densely populated cities in the world – in terms of people per square kilometre, Auckland is more densely populated than Vancouver, Melbourne, Portland, Adelaide, Perth or Brisbane.

I'm delighted that one of the first projects of the newly-established Productivity Commission is to look into the affordability of housing.
On Saturday, Dr Brash followed-up with a fantastic speech, entitled This land is your land, in which he laments the eroding of New Zealand's property rights and the corresponding decline in New Zealand's living standards. The speech covers a wide range of areas and is worth reading in its entirety. Below are the sections relating to housing affordability.:
Property rights are the basis of any modern society. Ownership of a piece of land puts upon the owner both the freedom to use it for new and better purposes, and the responsibility to bear the losses of using it badly.

This balanced freedom and responsibility gives rise to experimentation. You may wish to open a factory, someone else may wish to build a house. I happen to have a piece of land on which I choose to grow kiwifruit. The beauty of private property is that we can all pursue our different goals on land we own…

It's been said that those who like public policy and sausages should not watch the making of either. The Resource Management Act is a case in point.

This legislation was intended to streamline land use development, improve outcomes based on rational principles and improve productivity in New Zealand. In its effect, it's done the exact opposite – hampered our productivity and eroded the whole purpose of property rights. The RMA legislation contains the word "restriction" 61 times and the words "property right" once, and then only in reference to another piece of legislation.

The ownership of property now confers the freedom to use it as the owner sees fit only within narrow constraints set out by people who don't bear the cost of those constraints…

I believe that the single biggest hurdle facing New Zealand's economic future is this creeping erosion of property rights.

For the rest of this speech, I'd like to focus on one particular area where regulatory overkill and a flagrant disregard for property rights are kneecapping our society.

New Zealand is a sparsely populated country with once-high rates of home ownership. Only an estimated 0.7 percent of our total land area is urbanised. One might be forgiven for thinking that plentiful land for building would be one of our advantages.

But one would be wrong about that! Today we have some of the most unaffordable housing in the English-speaking world. Comparing New Zealand with other English-speaking countries – Australia, Canada, Ireland, the United Kingdom, and the United States – only Australia has worse housing affordability than we do, when house prices are compared to incomes.

Once upon a time, people came here from Britain with the promise of being land owners. Today, New Zealanders would find housing more affordable if they left here for there.

Relative to incomes, the price of housing has doubled since the late 1980s, or, as a keen observer might notice, since the introduction of the Resource Management Act in 1991.

As a result, our culture of home ownership is eroding in New Zealand. In 1936, half of us owned our homes. In 1986, we achieved an admirable home ownership rate of 75 percent, or three quarters. The percentage of people owning their own homes has fallen at every consecutive census since. By 2006 that rate was down to two thirds. It seems very likely that rising prices have led to the decline in home ownership.

The evidence from the Centre for Housing Research is that it is those most sensitive to rising prices that are being squeezed out first. It is young New Zealanders, low income New Zealanders, and single parent households who are being squeezed out of home ownership first.

The apologists for the status quo have come up with a plethora of half-baked excuses for this sorry state of affairs.

Some say it's the absence of a capital gains tax in New Zealand which has caused the huge increase in our house prices. But Australia has a capital gains tax, and house prices there have risen even more sharply, relative to incomes, than they have in New Zealand. The United States has a capital gains tax and, within the US, submarkets such as California have had much more inflated housing bubbles than ours.

Others say that younger New Zealanders simply don't wish to own houses. This can't be true either. Those who do manage to buy houses are paying more than ever.

Others would have it that cheap credit is fueling a speculative bubble. Once again, this is incorrect. New Zealand has generally had some of the highest interest rates in the developed world.

More importantly, if there is a speculative bubble, it can only be based on scarcity. You don't get speculative bubbles in items where supply can readily be increased.

Still others argue that house price increases have been driven by increases in building costs. They are partially correct. Building costs rose by 60 percent between 1999 and 2010.

But the price of sections rose by 140 percent over the same period!

And it's this huge increase in section prices which deserves an explanation.

As a result of over-inflated house prices, we are creating a society of haves and have-nots. The haves own their own homes and find themselves with healthy nest eggs; the have-nots face a seemingly insurmountable barrier between themselves and inclusion in a property-owning society.

Equity is the big loser, both within generations and between them. It is younger generations who are hit hardest, unless of course they have wealthy relatives who can help fund them into the property market.

We borrow money offshore to bid against each other for overpriced houses, paying interest on those loans, then attempt to compete against those who have lent us the money. As another former Reserve Bank economist, Rodney Dickens, has put it: "How can a small, export oriented country facing huge disadvantages because it is half a world away from some of its major markets be competitive when housing costs 30-43% more than in the U.S.?"

Affordable housing, or the lack of it, has also been linked to migration. Because it is one area where Australia too has a serious problem, affordable housing could be a game changer for our challenge of getting our citizens back.

All of this leaves us with quite a puzzle. We don't have any obvious shortage of land – as I've mentioned, the urbanised part of New Zealand covers only about 0.7 percent of our land area – but increases in section prices have driven houses out of reach of more and more New Zealanders.

The answer lies in the proposition I laid out earlier. There's absolutely no shortage of land, but the myriad of constraints placed on its use has strangled the supply of land available for people to build their lives and homes.

Take the example of Auckland's Metropolitan Urban Limit [urban growth boundary]. According to research by respected economist Arthur Grimes – now the chairman of the Reserve Bank – this limit has made land immediately inside the MUL between eight and 13 times more expensive than land immediately outside. In their wisdom, the planners in Auckland have said to outside property owners, "this land is not your land, what you can do on it depends entirely upon the purpose we deem for it." The result is that land inside the MUL upon which people can build homes is limited, and homebuyers pay the premium.

Even within this area, there are multiple constraints on what can be built. Over much of the city there is a three storey height limit.

The new planning theory in Auckland is 'densification.' Providing for subdivisions suitable for families is actively discouraged with the expectation that more and more people will live like students in tower-blocks.

But prescriptive policies of any sort are doomed to be a costly failure in a complex society. The international evidence is now crystal clear that prescriptive, long-term land-use planning that supplants the basic right of land owners to use their property as they see fit always and everywhere pushes up the price of housing.

The reasons are not difficult to grasp. Planners speak of the kind of city they wish to create, yet planners don't create cities. Families, businesses, and developers create cities. The only tool that planners have is the ability to define where certain types of development will not be allowed. Their only hope is that the cities they dream of will emerge in the spaces remaining.

The problem is that if they wish to shape a city using restrictions on development, then their restrictions will only have effect if they restrict exactly the types of development that people would otherwise wish to undertake!

The net result of the kind of comprehensive land-use planning that we are seeing in Auckland, for example, can therefore only come to pass if the range of development opportunities is restricted. Small wonder that house prices, and land prices in particular, have shot through the roof in the era of the RMA and comprehensive land-use planning.

All of this identifying the problem is well and good, but what exactly would ACT do about it?

ACT wants affordable housing to again become a reality for all New Zealanders. We want to ensure that cities grow according to the wants of people rather than dreams of planners.

We would reverse the notion that people can use their property only in accordance with local government plans. Instead, we believe that central and local governments should respect the wishes of property owners. ACT wants the law to provide that, provided baseline environmental conditions are met, any activity would be permitted…
Dr Brash is to be commended for fighting the good fight on housing and providing a voice to younger and disadvantaged New Zealanders denied the opportunity of affordable housing – an opportunity earlier generations took for granted.
However, one has to wonder why, given the striking similarities between the Australian and New Zealand housing markets, Australians aren't hearing similar statements from their politicians and policy makers arguing for more affordable housing?
Of course, we all know the answer to that question (hint: politico-housing complex).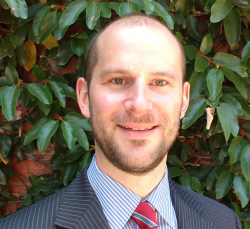 Latest posts by Unconventional Economist
(see all)