I've been arguing for some months that the US economy is slowing. More recently I added the narrative that at the zero bound for monetary policy, where the core price signal ceases to have meaning, it is the expectation of price intentions in the economic leaders themselves that becomes the primary signal. In short, it suddenly matters what policy-makers say as much as what they do. August was a dreadful month for that signal. It was the month in which fiscal policy hit the debt-ceiling debate and monetary policy ran into FOMC dissent, as well as increasingly hysterical political resistance. Overnight we saw more evidence of the fallout.
A few weeks ago, August consumer confidence and several regional production indicators fell off a cliff (the national ISM PMI fell, but showed continuing growth). Overnight we had some more confirming data that the consumption parts of the economy did slow significantly in August. From Calculated Risk:
On a monthly basis, retail sales were flat from July to August (seasonally adjusted, after revisions), and sales were up 7.2% from August 2010. From the Census Bureau report:

The U.S. Census Bureau announced today that advance estimates of U.S. retail and food servicessales for August, adjusted for seasonal variation and holiday and trading-day differences, but not for price changes, were $389.5 billion, virtually unchanged (±0.5%)* from the previous month and 7.2 percent (±0.7%) above August 2010.Retail sales excluding autos increased 0.1% in August. Sales for and June and July were revised down.
Confirming this slowdown are the patterns in import traffic at Los Angeles ports, which handle 40% of US container freight traffic. Also courtesy of the excellent Calculated Risk, import traffic is down for three months on a year on year basis from June through August:

Some reassurance might be drawn from the ongoing strength in export traffic.
So, back to whether we might see any greater clarity from economic leaders on the path for stimulus, there was one good data point overnight in a fall in the producer prices. From Zero Hedge: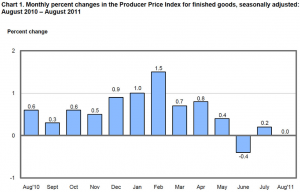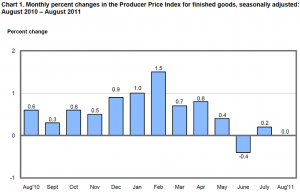 Which may help the FOMC produce something more substantial than the currently mooted Operations Twist and the like. They are going to need to if they're going to turn the economy and equity market around. It seems there is little help coming from the fiscal side. An overnight Bloomberg poll showed:
A majority of Americans don't believe President Barack Obama's $447 billion jobs plan will help lower the unemployment rate, skepticism he must overcome as he presses Congress for action and positions himself for re-election.
Though it's not clear whether the poll is blaming the actual plan or the Congressional nutters that will block it. Anyways, hopes are thin.