After a week being disconnected from the outside world I have returned to Queensland to find that the real estate pushers have turned their attention to the January floods. Let's start with Terry Ryder in the Australian.
Brisbane's housing price performance is among the worst of the capital cities. It is also, from another perspective, the best. Brisbane home values have dropped 5 per cent to 6 per cent in the past year, according to researchers. Only Perth has recorded a larger decline.

But I rate this the best market performance among the capital cities because most analysts expected it would be worse. A lot worse. Brisbane has had to deal with forces no other state or territory capital has faced. The January flood had a serious impact on the psyche of the market and many predicted big decreases in property values.

The more extreme among media commentators suggested a 50 per cent collapse. That clearly has not happened, nor will it. Real Estate Institute of Queensland data shows prices across Brisbane, on average, fell 10 per cent in the six months following the 1974 flood. It also records that values recovered to pre-flood levels within a year of the event.

My prediction in January was Brisbane would do a little better than that this year, given it is now a more mature city and property market, with the river playing a greater role in the life of the community, and given the magnitude of the recovery effort proposed by various levels of government.

And, indeed, this time around Brisbane does appear to be doing better. To cop that level of devastation and suffer only a moderate drop in average values is commendable.

The RP Data-Rismark Hedonic Home Value Index records a 5.9 per cent fall in Brisbane home values for the year to May.
If anyone can point me to an article where anyone claimed that the property prices across Brisbane would fall by 50% because of the flood I would be most thankful.
What Mr Ryder neglects to mention is that even before January 2011 house price growth in Brisbane were already on the slide. In fact they had been in roll-over since Apr-May 2010 as the effects of the first home buyers grant boost faded and interest rates rises began. Until the flood occurred in January the spruikers were at a loss to explain this trend and I still don't think I have seen a satisfactory explanation from any real estate group as to why prices are falling.Until very recently all of the bullhawks have been full steam ahead with interest rate hike talk.
As I noted in February once the floods occurred the industry was pinning falling prices all across the country on the disaster in a desperate effort to explain what was occurring in the housing market that had been so kind to them over the last decade.
Mr Ryder continues.
Another researcher, Australian Property Monitors, finds that the median house price for Brisbane fell 5.1 per cent during the same period and the median unit price fell just 2.5 per cent. RP Data actually reports a small rise in Brisbane's home value index in May.

It was only 0.2 per cent (which effectively means no change) and is only one month's figures, but to record any kind of increase is, in the circumstances, extraordinary.

The indications are, therefore, that Brisbane has held up better in the wake of this year's flood than it did following the 1974 event.
As Mr Ryder mentions but then conveniently ignores a single months figures in the housing market are meaningless. As I have always said in housing it is the trend that matters and a quick look at the RPData-Rismark chart for Brisbane tells that story.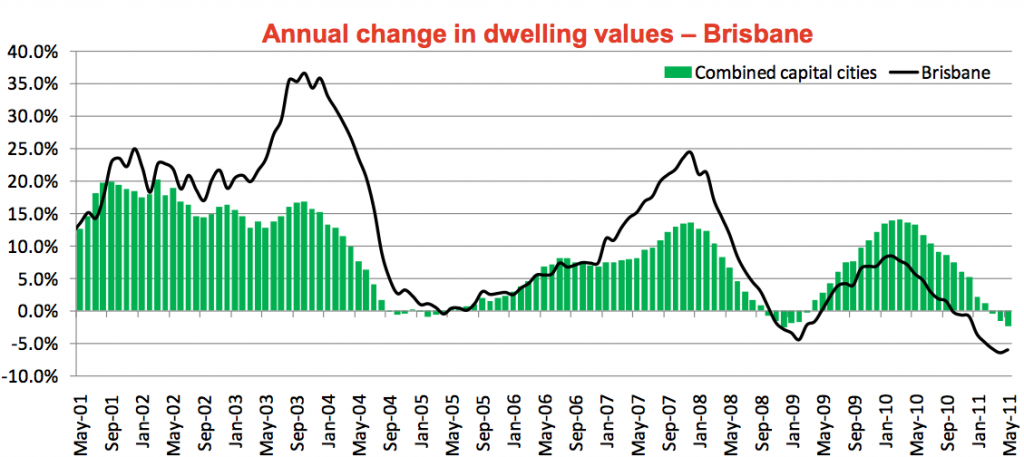 If you didn't know there has been a natural disaster in Brisbane in January I am not sure you could even recognise it in the chart. If we compare Brisbane to another capital city that was unaffected by the disaster you would have to ask whether it had any real effect at all in broad terms.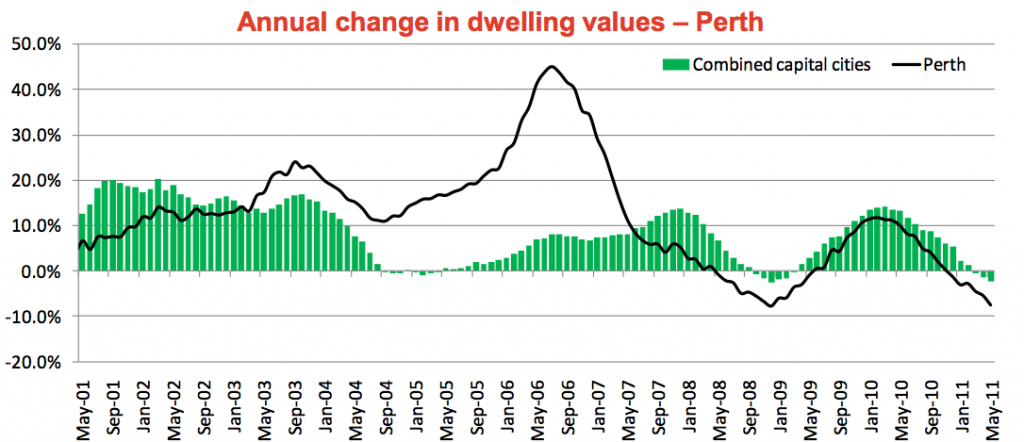 As I have said many times previously, sales volumes are a very important leading indicator for house prices and in regards to that RPData's latest report is very clear.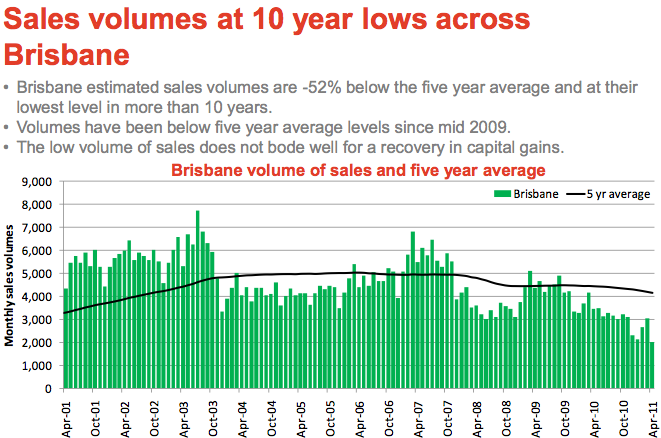 Sales volumes in April were actually below those of January suggesting that prices have further to fall. It would seem from that chart that  just 6 months after the flood event Mr Ryder is rather premature, even if the flood did have anything to do with the falling prices.
However, if Mr Ryder had done a little bit of digging, he would have found that until very recently the properties that were actually effected by flooding haven't even been showing up in property transactions. There are many areas of Brisbane ( and surrounds ) that are still in insurance and finance limbo. Properties that have been directly effected by the flood are only recently starting to hit the market and if Mr Ryder thinks that 5% is all that has been lost in value in these particular properties then he is in for a rude shock.
Values of flood effected properties have actually fallen quite significantly. But you probably wouldn't get that message if you read the articles in my favourite real estate hand-out. The Courier Mail is still doing what it does best.
The internal walls are missing, wires hang from the ceiling and the floors are bare. Yet potential buyers can still see the former glory of this flood-affected Indooroopilly home, which has scored more than 780 hits on its internet advertisement within a week of going on the market.

It is one of a number of flood-affected homes now coming on to the market six months after the January floods. Cheryl Edmonston, of Doug Disher Real Estate, is marketing 258 Indooroopilly Rd.

She said the owners wanted to move on and put the floods behind them. Nine people had inspected the property this week, phone inquiries were received and more people were expected to look at the five-bedroom home today, which goes to auction on August 13. Ms Edmonston said many potential buyers saw it as a chance to get into a market they may not previously have been able to afford.

James Freudigmann is one of those potential buyers undeterred by flood damage. He lives at Kenmore and would like to live at Indooroopilly, closer to the city.

"I have looked at a few properties (flood-affected) around the place but you have to be pretty quick," he said. Mr Freudigmann said if he bought a flood-affected property they would do it up, live in it for five or seven years and then probably sell.
Just in case you wondered what James Freudigmann does for a living here is his linkedin page. Not that this should surprise you.
If you are wondering what "flood affected" means, here is a picture of 258 Indooroopilly Rd.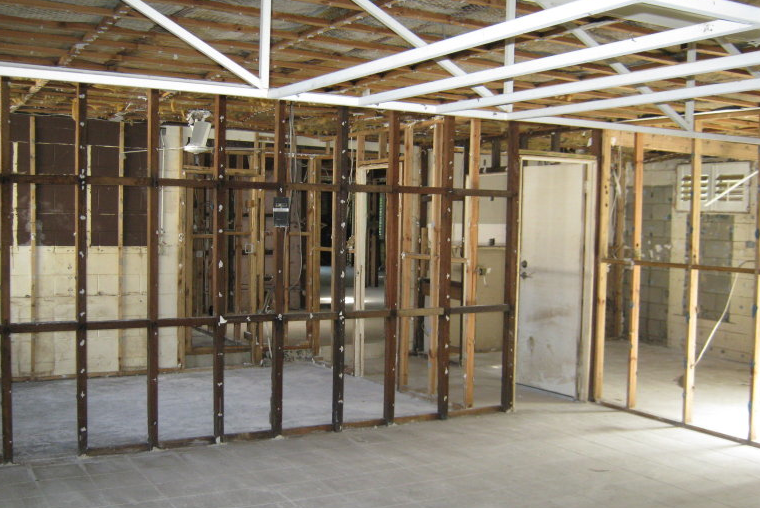 You will note that this particular property hasn't actually been sold yet unlike some others mentioned in the article.
Geoff Smith of Ray White Indooroopilly said his office had now finalised several sales of flood-affected properties. He said the circumstances of those selling were all different. Some renovated before selling, others cleaned the houses, stripped them down to dry out and were leaving renovations to new owners. Others were selling because they had to.

Mr Smith said prices being achieved, depending on the damage and repair work needed, appeared to be 10 to 30 per cent down on what they would have sold for before the floods. He has an unconditional contract on a home at Witton Rd, Indooroopilly for $565,000.
The only house Ray White-Indooroopilly has for sale in Witton Rd is this home. It is a 5 bedroom, 3 bathroom house with a pool two streets from the river. It last sold in October 2003 for $600,000 and a quick glance at the first chart in this post will tell you just how much house prices in Brisbane have risen since that time. It is very clear that the statement "10 to 30 per cent discount on pre-flood prices" is extremely conservative.
He is marketing another in Dobell St, which was repaired and renovated after the floods. Mr Smith said buyers appeared to be willing to take the risk there would not be a similar flood for another 10 or 20 years.

Tony Poulsen of Ray White Graceville has also marketed flood-affected properties. Mr Poulsen's agency sold a Corinda home for $350,000, which had some structural problems and another on Leybourne St, Chelmer, which would previously have sold in the high $500,000s and went for $410,000. His agency has also sold a home at Tennyson which had been repaired after the floods. It sold for $380,000 – about 30 per cent down on what it would have achieved.
I think it is much more realistic to state that these particular properties are selling for at least 30% less than their previous pre-flood estimates with some properties being discounted by over 50%. Something Mr Ryder took issue with in his article although I think he attempted to make it seem like a more extreme view.
So am I suggesting that Brisbane is about to see 50% falls in prices as suggested in Mr Ryder's piece? No, I am not, in fact I am actually expecting to see a bit of an uptick in median values in July as people bring forward their property transactions to beat the rise in stamp duty from August 1st. However there is not much movement in the latest auction rates data to support that theory, even is I am fairly sure that is what we will end up seeing.
However, after July 31 I would expect to see another slump after the mini-boom of July and I certainly cannot see anything in either the sales volumes or credit issuance trends in Queensland to support rising prices. Until I do, I cannot support the notion that we are about to see a sudden rise in house prices and given the state of consumer confidence and various other economic factors I think the turn around is a fair way off.
Unlike other unlicensed and unqualified property opinions who would have you believe that house prices will rise because "they always do",  I prefer to support my arguments with actual evidence.