The S&P/ASX 200 rallied strongly today alongside other risk assets, closing up 91 points or 2.18% to 4173 points.
Asian markets experienced gains, with the Nikkei 225 closing up 1.22% at 8733 points, and the Hang Seng up 1.3% at 19740 points.
In other risk assets, the AUD bounced back against the USD, now at $1.0474, WTI crude up 1.5% to $85.56 USD per barrel. Gold is still on a tear, now up to $1904 USD an ounce.
Movers and Shakers
It's green across the board, with Wesfarmers the only laggard standout. Day traders were loving Bluescope Steel (BSL) today, after falling nearly 7% it rallied and closed up 12%
The banks closed the day up strongly, with ANZ and CBA in the 2% up club, whilst NAB and WBC posted 3% daily gains.
The resource twins BHP and RIO also joined the party, up 1.8% and 2.2% respectively.
All this because of a strong PMI figure from China? Or short covering? Choose your poison.
Daily Chart
The daily chart shows how recent price action – the dead cat bounce of last week – has slipped below tenuous support at 4250 points, with the next support at 4000 points. This kind of reactionary rally is not uncommon in bear markets, but the weight of two years of sideways action still lingers.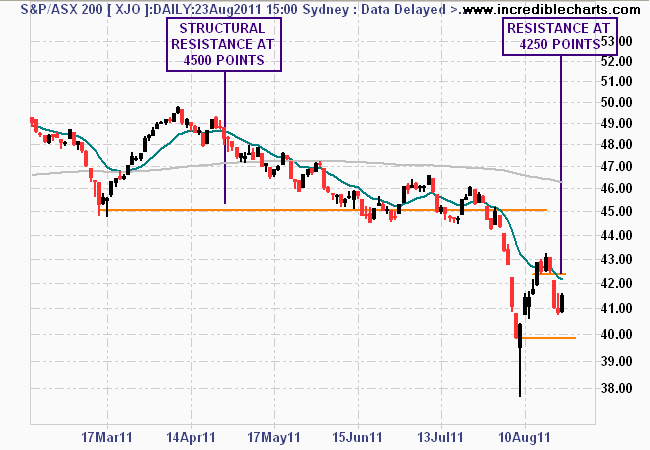 Moving to the weekly chart, the resistance levels are clearer: medium term structural at 4500 points (the target for any sustained rebound rally), and secular resistance at 5000 points (the target to exceed to reverse this secular bear market).

Latest posts by Chris Becker
(see all)