Last night, the US blog, Calculated Risk, had an interesting argument about whether or not "event" shocks have a different effect on consumer psychology than do more enduring economic shocks. He produced the following table to make the point that the recent debt-ceiling debacle was an event-driven blow to confidence that is likely to be fleeting: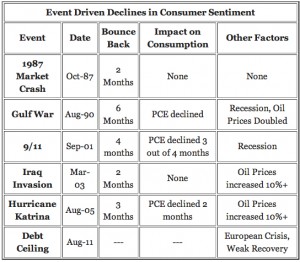 This is an important question. In the normal run of things, I would agree that such an episode is unlikely to do lasting damage to consumption patterns. But, as a part of a broadening pattern of policy failure, I wonder if the event, in tandem with the downgrade and increased equities volatility, won't have a more lasting effect.
Anyways, I thought it might be an interesting excersize to ask a similar question for Australia. Here, for starters, is the history of consumer confidence: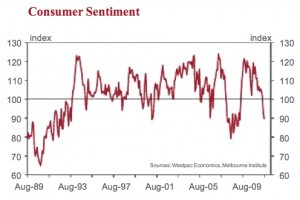 The most obvious observation we can make here is that recessions do by far the deepest and most enduring damage to consumer psychology. Beyond that, it's probably fair to observe that the three other outstanding events that had some sort of recognisable impact on confidence were the '97 Asian Financial Crisis, the 2000 NASDAQ rout and 2004 housing correction.
Now, let's have a look at each in terms of retail sales. Here is a long term chart of retail sales per capita (h/t Cameron Murray):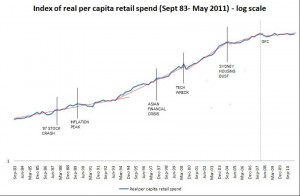 As you can see, not all shocks are created equal. The two big stock markets shocks of the past twenty five years, Black Monday 1987, and the Tech Wreck of 2000 left very little mark on consumption patterns (despite the deep impact on confidence).
On the other hand, offshore financial crises do seem to have a nasty and lingering effect on consumption patterns, going by the 1990 recession and banking crisis, as well as the Asian Financial Crisis and the Global Financial Crisis.
I think it's fair also to suggest that housing corrections also have a greater effect on consumption than do stock market shocks, going by 2004. And that is consistent. Threats to banks and house prices go hand in hand.
None of this is terribly forensic. There are myriad variables at work around each of the shocks I've cited. But it does offer the hope the that recent stock plunge and further collapse in consumer confidence recorded last week won't necessarily impact consumption all that much.
The ongoing housing melt and European financial crisis are another matter.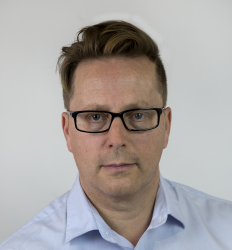 Latest posts by Houses and Holes
(see all)