As I have stated many times the current plan of pushing austerity onto the indebted periphery of Europe is not a sustainable solution because the current macroeconomic environment of the EMU cannot provide an auto-stabilising mechanism that will compensate them for the lack of credit being issued into their economies. While Europe continues on this path it is destined to flounder from one crisis to another until either a true fiscal-monetary union is formed or the debt is written off and one group of countries is ejected from the Union.
A quick glance at the recent trend in both unemployment and industrial production in Greece demonstrates just how politically and economically unsustainable the current situation is.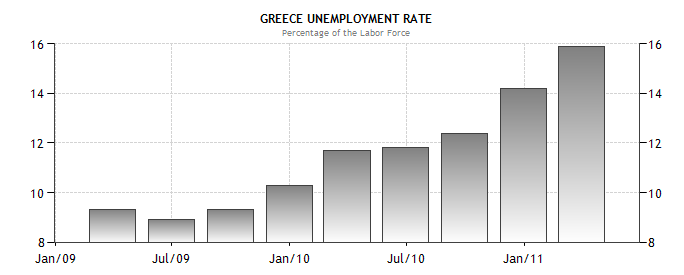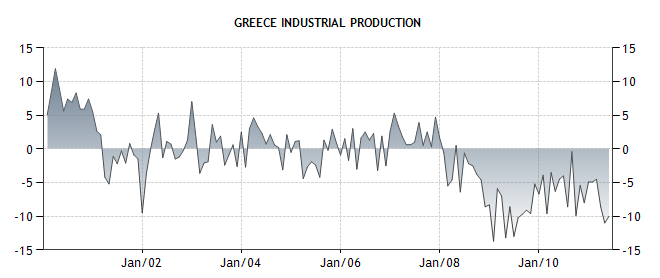 Yesterday the OECD added to the delusion of sustainability with its latest revised report on Greece's economic future. As Reuters UK reported:
The European Union's rescue deal for Greece will only slightly reduce the country's debt and it will take a generation to cut it down to more sustainable levels, the OECD said on Tuesday.

"Initial analysis suggests that the (EU) package would decrease the debt burden only slightly," the OECD said in a report on Greece, commenting on the rescue deal agreed by the EU last month, based on new and cheaper loans and bond swaps.

"The additional official financial support agreed and the maturity extensions, both public and private, provide the time needed for Greece to continue to implement fundamental fiscal and structural reforms, and for those reforms to bear fruit," the report said.

Reducing Greece's funding needs is different from cutting its debt mountain to levels that the markets will consider safe and sustainable over the long term.

The Organisation for Economic Cooperation and Development sees Greek debt dropping to 100 percent of GDP in 2035 from about 140 percent in 2010 under its baseline scenario, in which the debt-choked country would widely miss an EU/IMF target to raise 50 billion euros (43 billion pounds) from privatisations by 2015.

Under a more optimistic scenario where Greece meets its privatisation target with only a slight delay, the country's debt would shrink to 60 percent of GDP by 2035 — the ceiling set by EU treaties — the report says.

"We came here to give a vote of confidence but we are also here to say we will support the Greek government for a full generation, which is what it is going to take to get to those numbers of lower debt-to-GDP (ratio)," Angel Gurria, head of the OECD club of industrialised nations, told Reuters in an interview on Tuesday.

Many private analysts think that at the very least, the debt/GDP ratio needs to be cut below 100 percent, and some suggest 80 percent.
If the fact that the OECD has stated that Greece will need decades to resurrect its economy has already set off alarm bells given that Europe cannot get through a single month without stumbling into a new crisis, then you probably shouldn't look too closely at the report's other assumptions.
Under conservative assumptions regarding growth and interest rates, and if fiscal and structural reforms are fully implemented, the debt-GDP ratio could peak in 2013 and fall below 60% of GDP in the next two decades. The package announced on 21 July 2011 should ensure reasonable interest rates on Greek debt, contains measures to enhance investment and growth, and will give Greece the time needed to implement reforms which will boost competitiveness and export performance. Despite the short term costs, the reforms that have been implemented or planned will benefit Greece for many years to come, as they will raise growth, living standards and equity.

….

The cuts in the public deficit were unprecedented. Deep-rooted fiscal reforms have been launched to strengthen the management of the public finances and to revamp the pension system. The statistical system is being improved significantly. Labour market reforms will increase employment and help to restore international competitiveness.
Utter waffle. Can these people not read a chart?
Implementing austerity while staying with the Euro guarantees that Greece will stay non-competitive because it cannot adjust its currency's value to meets it real economic output and therefore stimulate exports. Under these circumstances the only thing Greece can do is lower its wage base. In doing so unemployment will rise, industrial output will fall , and the stability of the economy will continue to suffer as bad debts mount in the banking system. None of these things will produce economic growth or raise living standard and to state otherwise is ideological delusion.
The rest of that statement is simply a "get out" clause for the OECD so when they are inevitably wrong they can claim it was because Greece did not fully implement fiscal and structural reforms instead of admitting that they are themselves were deluded. Let's not even mention that the packaged announced on July 21 is already cracking under the strain and may not be able to deliver on its promises to Greece.
Most concerning, however, is the fact that the OECD have already completely miscalculated the effects of austerity on the Greek economy. As the Wall Street Journal reports they have already missed 0.6% of GDP shrinkage in their calculations in just 3 months.
Greece has gained time to implement its ambitious fiscal and economic reforms because of the latest aid deal from international creditors, the OECD said Tuesday, but cut its growth forecast for the country and warned of a long recovery ahead.

In its latest economic survey, the Organization for Economic Cooperation and Development said the Greek economy–now stumbling through a third year of recession–will contract 3.5% in 2011, before staging a modest 0.6% recovery next year.

The 2011 forecast is lower than the OECD's previous outlook in May–when it predicted Greece's gross domestic product would shrink 2.9% this year–but it is in line with the official forecasts of Greece's international creditors. The OECD didn't change its outlook for 2012.
I guess the best thing I can say about this particular report is that it is probably irrelevant. A quick look at the latest bond charts for the non-EFSF rescued periphery tells me it is the witching hour for a new European crisis. Let's see what mad plan falls out of the back of that.