The Australian housing bubble debate appears to have hit a stalemate, where the dominant view is that home prices will stagnate for an extended period as incomes catch-up (i.e. declining in real terms).
It's a reasonable view with precedent. For example, after the late-1980s house price boom and the strong run-up in house prices between 1998 and 2004, Sydney's home prices stagnated for an extended period, declining in real terms (see below charts).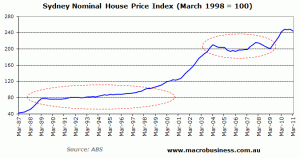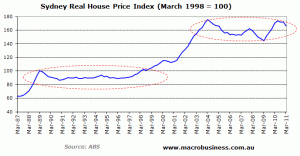 It's also a scenario currently being played out in New Zealand – a country with essentially the same banking system as Australia's, solid population growth, as well as housing markets with similarly restrictive urban planning policies.
A recent article published in New Zealand's Interest.co.nz provides an interesting insight into New Zealand's slow melting housing market:
House prices have now stagnated for more than four years, their longest period since the 1988-1993 plateau.

And it's not over yet.

On an inflation-adjusted basis, this current period also represents the biggest decline in real house prices in almost 30 years.

Capital gains for most of the market have evaporated. Capital losses are a real prospect.

CPI 

inflation has risen to over 5.3%

 per annum in the latest quarter, and we are entering a period where housing debt is being inflated away. Savers are paying the price, but borrowers may also be risking their equity.

For the 51 month period from April 2007, median house prices in New Zealand rose just 3.2% from NZ$349,000 to NZ$360,000.

Over this same period, the CPI index rose from 1010 to 1157, up 14.6% over these 17 quarters.

On this basis, real inflation-adjusted house prices have fallen 11.4%, the second largest fall since records began in 1963, a period of 48 years.

We are probably in the middle of this period of nominal house price stagnation. We also seem to be entering a period of high inflation. The combination will drive real house prices down…

For most markets in New Zealand, housing is no longer a hedge against inflation. In fact it hasn't been since mid 2007. Although there is no way to know how long the current stagnation will last, public policy seems to be shifting to accept – even encourage – a shift away from 'investing in real estate'. The current trends may well last as long as, or even longer than, the ten year stretches 40 years ago. We could be less than half-way through the cycle.
For a longer-term perspective on the New Zealand housing market, consider the below chart of real house price growth since 1979: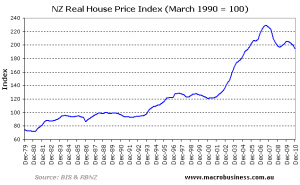 Both the rise and fall of real house prices in New Zealand over the past decade has been spectacular relative to the past 30 years.
Even though recent price falls have been moderate in nominal terms (circa 5%) across New Zealand's larger cities: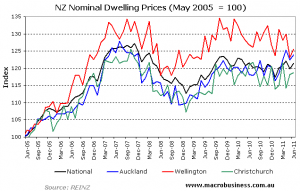 In real terms, the price falls have been far more pervasive (circa 10% to 15%):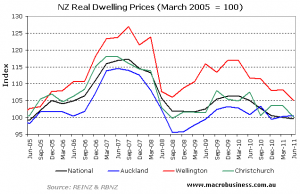 The melting of New Zealand's housing market has occurred amidst recent deleveraging by households: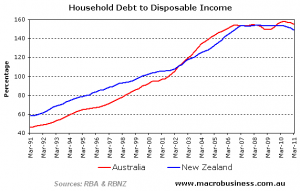 Sluggish home loan approvals: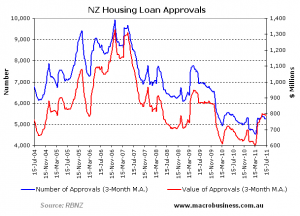 And collapsing home sales: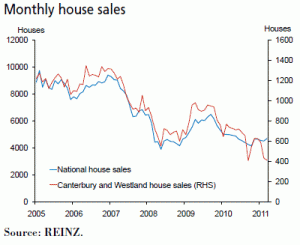 And yet, the Reserve Bank of New Zealand's ability to collapse variable mortgage interest rates to near 50-year lows – an option also open to the Reserve Bank of Australia (if the proverbial hits the fan) – appears to have cushioned the blow to New Zealand's households from declining wealth, rising unemployment, and sluggish income growth, in turn helping to support home values: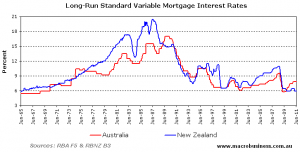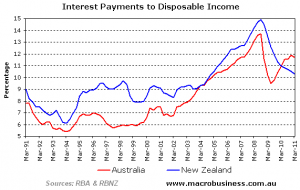 However, with New Zealand's homes still severely overvalued relative to incomes, nominal prices would need to stagnate for many years yet in order to restore home values to an affordable level: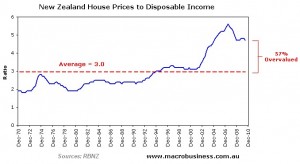 At this stage, continued stagnation looks to be the status quo for New Zealand, with the number of listings remaining low, suggesting relative balance between vendor supply and (depressed) buyer demand: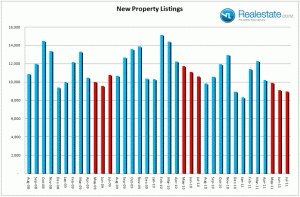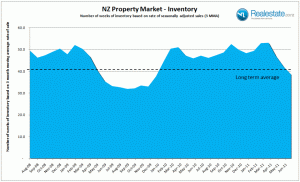 Obviously, no one knows what the future holds for New Zealand's housing market. China's economy could correct, sending New Zealand's terms-of-trade, currency and exports plummeting, all the while causing ructions to externally funded economies, whacking consumer confidence and increasing unemployment. On the other hand, in the absense of any significant external shock, continued stagnation of house prices – the long 'slow melt' scenario – is possible.
The other great risk, that negatively geared investors get fed up with losing money and bolt for the door en masse, hasn't yet happened in New Zealand, though it remains a danger. Crucially, as you can see in the charts above, the New Zealand market has managed a slow melt through a period when interest rates only fell.
For the Australian housing market,  significant house price falls are possible – particularly if China's economy experiences a hard landing or the commodities boom persists long enough for interest rate pressures too get higher than they are today. Still, a prolonged period of house price stagnation in the absence of these shocks is equally possible.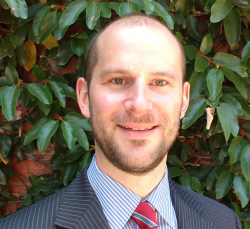 Latest posts by Unconventional Economist
(see all)