Back in April I questioned whether Queensland was heading for recession on the back of stalling credit issuance and a falling housing market. Later in that month I noted that the Victorian government was also showing similar signs of weakness. To complete the trifecta I note today (h/t Lorax) that New South Wales has also caught the same disease:
The NSW financial position has deteriorated by hundreds of millions of dollars since April, the Treasurer, Mike Baird, has warned, as consumer spending tightens during uncertain economic conditions globally.

A week before he delivers the O'Farrell government's first budget on September 6, Mr Baird has revealed forecast receipts from stamp duty, GST payments and payroll tax have collapsed since the budget position was last published shortly after the March election.

In that report, released in April, the acting Treasury secretary, Michael Lambert, said the budget position had deteriorated by about $1.93 billion since the midyear review in December, mainly due to a sharp fall in expected revenue.

Mr Baird would not confirm specifics, but he said the position had worsened, particularly in the past six weeks amid the global economic unrest over the US credit downgrade and ongoing turmoil in Europe.

"The budget is under increasing pressure, as all government budgets are with the drop in revenues," Mr Baird told the Herald
I am not sure exactly how the recent financial market turmoil has suddenly meant that NSW coffers have lost $2 billion dollars. It sounds much more likely to me that the NSW treasury simply couldn't see that credit driven consumerism was stalling and made some highly optimistic predictions based on unsustainable levels of revenue.
The latest NSW OFM annual report  contains many examples of this misguided optimism:
When the 2009-10 State Budget was prepared in the second quarter of 2009 the worst global financial crisis since the Great Depression was underway. Following significant monetary and fiscal stimulus the forecast in that Budget was that the Australian and NSW economies would encounter a mild recession in 2009-10 and a modest recovery in 2010-11. Unemployment was expected to rise significantly.

As 2009-10 progressed, however, the Australian and NSW economies performed considerably better than expected. Rather than being a year of further slowing, 2009-10 was a year of economic recovery. The turnaround can be attributed to the stimulus policies adopted, strong trade links with Asia, high population growth and a sound Australian financial system. Importantly, both business and consumer confidence rebounded sharply from low levels and stabilised at above average levels over the course of the year.

The Budget forecast was for a decline of 0.5 per cent in NSW Gross State Product (GSP) in 2009-10, but the improved global and domestic outlooks meant this forecast was twice revised upwards during the year – to growth of 1.5 per cent in the Half-Yearly Review and to 2.5 per cent growth in the 2010-11 Budget.

….

While taking these uncertainties into account, the 2010-11 State Budget further upwardly revised revenues compared with the Half-Yearly Review forecast.
I am guessing no one at the NSW treasury was tracking private sector debt issuance. If they had been it would have been fairly obvious that the surge in economic activity in 2009-10 was on the back of a sudden break-out in credit which was coming to and end: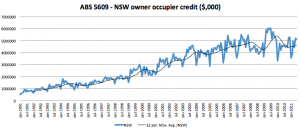 A quick look at the Sydney housing market clearly displays this same trend in recent years: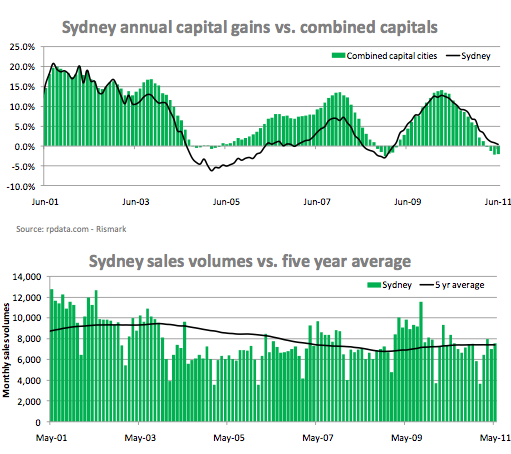 The NSW government seems to have suddenly realised this issue and has re-assessed it predictions of revenues based on credit driven activities:
It is understood the forecast drop in revenue is particularly sharp for 2011-12 and stamp duties have been hardest hit.

In his first comments since being appointed, the new Treasury secretary, Phil Gaetjens, said global economic uncertainties were continuing to make consumers cautious about spending.

When combined with the impact of a high dollar on non-resource exports, Mr Gaetjens described the revenue forecast as "weak".
As I have stated previously a long term expansion of credit leaks across the broader economy giving the illusion of sustainability, this obviously includes the public sector:
The NSW public service has blown out to more than 322,000 bureaucrats, 50,000 more than when Labor won power in 1995, costing the state more than $27 billion a year.

The public service has grown from 279,574 employees when Bob Carr took power in 1995 and supporting the bureaucracy now consumes almost half the budget and is projected to blow out past $30 billion in 2013-14.
I don't see any reason why this downward trend will change so I therefore cannot see any reason why the NSW government's fiscal position is about to improve. It's also interesting to note that in the last couple of years, mining royalties have surged, masking the problem to a degree, Luckily, they can still count on royalties and federal government transfers to prop up their budget: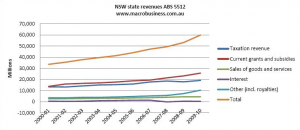 … at least until the Federal budget comes under the same credit issuance stress.