In my recent budget analysis piece I spoke about public final demand.
Forecast 6: Public final demand, having risen strongly in 2009‑10, is forecast to moderate in 2010‑11 and 2011‑12, reflecting the unwinding of the Government's fiscal stimulus measures and a broader moderation in spending growth across other levels of government.

Analysis: I am going to give them a tick for this one, but at the stage the country is at in the economic cycle I am not sure that is a good thing. With the loss of government stimulus spending and the mandated aim for a surplus budget this was a bit of a no brainer. The problem however is that there are major flow-on effects from this forecast success. The natural disasters in Queensland, NSW and Victoria have led to significant budget issues for the State governments. On top of that we have the slow down in housing sales which again adds to the state's woes. Victoria has been served a double whammy in regards to this but they are not alone. In my own State of Queensland I am aware that government departments have been asked to find significant savings ( 15% + ) in next year's budget. I suspect this will mean large falls in corporate expenditure. The private sector may not have noticed yet as projects rush to meet their June 30 spending deadlines, but after July 1, I think many IT, HR and finance consultancies are in for a rude shock as state government contracts suddenly dry up.
And in the conclusion I stated
From Mr Swan's speech today, I detect that he doesn't quite understand what the problem is, and I see little evidence that the government is about to launch into another stimulus program to kick start credit. In fact, the reverse is clearly true. As I said in my analysis of Forecast 6, this lack of new stimulus will have significant flow-on effects to downstream economic participants.
As I have talked about recently the states are at the front line of the down turn in housing and they are also about to wear the flow-on effects of the Federal governments push to surplus. Today I note Victoria has joined the queue.
The state government will be forced to borrow to pay public servants' wages unless it dramatically pares spending in the budget, an independent analysis of the state's finances has concluded.

The finding comes as Treasurer Kim Wells puts the final touches on next week's budget, with unions and the welfare sector braced for deep cuts as the government struggles to free up cash to deliver $5.2 billion worth of election commitments.

The report, by three leading public finance experts, also reveals the budget has been in deficit by about $1 billion for each of the past two years – a fact that was "obscured" because billions of dollars of federal stimulus spending had been added to the bottom line.

The report, commissioned by the state government after the November 2010 election, also warns Victoria is "not well placed to withstand another material financial shock", with unsustainable spending, rising debt and a huge infrastructure spending shortfall.

"Without a change of direction, the future financial position will be characterised by an undesirable combination of negative net operating balances [deficits] and an increasing accumulation of debt."

It said government spending on infrastructure would need to "increase substantially" by about $2 billion a year to keep pace with population growth and meet public expectations for better services.

"This will present a considerable fiscal challenge in the face of the state's current financial position," it said.

Despite Victoria's budget surpluses over the past decade, it said Treasury's "accounting treatment" of billions of dollars of federal stimulus spending, including cash for school infrastructure, had "obscured" $1 billion budget deficits this financial year and last.

In a blunt warning to the Baillieu government to cut spending and pay down debt, it said on current trends the budget was heading for a deficit of $6.5 billion by 2021, and by 2015 the government would be unable to meet everyday expenses such as wages without borrowing.
Borrowing to pay wages? California here we come !
You can see from RPData's transaction graph that the real estate sales volume in Victoria is sharply trending downwards and that means significantly less revenue for the Victorian government. ( Please see a recent post by the unconventional economist for more on this topic)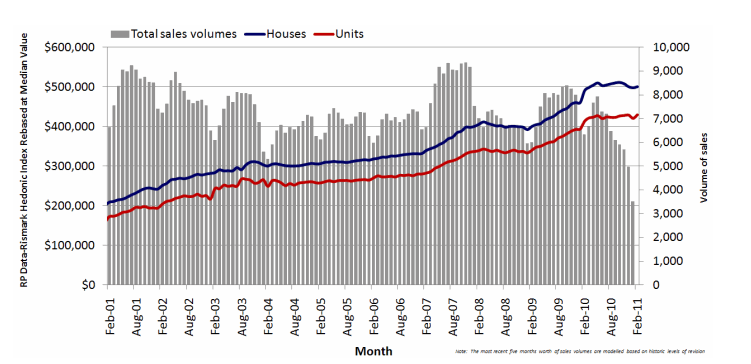 On top of that you have the lack of new stimulus from the Federal government and let us not forget the GST.
A slowing national economy is set to slice another $1.5 billion off Victoria's GST payments. In the latest blow to the state's finances, Treasury officials have told the Baillieu government to expect a sharp fall in revenue due to a weaker-than-expected economy.

The advice has been factored into budget projections and is on top of the $5bn setback outlined in last week's pre-budget Treasury announcement. This means the government will have to plug a $6.5bn hole in the state's finances over the next four years while dealing with a slowdown in the economy.

The Australian believes the state Treasury is telling the government that growth nationally is looking "much weaker" and that consumers have become more frugal while investment has shrunk. It is almost certain that Victoria will record — and forecast — significantly lower growth just as the Gillard government prepares to make some savage cuts.
The Victorian government seems to have little choice but to cut back spending which once again will have a flow-on effect to the broader state economy. You never can tell which path a politician will take, but from where I am sitting Victoria looks like it will be joining Queensland on its way to WA on the island of recession.