There is a technical economic concept that you should get to know, if you don't already know it. It's called the Phillips Curve. And it may be about to change your life.
Basically, it posits an inverse relationship between rates of unemployment and rates of inflation. That is, the lower the former, the higher the latter.
Roughly a year ago, David Norman and Anthony Richards of the RBA published a seminal piece of research that modeled Australian inflation over several decades and concluded that a fairly basic Phillips Curve modified by inflation expectations was the best tool for predicting Australian inflation outcomes. The paper offered a few excellent charts. Firstly, of Australian inflation itself, which shows a distinctly upward trend since the turn of the millennium: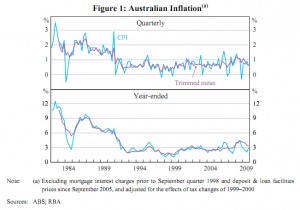 Next is a chart of the various inflationary pressures acting on the economy over time: import prices, labour costs, the output gap and inflation expectations: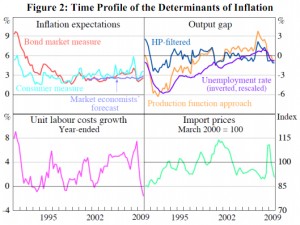 As you can see, the trends in unit labour costs and inflation expectations track the path of past inflation quite neatly.
And that was the conclusion reached by the researchers and their modeling. Following are the predictions of four modified Phillips Curve models graphed against actual inflation.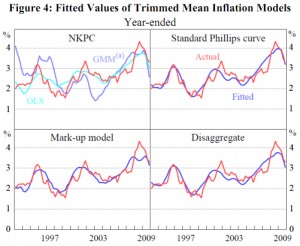 You can see why the RBA concluded that a simple Phillips Curve is the most accurate inflation modeling tool, even accounting for such variables as oil prices.
So, what does this tell us about the RBA's intentions today? I'm not technically adept enough to build my own Phillips Curve model so I can't give you an accurate read. What I've done instead is chart inflation against the unemployment rate over time:

I've circled the periods in recent years when unemployment sank to or below 5%. And you can see again, that there is a strong correlation between the 5% unemployment level and inflation rates above the top level of the RBA band at 3%.
So, what can we conclude about today meeting of the RBA board?
First, in any normal circumstance, it's a fair bet that the Phillips Curve would be telling the RBA to raise rates today.
Second, if they do so, they have one objective in mind: job losses to quell inflation.
Third, if they don't raise, it tells you something about how anxious they are about the risks that a new external or internal shock will overshoot their job loss and inflation objectives.
Fourth and more long term, if we get through current global ructions (which I sorely doubt), you have to ask yourself, just how high will rates have to go to keep unemployment at or above 5% and inflation within the band?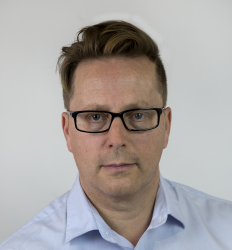 Latest posts by Houses and Holes
(see all)