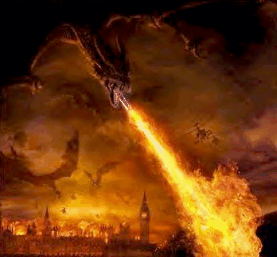 Anxiety appears to be building on multiple fronts in China, threatening to spill over into social unrest.
First, with the sharp rise in home prices and rents squeezing many younger Chinese out of the housing market, as well as widening the wealth divide, the Chinese Government is under intense pressure to improve housing affordability. The Government has responded by promising to invest more than US$700 billion in low-cost housing, in addition to building or renovating 36 million homes nation-wide. However, there are doubts about the feasibility of the Government's targets, with local authorities dragging their feet due to a lack of funding and developers put off by low profit margins.
Second, as reported yesterday by Zarathustra, inflation in China is accelerating, with no sign of coming under control (see below chart).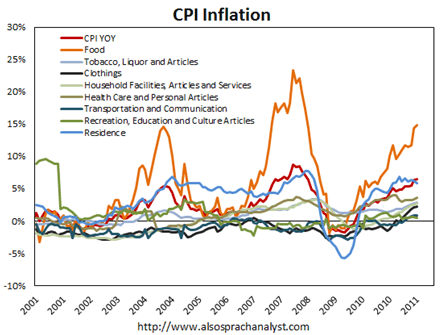 Most importantly, food prices were up 14.8% yoy, within which meat prices rose 33.6% yoy. According to China's National Bureau of Statistics (NBS), foodstuffs account for more than one-third of the monthly spending of the average Chinese consumer, fuelling concerns that the spike in prices could trigger social unrest. Public anger over rising food and fuel prices has already caused a series of protests this year. Just last week, thousands of taxi drivers in the eastern city of Hangzhou went on strike demanding higher fares. And in April, truck drivers in Shanghai stopped work over rising fuel prices, disrupting operations at the city's ports.
Finally, the 23 July high-speed rail accident, which claimed 40 lives in Eastern China, has crystalised the public's concerns that the Chinese authority's 'growth at all costs' approach to economic development is taking place without due regard to personal safety or freedom. The Government response to the incident, which included imposing a news blackout and the burial of a rail carriage before rescue work was completed, has infuriated both the media and public at large, whilst confirming concerns surrounding Government secrecy and propaganda.
Here's the New York Times (NYT) via (Interest.co.nz) on the Government's media blackout and the public's reaction:
After days of growing public fury over last month's high-speed train crash and the government's reaction, Chinese authorities have enacted a virtual news blackout on the disaster except for positive stories or information officially released by the government.

The sudden order from the Communist Party's publicity department, handed down late Friday, forced newspaper editors to frantically tear up pages of their Saturday editions, replacing investigative articles and commentaries about the accident that killed 40 people in eastern China with cartoons or unrelated features. Major Internet portals removed links to news reports or videos related to the crash near Wenzhou in Zhejiang Province, in which 192 people were also hurt.

The government's decision to muzzle the media followed a remarkable week of outpouring of online criticism of the government over the July 23 accident. For many in China, the train wreck has crystallized concerns about whether the government is sacrificing people's lives and safety in pursuit of breakneck development and is cloaking its failures in secrecy or propaganda.

Outraged by the order to silence themselves, dozens of journalists insisted in online messages that given the many troubling questions that remain, it was almost impossible to swallow the directives. The government has placed huge importance on the construction of high-speed rail, mounting the world's largest public works project.

"Tonight, hundreds of papers are replacing their pages; thousands of reporters are having their stories retracted; tens of thousands of ghosts cannot rest in peace; hundreds of millions of truths are being covered up," the editor of Southern Metropolis Daily, a privately owned newspaper based in Guangzhou, wrote Friday. "This country is being humiliated by numerous evil hands." His post, on the site Sina Weibo, was later deleted.

"My story will not go to print today and looks like I will have to write something else," wrote another journalist. "I'd rather leave the page blank with one word — 'speechless.' "
The Atlantic followed-up on the NYT article with a nice round-up of Chinese reaction to the high-speed rail incident (h/t Interest.co.nz).
There's this emotive monologue from a CCTV (state TV) anchor:
"If nobody can be safe, do we still want this speed? Can we drink a glass of milk that's safe? Can we stay in an apartment that will not fall? Can the roads we travel on in our cities not collapse? Can we travel in safe trains? And if and when a major accident does happen, can we not be in a hurry to bury the trains? Can we afford the people a basic sense of security? China, please slow down. If you're too fast, you may leave the souls of your people behind."
And for a real tear-jerker, check out the below YouTube video, which creates a montage of the rail accident including public reactions:
In the "subversive" category, I present you this video* that creates a montage of the rail accident and its aftermath to the soundtrack of that infamous '80s Chinese rock anthem "Nothing to My Name (一无所有)". Oh yes they did, they brought back the godfather of Chinese rock Cui Jian:


For those unfamiliar with Cui Jian, he rose to prominence in the tumultuous late '80s with that hit rock single. It seemed to have captured the zeitgeist better than anything else, as Chinese youth grappled with the sense of waywardness during the first decade of discombobulating economic reforms. Cui's ballad was then coopted by students during that memorable summer of 1989 in that famous Beijing square.

I don't want to draw breathless, and in all likelihood unfounded, parallels to that summer of discontent. But is it just pure nostalgia for Cui Jian and the '80s? Or is this a subtle message that prompted the hasty removal of the original video on Tudou?

Yet it resurfaced on YouTube and elsewhere as swiftly as it was removed. To me, that was the essence of this disaster. It was a demonstration of the power of individual agency, amplified by new technology and media, that momentarily knocked the state off balance. The hundreds of thousands individuals who tweeted and commented weren't seeking to overthrow the government or foment revolution. They simply wanted honest answers and accountability from a government that they were asked to trust deeply.
As if safety concerns weren't enough, now it has emerged that the former deputy chief engineer at the Ministry of Railways, along with several other senior officials, have been accused of pilfering billions of dollars of funds from the railway. Here's Forbes' Ray Kwong (via Interest.co.nz):
According to CCTV, the state-owned television broadcaster in China, Zhang Shuguang, the former deputy chief engineer at the Ministry of Railways, is accused of having deposits abroad of $2.8 billion, reports Tom Lasseter from McClatchy Newspapers. Zhang's former boss, Liu Zhijun, the Railways minister, is accused of walking off with $155 million.

Both officials were suspended in February on graft charges. The figures had been circulating previously on China's rumor mill, but the report by CCTV appeared to be an official confirmation, writes Malcolm Moore of The Telegraph. At least five former senior officials at the Railways ministry are now under investigation for corruption.

Zhang is regarded as the "father of China's high-speed railways," according to Asia Times. He supported Liu's plans for "leapfrog development" by building a $300 billion high-speed rail network covering nearly 10,000 miles by 2015.

Zhang reportedly has his $2.8 billion stashed away in Swiss and US bank accounts, and owns three luxury homes in Los Angeles, despite his status as a prefecture-level official, with a monthly salary of just $1,240 (8,000 yuan). His wife and daughter live in the U.S.
Amid the widespread anger over the rail crash and corruption within the Ministry of Railways, the Chinese Government finally appears to be acting, looking to break-up the Ministry by separating-out the regulatory and operational functions. The sheer size of the Ministry is enormous, with some 2.1 million people employees and its own court system. Here's Bloomberg on the proposed break-up of the Ministry (via Interest.co.nz):
China's deadliest high-speed train crash may hasten the breakup of a ministry that runs the world's second-largest rail network, employs more people than the U.S. government and has debts larger than Denmark's economy.

Premier Wen Jiabao has pledged more focus on safety and greater accountability following the July 23 crash that killed 40 people, endangering the Ministry of Railways' dual grip on regulating and operating China's trains. Dividing these roles may improve management, financial transparency and safety, said Hu Xingdou, an economics professor at the Beijing Institute of Technology.

"The rail ministry has been run like an independent kingdom for years," Hu said. "The concentration of power has caused inefficiency and mismanagement, and it's a hotbed for corruption."

Sheng Guangzu, who became rail minister in February after his predecessor was removed during a bribery investigation, faces public anger over the accident, ministry ties to suppliers and the burial of a train carriage before rescue work was completed. He's also wrestling with waning demand for ministry bonds and debts totaling 2.1 trillion yuan ($326 billion), or about 5 percent of gross domestic product…

The department, which employs 2.1 million people and has its own court system, accumulated and retained its powers partly because of a traditional national-defense role, Hu said. The Communist Party has relied on railways to speed troop movements since coming to power, he said.
As Zarathustra pointed out a few weeks back, the high-speed rail disaster is only one of many recent infrastructure failures in China. Four bridges collapsed in just nine days in July: on 11 July in Yancheng, Jiangsu, 14 July in Wuyishan, Fujian, 15 July in Hangzhou and 19 July in Beijing. Corruption is wide-spread, as evident by the actions of the aforementioned Ministry of Railways officials, as is the huge amounts of debt attached to these projects.
Whether the negative reaction to the rail disaster will prompt a reduction in infrastructure investment, and therefore a slowing of China's GDP growth, is debatable. But it certainly has signalled that the public is growing tired of the widespread corruption, lack of transparency, and propaganda on display within the Chinese Government, and that merely delivering economic growth may no longer be enough.
Leith van Onselen is Chief Economist at the MB Fund and MB Super. Leith has previously worked at the Australian Treasury, Victorian Treasury and Goldman Sachs.
Latest posts by Leith van Onselen (see all)