Woolworths Limited (WOW) released their full year sales results (end of June 2011) today and it makes for interesting reading.
The headline number is an increase of 4.7% in nominal terms on last year sales ($54.1 billion, up $2.4 billion). That's an impressive result considering the flat line in other retail spending, as highlighted by Cameron Murray recently.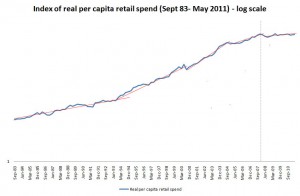 Breaking the sales figures into categories as follows:
Food and Liquor – up 4.3%
Petrol – up 9.9% (volume up 0.2%)
BIG W – down 0.8% (4Q sales up 5%)
Consumer Electronics – up 4.2%
Hotels – up 4.6%
Online sales – up 63% (no dollar amount given)
Some interesting notes include a subdued supermarket "shelf price movement index" of 2.6%, mainly through produce (fruit and veg) inflation, but when promotions are added (and excluding tobacco), prices deflated by 3.3%
Deflation was also rampant in the BIG W retail sector, averaging 6 to 9% year on year, mainly through the high Aussie dollar.
Average national fuel prices increased from 124.1 cents per liter to 131.2 cents. Again, thank you Aussie dollar – because that rise would have been substantial given oil increased from average of $75 USD per barrel to over $90 USD per barrel in the same period.
Overall this is a good result for WOW, and should bode well for the full earnings result expected on the 25th of August (with a possible earnings guidance coming in shortly).
The next hurdle for Woolworths is its roll out of "big box" DIY stores, under the "Masters" brand, going up against entrenched competitor Bunnings. Whether this sales success can continue in this market is yet to be seen.
Empire Investing currently values WOW at $30.50, with a maximum buy price of $27.50 (using a 10% margin of safety). WOW is trading at $27.40 before midday at a 4.4% dividend yield (and 15 times trailing earnings).
For a full valuation of Woolworths, click here.
Latest posts by Chris Becker
(see all)