Another weekend of musing.
Ideology revisit
Back in April I wrote a piece on economic ideologies and how they can effect the decisions of policy makers and economists alike. Over the last week on MacroBusiness I have also noticed a number of threads that seemed to have swerved into discussions between holders of differing ideologies, so I thought it was a good time to revisit the topic.
I was going to produce a part two of my ideology piece to discuss the various schools of economic thinking, however last week I noticed an article from early May over at credit writedowns that has done all of the hard work for me. I recommend you read the full article as it is a good overview and would be especially interesting for anyone relatively new to economics.
The author , Edward Harrison, concludes that he is somewhat of an Austrian-Chartalist hybrid which is how I see myself. It is a somewhat conflicted position to be in because the two schools of thought are often in conflict about economic issues. Any of my long term readers will know that I have chartalist roots and spent quite a bit of time on my previous blog discussing Modern Monetary Theory in the context of CentralBankopia. There are caveats to those discussions as the name suggests. "CentralBankopia" was a mix of the words "Central Bank" and "Utopia", meaning that it the potential of FIAT money in a perfect world where central bankers and government officials make decisions based on purely economic and socio-economic outcomes. This obviously ignores the fetish of humans for greed and self-interest which is why I am accommodative of Austrian views around government and credit dynamics. ( Two topics I discuss regularly )
A comment left by a reader (Steve Roberts ) on my initial ideology piece stated my views on this quite well ( although Chartalism is a more than just Keynesian stimulus )
The problem I have is when as people we recognise our faults yet continue down a path willingly ignoring those faults. Keynesian economics in simple terms means step 1) stimulate when the economy is struggling and step 2) pay back the fuel we used when the economy is strong. Our human fault is that we never actually do step 2. Like an alcoholic, every time we take a drink we promise this will be our last time and we'll fix the problem the next morning but the next morning we just need one more shot to get us going. As long as we ignore the fact we are stimuholics, we'll continue down the path we are on.
Interestingly in Australia right now we are seeing the first steps of stimuholic cold-turkey as we attempt to get over the Post-GFC stimulus binge and decade of private sector debt accumulation. There is a long way to go, but the current interest rates seem to be slowly steering the public away from debt driven consumption while the real economy attempts to catch up. There is however  a very long way to go, private sector debt to GDP is still extremely high and there is certainly the ever present risk that the slow down in debt issuance will have a "shock" effect on the economy. ( Something Dr Steve Keen calls a "Credit Accelerator Shock" ).
That point aside I do wonder what sort of ideologies are in play within the Eco-elite of Australia and how they have changed in the last few years. The RBA and the Treasury saw the household indebtedness rise from under 50% in 1990 to over 150% in 2011 , yet it wasn't until late 2010 that I noted a change in position on debt and that Australia should actually be trying to "save for a rainy day". Here is an example from late 2010.
Glenn Stevens says Australia needs to put some of the prosperity from the mining boom away for a rainy day, through the creation of a prosperity or stabilisation fund. Mr Stevens says such a fund could be used to lessen the shock of an eventual downturn.

"So a prudent approach might be to use the current period of exceptionally favourable international prices to raise our saving while maintaining a disciplined approach to ensuring that there are no impediments to lifting productivity," he said.

"Consumption deferred, whether it's public or private, can easily be endured in future if our incomes stay high. Consumption we get used to today is harder to unwind in the future if our circumstances change."
One has to ask why these statements weren't being made much earlier than 2010 given the rate of growth in household indebtedness over the previous decade. Was this a change in ideology caused by the GFC that demonstrated clearly that large build ups in private sector indebtedness actually matter? or simply a response to the obviously growing issue of the "two-speed economy"?
I am hopeful it was ideological because that would mean that private sector debt was now on their radar as something that needs managing. That would not be the case if classic economic ideologies are still in play.
Tag Crowding
I have been doing the morning links recently as H&H has been unwell and is still recovering. It is actually quite a difficult task mainly due to the fact that you have to get up ridiculously early to do it, but secondly because you have to leap out of bed and instantly start analysing wads of articles from all around the world to see if they are relevant and worthy of passing on to others. Trying to get your brain into 5th gear 2 minutes after getting out of bed is very unnatural ( at least for me ) and I have been searching for a few tools to help me out. One of the tools I have started using lately is TagCrowd.
It is quite a simple tool that you give a body of text or a URL and it will quickly build you a diagram presenting the most commonly used words by rank . This basically gives you the "theme" of the document. For instance here is the diagram for the latest RBA speech by Guy Debelle.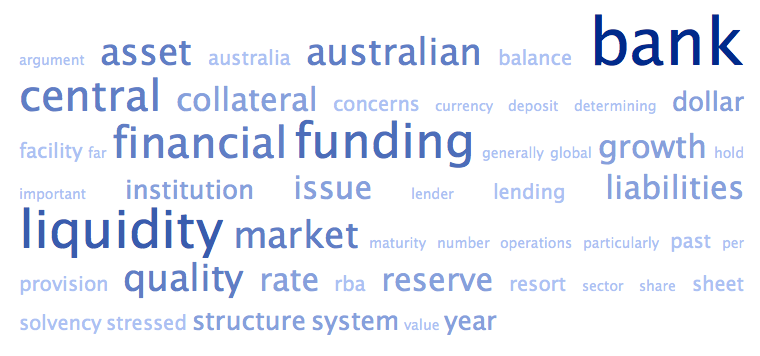 The tool works best on long articles and isn't always useful, but it is a bit of fun to play with. I also found a children's version which produces some more visually interesting output and would probably be useful for school projects as well. It however only works with pasted text.
Enjoy playing and have a good weekend.