There is common thread across modern economics. Not something that is useful. It is the fact that no one really seems to know what the hell is going on. Yes there are some people who are seen as "prophets", depending on your ideology they may be anyone from Mr Buffet to Mr Kaiser.
But economics is not a science no matter how much it tries to be. It is a fascinating and somewhat frustrated mix of mathematics, psychology, culture, astrophysics, chaos theory and random number generation.
Maybe one day, somewhat like the weather, we will have the computational processing power to be able to build models of this system, but until we do we are all just weathermen watching the clouds and claiming we can predict rain.
For me personally one of the most interesting things about economics, like any complex system where the basis of truth is misunderstood and/or unknown are the ideologies that grow around it. Somewhat like religion we have people who have very strong beliefs about how the system supposedly works. Yet the reality is that no one really understands everything. This is one of the major reasons I was attracted to this field.
For example the ideological differences between the Austrian school and Modern Monetary theorists is in some regards a parallel to a mindset struggle between Christian and Islamic schools of religious thought.  Sure that maybe a crass and somewhat basic comparison, but at the root of both is an ideology, not something based in demonstrably repeatable evidence. The complexity of macroeconomics makes this impossible because there is no way to tell that whatever you did last time will definitely work again this time.
So with that in mind macroeconomics is in my opinion a fascinating and wonderful area of study, because even after hundreds, perhaps thousand of years there is no grand-unifying theory. Given the every accelerating world of computational power it is unlikely, at least in my lifetime that anyone is going to get there.
So as a scholar of macroeconomics one of the first lessons to learn is that everyone has their ideologies. In many cases they wear them on their sleeves (think Bill Mitchell or Mish Shedlock) in other cases you can't be too sure. But I don't have to think so widely to consider this difference in mindset. In fact while we are in the early stages of setting up MacroBusiness myself and other founding members had some very interesting discussions along these very lines. I will leave it to our readers to work out where each of us sits in the ideological spectrum.
There is also another, perhaps more important dimension to these ideologies which I understand to be socio-political in nature. In my experience these ideologies are linked to what people believe to be the purpose of the economy. There are those that believe that the economy is there for their own personal gain, and others who believe it is a social asset to be shared for the good of all.
I believe myself to be somewhere in between. I would happily be a billionaire but I don't want my neighbours kids to starve to death while I get there. This may seem to be a somewhat trivial observation but it is actually something that defines many of the global economic organisations that set economic policy for millions of the world's citizens.
The economic beliefs of the people who work for these organisations is paramount in understanding what solutions they will attempt to solve economic problems, and why in the face of mounting evidence to the contrary they continue to offer the same solutions to economic problems and argue that they will be successful.
This why I consider this morning's somewhat revolutionary statement (well at least for the MSM anyway ) by Jessica Irvine to be so interesting.
But Swan's and Rudd's response to the financial crisis emerges as one of the finest practical executions of Keynes's advocacy of counter-cyclical government spending. It demonstrated, for one of the first times, that, executed properly, Keynes's prescriptions work – they can save an economy from recession.
I could argue this fact, because the government stimulated credit into non-productive "investments" and not productivity returning investments. Instead of a "cash splash" I would much prefer the government has a priorities list of nation building infrastructure that could be developed at times of low capacity constraint. But that does not change the fact there is very good evidence that Australian and Chinese stimulus did avert an economic downturn in this country contrary to the usual anti-government spending rhetoric you usually read in the Australian media.
A much more worrying place where you see economic ideology setting policy is on the world stage. Have you ever seen the IMF tell a nation that the best course forward would be for the government to employee thousands of people and concentrate on building a new piece of national infrastructure to lower production barriers? Until March this year when they told Panama to spend more on education I had never witnessed such an event. There is probably a good reason for that, but it isn't based in evidential economics, it is based on a dogma that economic rationalisation and free markets provide the most efficient economies, and therefore this is the only course of action that will lead to success.
Every now and then the IMF actually does some research on the things they have been suggesting and come to the stunning realisation that they are not always correct.  They did this with Capital Controls (h/t billy blog) in 2010 after they had previously warned Iceland about using them just 1 year earlier.
In fact the IMF warned Iceland about pretty much everything they did.
Iceland's central bank lowered the benchmark interest rate by a percentage point, defying the International Monetary Fund, as the economy slumps into its worst recession in 60 years.

The repo rate was cut to 12 percent from 13 percent, Reykjavik-based Sedlabanki said on its Web site today. The rate cut is the fourth since the island received a $5.1 billion IMF- led bailout in November.

Policy makers bowed to pressure from labor unions and businesses for lower rates to soften a recession that the bank estimates will culminate in an economic contraction of 11 percent this year. IMF Mission head to Iceland, Mark Flanagan, last week advised against a cut, arguing a planned gradual easing of capital controls requires higher krona returns.

…

"The concern of the IMF is that the lowering of interest rates will have an impact on inflation, which will then maintain a weak krona," said Ingolfur Bender, head of economic research at Islandsbanki hf, the state-controlled unit of failed Glitnir Bank hf. "However, there are hardly any domestic factors that can fuel inflation."
Interestingly it was later realised that the deflated Krona was something that has turned the country around. Here are some charts for Iceland economy over the last few years.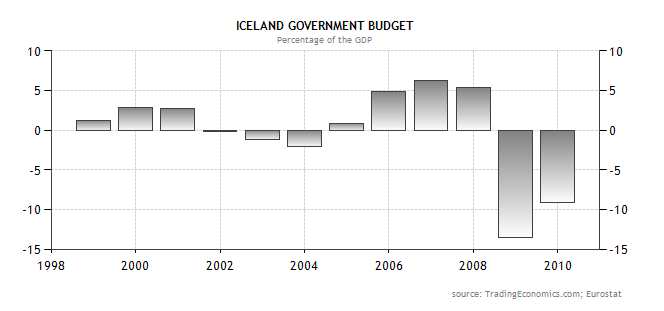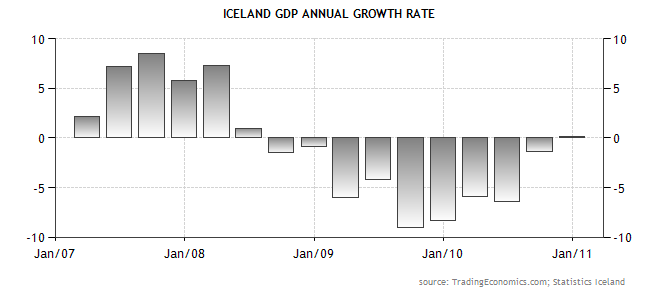 It would seem from those charts that the fact the Iceland ignored the IMF about economic settings after the banking collapse of 2008 was warranted, and in fact the IMF's approach for the Icelandic economy may have been a mistake. If we compare those charts to Greece which is a country with little choice but take its austerity medicine as it is trapped in Euro monetary policy you can see a very different outcome.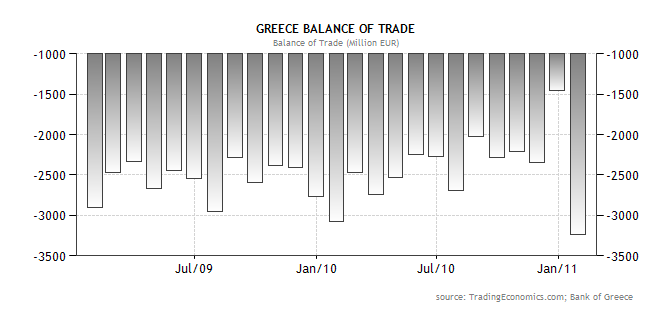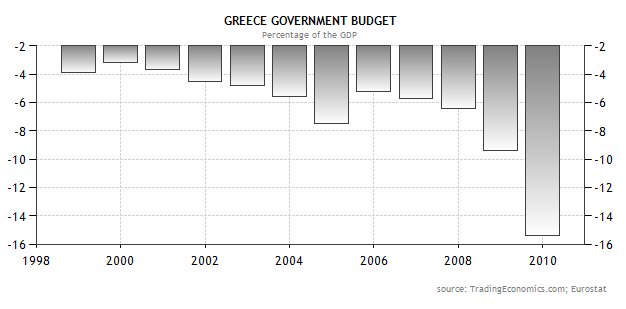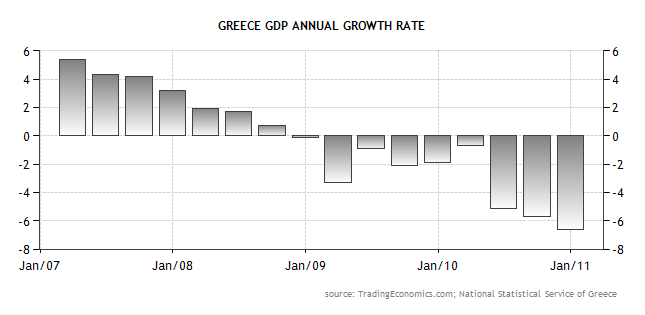 Economic ideologies in any form can be dangerous and it is important to recognise that people have them, even those who claim to be experts.