The S&P/ASX 200 jumped over 1% on the open, and has built on those gains, rising a total of 1.61% or 73 points to 4541 points.
Other Asian markets are all up, with the Nikkei 225 up 1.34% at 10022 points, and the Hang Seng steady at 21,915 points.
Other risk assets are mixed, with the AUD up slightly at 1.0726 against the USD, whilst gold claws back some gains, down 0.6% at $1591 USD an ounce. WTI crude is up at $98.20 USD per barrel.
Movers and Shakers
It's green across the board, unicorns and rainbows rejoicing. The banks are all up approx. 2% – WBC the standout, up 2.4%
The resource twins BHP and RIO are up 1.7% and 1.4% respectively, whilst my preferred offspring COH and CSL – continue to rise (in the face of a stronger AUD – all boats rise on the tide or something like that?) up 2.6% and 0.85% respectively.
The big winners amongst ASX200 stocks are resources, with Kagara Zinc (KZL) up 6.3%, OMH also up 6%, and James Hardie (JHX) up 5.4%
The biggest losers include Platinum Australia (PLA) down 1.2%, and Ausenco (AAX) down 1.1%. That's about it – everyone's a winner today.
Daily Chart
The daily chart clearly shows today's action as bullish, knocking out the losses of last week. Price is just above the 15 day moving average (green line), but short term momentum is not yet positive. The target for this rally – if it eventuates – is 4700 points.
As I said yesterday, I've removed his tactical shorts from the market for now, but remain strategically (i.e hedged) short. Long only investors should consider keeping their powder dry for the time being until this rally becomes sustainable – one day does not a relief make.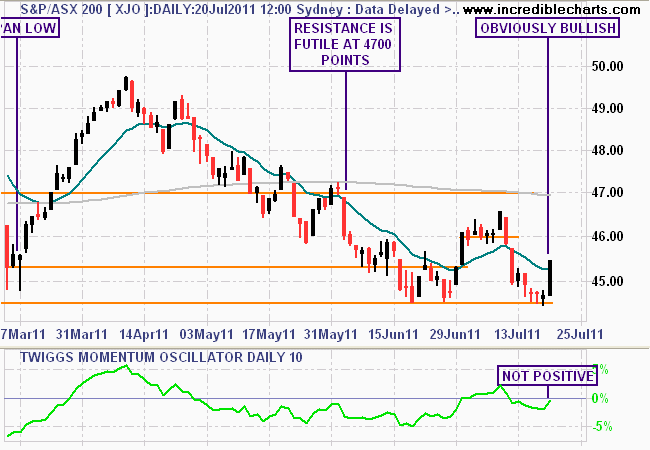 Latest posts by Chris Becker
(see all)