Overnight, volatility reinforced an old axiom to me that I used to use when I was doing the currency strategy thing full-time at NAB and Westpac. That is don't mix up your time frames.
When you are in a strategy role your job is to make calls on the market across multi-time frames and for different types of clients with different risk tolerances. You have to take into account their different expectations and needs and also their different approaches to the markets.
But even though they all have different goals, needs and risk tolerances generally, you only get asked one question. Where's the Aussie going? There is a lot implied by that question as they assume you know what there approaches is to all of the above things I've mentioned.
However that's not always the case is it. So my retort when faced with the usual "where's the Aussie (or any other asset) going" is "what's your time frame". Because the question I was being asked was impossible to answer unless I knew what time horizon the trade or investment or hedge was expected to work over.
This approach was implicit in my post yesterday where I suggested that the sidelines were the safest place and last night's big bounce in assets such the AUD/USD EUR/USD and even equities early showed. This is not an investor's market, it is a trader's market. Lets look at the AUD hourly as an example.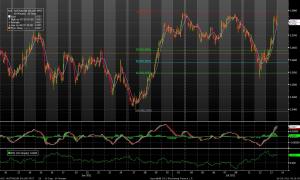 What you see is a currency that has traded up to 1.08, down to 1.0540 and then back to 1.08 last night and now sits at 1.0756. The average true range (our measure of volatility – it is effectively the average points that the AUD is moving on average over a specified time frame, in our case 20 periods or hours in this case) on the hourlies rose to a recent high in the past day but the average true range  on the daily timeframe is not moving, indeed it at a fairly stable level.
The point of this example is to show that the AUD is dancing around on the spot and that it is a trader's market. Indeed the AUD/USD exchange rate has been trading a broad range since the beginning of May now.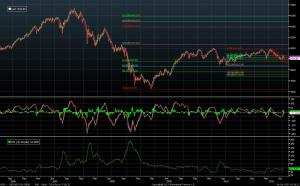 And so it is with Australian equities as well as you can see in the chart above. Since the GFC lows in March 2009, the ASX200 has essentially gone nowhere with its bounce. Indeed for 2 years now since July 2009 when the market crossed the 4180 level it has been trading sideways in a big long-range with 5000 as the top.
The point of this is not to say that you should not be involved in markets or that you should be scared of the volatility that we are seeing at the moment because with volatility comes opportunity. As someone who has been sitting in front of a Reuters, Telerate or Bloomberg screen for most of my adult life I know the opportunities that markets like this provide.
But I also know the risks of trading a market with the wrong timeframe. It is the fastest way to burn capital known as you get stopped out at the lows or flip positions. Confidence and process are your co-workers in trading and investing and bad timing can kill them both. So in the current maelstrom make sure any positions you have on are consistent with your personality, the current volatility (small if trading) and your capital.