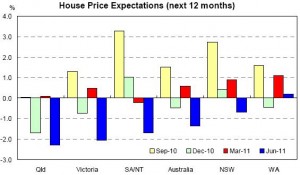 Typically, I don't take much notice of the NAB quarterly property survey. It's packed with industry representatives and as such risks reflecting the cognative biases so obvious across the industry.
However, for the same reason, it is surely significant that the June quarter survey has printed a negative result, with even the property industry itself getting macrobated and turning bearish on the prospects for its won product. Let's take a look.
The NAB Residential Property Index moved into negative territory in the June quarter with a reading of -5
points (+16 points in March), reflecting falling house prices and a moderation in rental growth. National house prices fell by -2% in the June quarter and rents slowed to 1.3%. The biggest turnaround was noted in Victoria, where the index declined from +23 points to -16 points. NSW is clearly now the strongest housing market state, with the index at +18 points in June, although this is down from +39 points in March. The index is forecast to rise to +21 points over the next year, led by WA and NSW, with national house prices tipped to fall by -1.4% and rents to rise by 3.1%. By June 2013, the index is expected to reach +44 points, with WA a clear out-performer, reflecting mildly positive national house price growth (+0.5%) and stronger rents (4.4%). House buyers continue to cite tight credit conditions as a major constraint in buying property, but concerns over rising interest rates and house price levels are also growing, suggesting that affordability is still a major issue in the housing market.

The Australian housing market continues to soften, with nationwide house prices falling by -2% in the June quarter (-1.1% in March). House prices fell in all states, with the largest declines seen in Queensland (-3.7%), SA/NT (-2.7%) and Victoria (-2.4%). Future house price expectations also weakened, with the survey now predicting a fall of -1.4% over the next year (+0.5% in March), with negative growth forecast in all states except Western Australia (0.2%). Looking further ahead, house prices are expected to recover by June 2013 with modest growth of 0.5% predicted. House prices in WA are expected to significantly out-perform the other states with prices rising by 3%. House prices are expected to remain flat in Victoria during this period and fall slightly in Queensland (-0.3%).

Nationwide rents increased by 1.3% in June, but this was down from 1.7% in March. Rental growth was positive in all states, with the biggest increases recorded in SA/NT (2.4%), WA (2%) and NSW (1.5%). Rental growth in Queensland was slowest at 0.4%. Future expectations for rents have been revised down slightly with the latest survey pointing to nationwide rental increases of 3.1% over the next year (3.5% in March). Rental expectations were downgraded in all states. Over the next two years, nationwide rents are expected to increase by 4.4% (5.2% in March), with expectations strongest in WA (6.3%) and NSW (4.6%) and weakest in Victoria (3.7%).

The new housing market continues to be dominated by resident owner occupiers (46% of total demand). Resident investors make up the next biggest share with 28%, but this was down from 34% in March. First home buyers accounted for 17% of the market, with first home buyers most active in NSW (24%) and least active in Queensland (10%). Demand for new residential developments is currently strongest for inner city low rise apartments, but there has been a notable deterioration in demand for all types of new residential property since March. Tight credit conditions are still seen as the main impediment to new residential developments, but concerns over rising interest rates are growing.

Resident owner occupiers were more active in the existing property market in June, accounting for 59% of total demand. Resident investors accounted for just 20% of demand, but investor demand was stronger in Victoria and Queensland. First home buyers accounted for 15% of the market for existing properties in the June quarter, with first home buyers most active in NSW and Victoria. Demand for existing property remains strongest for inner city houses, but demand weakened in all locations, with middle ring properties experiencing the biggest declines. The best prospects for capital growth in existing property markets over the next year remain in the sub-$500,000 category, while top end property is expected to continue under-performing. Rising interest rates replaced tight credit conditions as the biggest impediment for purchasing existing property in the June quarter. Concerns over house price levels also increased despite the slow down in house price growth, suggesting affordability is still a major issue in the housing market.
So, capital growth and rental growth expectations both on the slide. Why am I buying an investment property again?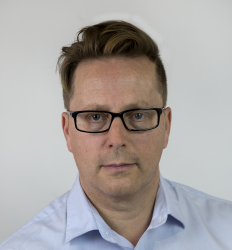 Latest posts by Houses and Holes
(see all)