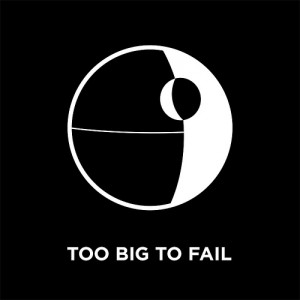 Over the last 25 years Australia and the rest of the world has witnessed the rise of the TBTF financial institution accompanied by the greatest misallocation of resources in the period since the industrial revolution. These institutions and the people employed by them have ensured that all but the rich in both the western and developing worlds have been manacled into a world of servitude to repay an unprecedented level of debt that permanently benefited only a few, but sadly, many only temporarily. This was the bribe that fuelled the explosion.
Asset bubbles and the baggage of huge liabilities are the direct consequences of the TBTF. Officially now known as Systemically Important Financial Institutions, SIFIs, or those of global importance G-SIFI, cannot be allowed to continue in their current form.
G-SIFIs are the topic de joure with the global banking regulators in Basel. Recommendations under Basel III are that G-SIFIs will carry more capital than other banks to compensate for the inherent government guarantees which support these institutions. Overnight the Basel-based Financial Stability Board endorsed a 2.5% capital buffer.
As no Australian bank has yet been defined as a G-SIFI some commentators have expressed the belief that Australian banks should not be subject to excess capital. That is simply not correct. The Basel III recommendations are that regional SIFIs should also be recognised by the local regulators and treated accordingly. Australia's 4 major banks certainly fit within the local SIFI and TBTF categories and their damaging activities must be curtailed before the system is even further distorted condemning even more of the populace to a life of debt servitude.
I have given a lot of deep thought over the last month on solutions for APRA on TBTF banks and whilst I have posted on this topic before I now believe that the measures required need to be more extensive than just increasing capital requirements. However, before outlining my approach I'll take some of your time to point out the massive misallocation of resources our major banks have been a party to.
MB has coined the expression Politico-Housing complex to which governments at all levels, banks and the real estate industry are a party to. Although banks are a critical part of this cabal, I have met very few individual bankers in any of the major banks that understand that the Politico-Housing complex even exists. Of course in the minds of the banksters such ignorance justifies the debt servitude of the populace with a clear conscience. I however, am not about to accept such ignorance as either an excuse or absence of culpability. The leaders within our major banks accept unacknowledged government support in order to continue to expand the Politico-Housing complex and pay themselves huge amounts for this privilege.
H&Hs and other bloggers on MB have consistently pointed out that the mining industry (but not the Futureboom) has saved Australia from a disastrous economy over the last 3 years since the financial crisis. On the face of things that's correct but it ignores alternative scenarios. It follows that an economy that relies excessively on houses and holes will be fine if one or both are booming but the risk to all Australians is when they're not firing. Although I also doubt Futureboom will save us from a collapses in house prices.
Australians are well educated with many innovators and budding entrepreneurs. Given the resources and the need, what business, technologies or services could we be providing to the world besides the rocks and farm products which dominate our exports? The Politico-Housing complex is not interested the answers to this question now or in the future. Our big 4 banks would rather lend to over stressed first home buyers with little deposits in the delusion that its low risk than lend to and support small innovative businesses. The banks whole capital structures and operations now dictate that this can only be the case. This is both irresponsible and unforgiveable.
In my almost half a century on this planet I must admit that I have seen my standard of living increase but through technology and innovation not the everyday things we need to live in this country. I can expect to live longer with less illness and pain than my parents who incidentally, are still alive and well. Medical advances have been life changing for every Australian in the last 50 years. Although my observation is that the greatest improvement in medicine is the knowledge of what to consume and the need for exercise. However, none of this improvement would be achieved without good science which costs and has risks.
Let's not forget computers and the internet which when used for good and not evil have made my life so much richer than my parents or grandparents.
But what has the Politico-Housing complex added to the standard of living. Maybe a lot for those who've been able to cash out but what about the others? My observation is that my son lives in accommodation at best inferior to that which I lived at the same age. Its a good comparison as my son works in a field closely related to what I did at the time. He earns on a real basis considerably more than what I did at his age. Yet I could afford to live in a newer and larger apartment about the same distance from the city. Whilst innovation in many areas has delivered on quality of life for my son, the Politico-Housing complex has done the opposite. Why? Because technical and medical innovation is all about putting in, whilst the banks and their cohorts are all about taking out!
What do we do about the Politico-Housing complex by disincentivisng the banks to continue to pump up the credit to over stressed borrowers? I strongly endorse our 4 SIFIs following Basel requirements as per G-SIFIs with increased capital but with a different approach to what is proposed by the Basel committee. After reading about the many differing opinions on the effect of the new capital rules, including Myron Scholes who opined that the rules would increase systemic risk, I believe that they will have no effect on the behaviour of SIFIs. It's actually likely that the markets would end up pricing the weighted average cost of capital for SIFIs with extra capital at the about the same rate as other banks. Why, because the implied government guarantee is still in place and the market would readjust the cost of risk of both debt and equity to reflect that.
I suggest that the SIFIs extra capital should not come from the market but should come from the taxpayer explicitly through a capital guarantee. But this capital should rank senior to other equity/capital and be subject to an annual return of 25%. An organisation that managed to put itself in liquidation under that structure must be explicitly let go down. This type of capital structure will indeed increase the average weighted cost of funds for a SIFi as it grows or takes on more risk.
Secondly, SIFIs are government supported and reward structures cannot be the same or anything like organisations without such support. Shareholders can agree whatever remuneration packages they like but only when taxpayers are not going to foot the bill on failure. Executive salaries of SIFIs must be limited to a multiple of the lowest paid worker. I've read some studies and commentary around a 25 times multiple of highest to lowest paid worker. I'm not suggesting what the number should be only that it is reasonable and much lower than could be earned in organisations which are responsible for all their own risk.
My next suggestion for SIFIs, is related to the capital requirements as previously outlined. The problem with the Basel capital requirements is that the calculations are based on risk weighted assets, not actual assets. In theory I agree with this approach. However, in practice this is the area that SIFIs are great at arbitraging. The solution to this is that all SIFI's must be required to disclose all the information necessary for any bank investor or regulator to understand and replicate the risk weightings of all SIFI assets. Now here's a regulatory failure for all those interested in the detail of how the system operates. Under the Pillar 3 requirements of the Basel rules all banks must provide the information on the calculation of risk weightings as I described. It's just that they pay lip service to the requirement and provide some information but not nearly enough. Clearly this is just too hard for APRA to understand or enforce.
This brings me to my last suggestion to solve the SIFI problem. We need a SIFI policeman. This cannot be the regulator who makes the rules. The SIFI policemen would have powers to both prosecute where relevant laws are broken but more importantly be able to name and shame where rules and regulations are broken but would not constitute criminal or court enforcement. The consequences of organisations and individual within those organisations not following or flouting rules must be able to be made public by an independent policeman who can also name and shame regulators.
If we want to weaken the Politico-Housing complex by making our SIFIs less able to use taxpayer support to prop it up then the above suggestions perhaps could have the effect of being able to reallocate resources into areas which will be of more benefit Australia.