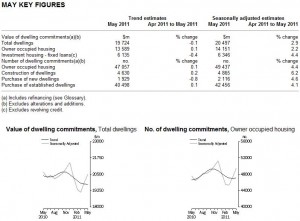 ABS Housing Finance key points above. I've graphed results by state below:

All states showed some level of ongoing recovery from the early 2011 hammering but all, with perhaps the exception of Victoria, are still looking very anaemic with most states showing monthly housing finance commitment levels first seen a decade ago.
When we dig into the split of loans by purpose, this structural weakness is just as apparent: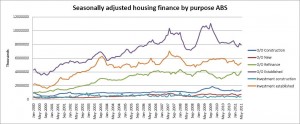 Note that owner occupier finance for established dwellings fell in May whilst refinance activity is looking very strong. Obviously, this mix is not terribly promising for any recovery in housing values. There is better hope for that in the ongoing recovery in investor finance for established dwellings, however it too is still running at monthly levels first seen in 2003.
On the whole the May report confirms an ongoing sideways to downward shift in house prices.
David Llewellyn-Smith is Chief Strategist at the MB Fund and MB Super. David is the founding publisher and editor of MacroBusiness and was the founding publisher and global economy editor of The Diplomat, the Asia Pacific's leading geo-politics and economics portal.

He is also a former gold trader and economic commentator at The Sydney Morning Herald, The Age, the ABC and Business Spectator. He is the co-author of The Great Crash of 2008 with Ross Garnaut and was the editor of the second Garnaut Climate Change Review.
Latest posts by David Llewellyn-Smith (see all)