From the AFP
Private sector activity in the eurozone was weaker than forecast in June, hitting 20-month low level with recoveries slowing in Germany and France, a key growth indicator showed on Tuesday.

The data showed that output fell in Italy and Spain while Ireland continued to record a "very modest" pace of expansion, according to the Purchasing Managers Index (PMI) leading indicator compiled by research firm Markit.

"Over the past two months, the region has seen the sharpest slowing in growth since just after the collapse of Lehman?s in late-2008," said Markit chief economist Chris Williamson.

The PMI, a survey of 4,500 companies in service and manufacturing in the 17-nation eurozone, fell to 53.3 points in June from 55.8 in May. A first estimate last month had forecast 53.6 points for June.

….

"The further loss of momentum in June bodes ill for the third quarter and suggests that growth may weaken further unless order books improve," Williamson said.

"National growth variations are also a worry. Of the four largest Eurozone nations, only Germany continued to record a PMI which is consistent with strong quarterly GDP growth in June, although even here the pace has slowed sharply.

"The PMIs are meanwhile consistent with only modest growth rates in France and Spain, while a risk of double-dip recession is highlighted in Italy."

The manufacturing sector saw a sharp drop, from 54.6 in May to 52 points in June, while services also slowed from 56 to 53.7 points.
Italy's services PMI was 47.4 which is a contraction and the lowest reading in nearly 2 years. It is down from 50.1 in May and well below the forecast of 49.6. To make it worse just 5 days ago Italy enacted a multi-year program of budget austerity.
The approval of Italy's 47-billion- euro austerity package late Thursday comes amid the release of an array of poor economic indicators and a warning from a leading ratings agency that Italy's debt rating could be downgraded.

Government passed the measure during an emergency session Thursday and a declaration from Italian Prime Minister Silvio Berlusconi to say that it would allow the country to balance its budget by 2014. The plan focuses on reducing corporate taxes, reducing government travel expenses, freezing salaries of public employees, and tracking down tax evaders.

But the U.S.-based ratings agency Standard & Poor's indicated it was not convinced. The agency called Italy's plans "credible" but said the size of the package was too small to make a big difference, and it said the package might have also overestimated the impact that a series of measures aimed at drawing money from tax evaders.
I am not sure what S&P are talking about. This package will make a big difference. The next two charts tell me that.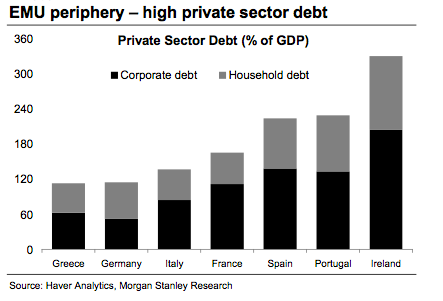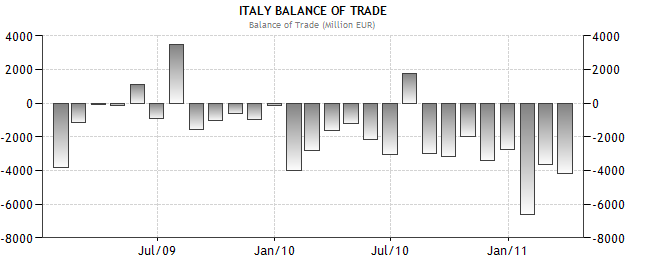 Another non-net exporting country with high levels of debt attempting an austerity budget while maintaining a fixed exchange rate with most of its trading partners, and an overvalued currency based on its productivity with the rest of the world. Sound familiar?
As usual the locals think they are different and that the basic rules of economics don't apply in their country.
Some market players have said Italy will be the next to ask for a bailout but Federico Ghizzoni, chief executive of Italian bank Unicredit, told CNBC that the country is in a totally different situation than Greece.
Which is exactly what they said about Portugal.
Italy is now officially on DE suicide watch.