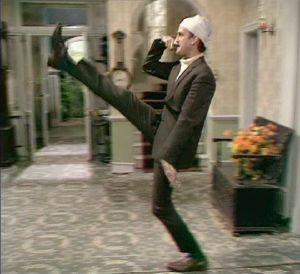 Two senior Australian business and economics commentators today make throwaway arguments about the struggles of the retail sector. First, it's Alan Kohler, who dedicates his column to explaining how retail is suffering from Dutch disease. His argument is as follows:
Retailing is the bedrock of the economy, employing about 1.3 million people directly and touching millions of other lives through wholesaling, transport, manufacturing and farming.

The central paradox of the Australian economy is that even though national income is booming because of the commodities boom, retailing is close to, or in, recession. Retailing is only supposed to benefit from rising income.

It is the key reason, in my view, why the Gillard government is making such heavy weather of the carbon tax, why business and consumer confidence is so soft despite very low unemployment, and why business people generally are more at odds with the government than at any time since the Whitlam years.

Dutch disease is only meant to affect manufacturing and tourism. It happens when a nation's currency rises as a result of a terms of trade boom that is caused by rising prices for one or more commodities – hurting other exporters.

The term Dutch disease was apparently coined in 1977 byThe Economist to describe what happened to the manufacturing sector of The Netherlands after the discovery of a large natural gas field in 1959.

In the classic economic modelling subsequently developed in the 1980s, the non-traded goods sectors such as services and retailing remain unaffected while in the traded goods sectors of the economy there are wildly different experiences.

The parts that are experiencing a price boom – in our case iron ore, coal and gold – do very well even though the currency rises, while manufacturing, tourism and agriculture suffer.

However there has been a dramatic change to this scenario in the modern era: retailing has been moved into the traded goods part of the economy by the internet.

Everywhere I go people talk about the amount of shopping they are now doing online. It's not because it's necessarily more convenient; in fact, you usually have to wait for the product, you can't try it on and you can't get to know the shopkeeper.

It's because the stuff is so cheap thanks to the high Australian dollar. More and more people I bump into speak in wonderment about the deals they are getting from overseas websites. Products, especially clothes, are less than half the price in Australian stores, it takes just few days to get here and usually includes free postage.

We've already seen this phenomenon devastate the bookstores with the closure of Borders and Angus and Robertson; now it's moving to clothing and footwear and a wide range of other products.
No doubt, Kohler's argument has some merit. There's clearly been a rise in online purchasing. But  can we provide some more evidence than the "people I bump into"?
For instance, look at this recent chart posted at MB by Cameron Murray of real retail sales in the past forty years: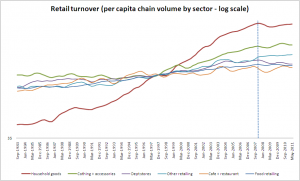 So far as I can tell, nothing in this chart supports Kohler's argument. First, for forty years, household goods is the great standout for growth and the recent stalling and it's not very exposed to the internet. Second, clothing and accessories are actually doing pretty well relative to other retail sectors. Third, department store sales flatlined around 2003, long before the dollar reached current levels but well and truly around the time that speciality retailing chains started eating them for breakfast. Fourth, food retailing, which is Kohler's primary example of a non-tradable retail sector, has suffered just as much as all others and worse than some. Fifth, cafe's and restaurants have also flatlined since 2007. Can you order a cappuccino over the net now?
Kohler doesn't mention the rising savings rate, nor falling asset prices, which do explain the trends in this chart neatly.
Next up is Gittins!, who is equally at sea when explaining current consumer trends:
Though the likelihood is that hysteria over the imminent devastation to be wrought by the carbon tax accounts for the greatest part of the present caution among consumers, vague anxiety over the incomprehensible goings on in Greece is probably also contributing.
There is at least some evidence  for this contention (though Gittins! doesn't provide it), with tax anxiety showing up as significant in the Westpac/Melbourne Institute Consumer Confidence survey since the start of the year.
But such influences as policy shifts tend to be ephemeral in their effects. And a quick glance at the above chart shows that retail sales flatlined in 2007 as credit in the shadow banks suddenly froze and the world began to contemplate a GFC.
That's not so say that the carbon tax is having no effect, nor offshore trials. But the trend is clearly larger and more entrenched than either.
I have no idea why these grey beards of Australian economic commentary are so at sea in explaining the new trend in retail. Perhaps their experience is the problem. After many years of watching the economy tick along in a certain way, they seem unable to explain a paradigm shift when they see it.
Certainly, youth is on the side of  Jessica Irvine of the SMH, who penned a far better analysis of the new normal for retail last week:
A golden age for Australian retailers is over. Gone. Finished. Retailers offer plenty of short-term scapegoats for their current woes: the carbon tax, the flood levy, the higher Australian dollar, higher interest rates. But, in reality, the current downturn in retail spending is much more deeply rooted and structural than that.

Australian households have now completed an historic and one-off adjustment to the halving of mortgage rates during the 1990s. For households, this halving in borrowing costs, along with looser lending standards, allowed them to simply borrow twice as much. And borrow we did. For much of the early 2000s, every weekend was greeted as an opportunity to rush down to the local homemaker centre to load up cars and then houses with the latest leather lounge suite, plasma TV or other gizmo. Why? Because we could. Retail sales grew by about 8 per cent a year, well above what could be sustained by wages growth of about 4 or 5 per cent. The rest was debt.

…

The household savings drive that is so confounding retailers today, really began with that first stimulus cheque in late 2008. And households haven't stopped saving. National accounts show households, instead of spending more than they earn as they did before the crisis, now save about 10 cents in every dollar they earn, and have been doing so since late 2008.

The global financial crisis provided households with both the means to save – lower interest rates and cash handouts – and the motivation. Households could only stand by and watch as their share and superannuation portfolios crashed. It helped them realise they couldn't just rely on debt-funded asset price gains to build wealth. If they wanted to build wealth, they'd have to do it the hard way, by saving.
Exactly.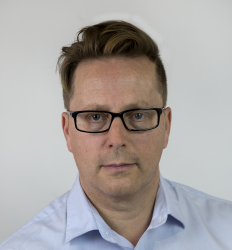 Latest posts by Houses and Holes
(see all)