Once upon a time, a man who goes by the name of Rotten Apple wrote a post titled "The Bull Case for the US Economy". Well, many moons have passed since then, but, to paraphrase Emperor Hirohito's famous remark, in the meantime the economic situation has developed not necessarily to this humble blogger's advantage. From the Bloomberg account of Friday's disastrous employment report:
U.S. employers added 18,000 workers in June, the fewest in nine months, and the unemployment rate unexpectedly climbed, indicating a struggling labor market.

The increase in payrolls followed a 25,000 gain that was less than half the rise initially estimated, Labor Department data showed today in Washington. The median estimate in a Bloomberg News survey called for a June gain of 105,000. The unemployment rate rose to 9.2 percent, the highest level this year.

Hiring by companies, which excludes government agencies, was the weakest since May 2010.
The report is actually even worse than it looks on the surface, because yet again, the employment/population ratio fell (see below), which means that more and more people are dropping out of the statistics, masking the true extent of the problem.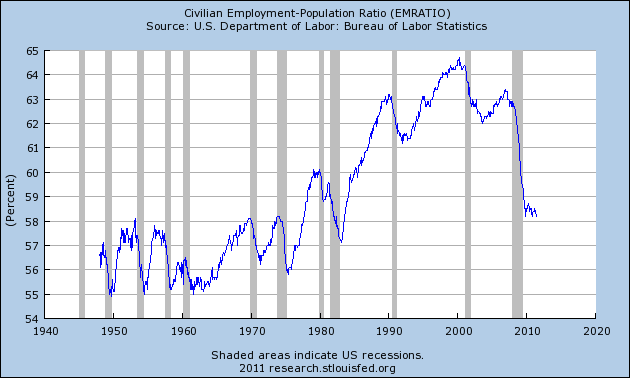 Some highlights from Jared Bernstein:
–Payrolls not only went nowhere in June—up only 18,000—but May's lousy 54K was revised down to 25K;

–Unemployment is now on a rising trend, up steadily from 8.8% in March to 9.2% in June;

–Both average weekly hours for people who have jobs, and their average hourly wages, fell slightly, meaning smaller paychecks and less buying power;

–The employment rate—the share of the working-age population employed, and a key measure reflecting employers' demand for labor—was 58.2% in June, the lowest in almost 30 years;

–Underemployment, including the 8.6 million "involuntary part-timers" (meaning they want, but can't find, full-time work), was 16.2%, up from 15.7% in March;

–The average unemployment spell is now just under 40 weeks, about 5 weeks longer than it was a year ago.

–The government sector continues to shed jobs, down 39,000 last month.  Due to fiscal tightening, state and local governments, down 25,000 in June, have been shedding jobs since mid-2008 and are now down 577,000 since August 2008.

–Manufacturing, which was a bright spot a few months ago, has added almost no jobs over the past two months.
The most striking representation of just how dire the situation is may be the chart below from Calculated Risk.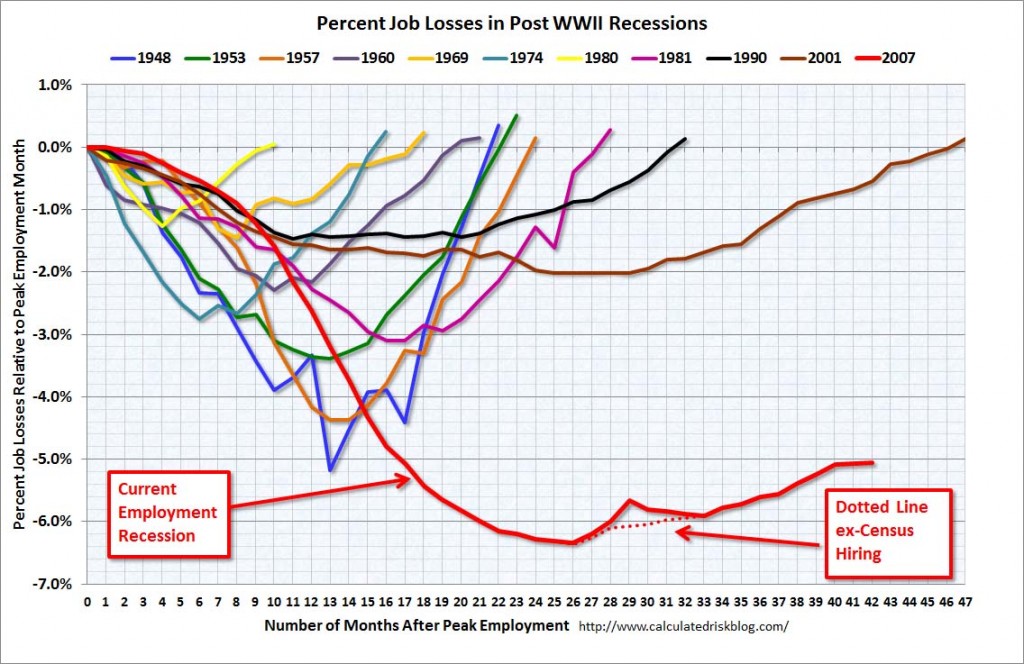 Meanwhile, despite talk of a deal to raise the US debt ceiling in exchange for $4 trillion of deficit reductions over the coming decade, the word on Friday was that differences between the two parties remain, and no deal is imminent. Friday's employment report raises the stakes. The economic recovery is clearly in a very fragile state. If Obama overdoes the fiscal tightening in exchange for raising the debt ceiling, there is a very good chance the economy will plunge back into recession.
As Felix Salmon notes, perhaps the most depressing part of Friday's gruesome jobs report is the utterly clueless response by the politicans. We already know that Obama has no plan at all to deal with the jobless situation, (on Friday he spoke of an infrastructure bank, free trade deals and patent reform), but even if he did, the chances of him getting it through Congress are next to nothing. Here is what Republican Speaker of the House John Boehner had to say on Friday:
The American people are still asking the question: where are the jobs? Today's report is more evidence that the misguided 'stimulus' spending binge, excessive regulations, and an overwhelming national debt continue to hold back private-sector job creation in our country. Legislation that raises taxes on small business job creators, fails to cut spending by a larger amount than a debt limit hike, or fails to restrain future spending will only make things worse – and won't pass the House.

Republicans are focused on jobs, and are ready to stop Washington from spending money it doesn't have and make serious changes to the way we spend taxpayer dollars. We hope our Democratic counterparts will join us and seize this opportunity to do something big for our economy and our future, and help get Americans back to work.
But this is not a plan, it's a prayer.
In the world that Republicans like John Boehner inhabit,  just get rid of all the regulations and keep cutting spending, and, before you can sing the first verse of Puff the Magic Dragon, the private sector will suddenly start hiring millions of people. If anybody out there can explain how this is possible in the middle of a balance-sheet recession when consumers are deleveraging, I would like to hear.
Here endeth this rant. Enjoy the weekend folks.