There are no shortage of reasons to worry about the state of the world economy today. An unsustainable bubble in China, the possibility of sovereign debt defaults in Europe, the chance that debt ceiling politics will derail the US economic recovery… And I could go on. Like many of the writers on MacroBusiness, I am of a slightly bearish disposition. However, one thing I have always believed is that it is important to take note of evidence that is contrary to your view. Confirmation bias is a dangerous thing. So in this spirit, today I am going to take a look at the bull case for the US economy. In essence, while the medium term outlook may not be great, there are a few reasons to think that the second half of this year may be stronger than many expect.
Jobs
OK, we already know the US jobs market is an absolute mess. But today we got a surprisingly strong employment report for June from ADP. From the Bloomberg report:
Companies in the U.S. added twice as many workers as forecast in June, signaling an improvement in the labor market that may help bolster the economy in the second half of the year.

The 157,000 increase followed a 36,000 gain the prior month, according to data from ADP Employer Services. The median forecast in a Bloomberg News survey called for an advance of 70,000.
Now, the ADP report has a slightly patchy record and one data point does not make a trend, but coupled with the strong ISM manufacturing report for May that came out last week, this data suggests that tomorrow's official government report on employment could come in stronger than some expect.
Oil
Oil prices, which a couple of months ago were threatening to snuff out the weak economic recovery,  have fallen about 15-20% from their peaks in April. As Cullen Roche of Pragmatic Capitalism says (citing UniCredit):
At the end of last year, the US administration had hoped to kick-start flagging consumption through tax cuts. But the plan failed, as soaring commodity prices have in recent months absorbed not only the  tax cuts but the entire  increase in disposable incomes. Now, however, the tide appears to be turning. Energy prices have fallen strongly in recent weeks and might pull back even further. In addition, food prices have at least stabilized. That means that US households are now enjoying a (delayed) tax cut after all.
Of course, there is no guarantee that oil prices will stay lower in the second half of this year. After all, having released 30 million barrels of oil from its Strategic Petroleum Reserve last month, the US government has no more bullets in the chamber. Still, for now, consumers are getting a bit of relief at the pump in the form of lower gas prices.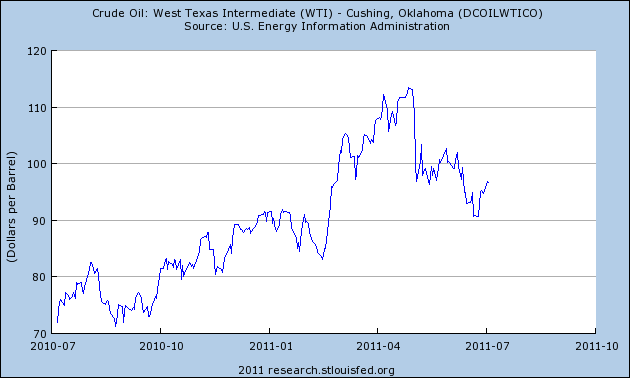 Auto Production
Auto production fell sharply after the Japanese earthquake and tsunami earlier this year disrupted the supply chains of carmakers around the world. The chart below, which I put together with data from the Federal Reserve, shows the sudden fall in production in April/May, but as you can see from the red part of the line (which is based on the actual production schedules of US-based auto makers), we are going to see a big rebound in the third quarter of this year as supplies from the Japanese parts makers start flowing again. Granted, this too will probably just be a temporary boost, but it is one more reason to expect that growth in the second half of this year could be surprisingly strong.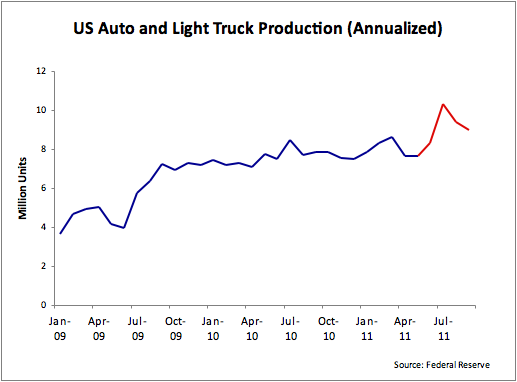 That's enough for today. It's not easy being a bull.