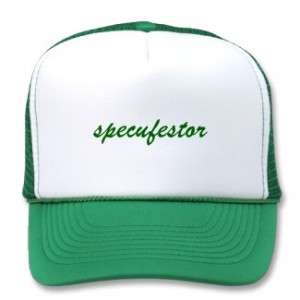 Rightly, the bogan hates being told what to do, hates having its movements restricted, and hates feeling obliged to anyone. This is an important reason why it loves purchasing investment properties; so it can tell someone else what to do, restrict their movements, and have someone feel obliged to them.
This free-thinking, independent creature is informed by its convictions, exhaustive research and by Brent down the pub. These resources have led it to believe that the best way to stay in the pink of financial health is to invest in property. Various credible people and publications have told the bogan that the only safe bet in the world is houses, because, well, they are 'safe as houses, mate'. This message is reinforced by Brent who reckons 'God ain't makin' any more of it is he?'. What, asks our libertarian crusader? 'Land, mate. Laaaaand.'
The bogan has heard these same anachronisms being belted out by many a non-ivory type and knows it to be true. God ain't making any more it, he's retired and making less, all the time. Convinced of the endless profits and jet skis to be made from the property market, it decides to re-mortgage its McMansion and its right kidney to purchase a 3-bedroom townhouse in a leafy suburb only 25 minutes from the heart of the CBD.
It knows that Australian cities are growing rapidly, even if that growth is being driven by those queue jumpers they talk about on the telly. Hence, only a few short weeks later it begrudgingly rents its new property to 3 students from 'God knows' at $250 per week, per room. Upon signing the lease and quitting its job, the bogan immediately begins making plans to repeat this fool-proof process.
Shortly after making its first investment in this ever-blossoming property market, the bogan is heard to mutter frequently about how well 'geared' it is, and how it had its kids move into the house so it could access the first homeowners' grant for one more tilt. It also began paying studious attention to how well its investment was performing, and saw graphs like this: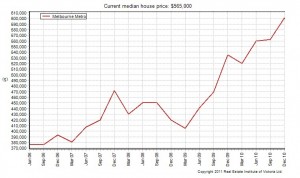 Assuming that this was entirely normal behaviour for a housing market, the bogan rapaciously acquires as much brick, mortar and debt as it can lay its overly-leveraged mitts on. By the time it reaches house #4 and flat #2, it decides that despite having a debt/asset ratio of 300 to 1, it needs just one more.
At the seventh property it has done it. The bogan had beaten the system and worked out a way to stay rich for eternity without ever having to kow tow to Roi, its know-it-all cousin.
Not satisfied, however, the bogan launches the coup de grace of its retirement plan. It's had enough of taking and now wants to give back. It's heard that the national economy needs to sell more stuff overseas so its going into the export business. It's sole product: itself.
The bogan relocates to a Thai tropical paradise, smug in the satisfaction that a single weeks' rent will be more than sufficient for a month's worth of drinking, shagging, hair braiding and maxtreme tats.
Then: A year or two down the track, the Federal Government reluctantly accepts that it can no longer fund policies designed to artificially inflate residential property values. Prices at first fall moderately, sending the bogan's bloated and astoundingly leveraged portfolio into a tailspin. The bank then calls in some negative equity loans, and the bogan is forced to abandon its export business, fly home, and arrange a string of hasty auctions at the bottom of the market.
Still under water, the bogan surrenders the last of its collateral: the right kidney.
Some weeks later, as the pain in its back recedes, the bogan surveys the wreckage of its vision. All that remains is a 5 year old car, a 5 year old TV, and a bank account the size of Peter Garrett's project management skills. But, as it dejectedly sifts through its mail, the bogan eyes a bright pamphlet. It reminds him of better days, of sunny Thai beaches and the pleasing hues of a double vodka Raspberry Red Bull.  The pamphlet guarantees 30% returns on the stockmarket, and offers an accompanying seminar at a nearby motel the following weekend. Its righteous brain fires up, ignited by the possibilities that lie ahead.
It's still got one good kidney!