The S&P/ASX 200 has fallen over 20 points today, but has steadied after midday, now at 4512 points, down 0.44%, on the back of reduced GDP growth from the US.
Asian markets are all down on the news, with the Nikkei down 0.37 percent to 9594 points, the Hang Seng also down 0.7% and Singapore lagging down 0.13%.
Other risk assets are mixed, although the AUD is just below 1.055 against the USD, gold down from its overnight high at $1547 USD whilst WTI crude is down again at $94.30 USD per barrel.
Movers and Shakers
It's red across the board with banks and resources stocks taking hits, although CSL and BSL are standouts. ANZ is the worst of the banks, down 1.1% whilst CBA is the best only down 0.2%. WBC and NAB are off 0.8% and 0.5% respectively.
BHP is back down to $42 again, losing 0.7% whilst RIO is steady after rising above $80 per share, now back at $79.74.
In other ASX200 stocks, Cochlear (COH) continues to fall, down 2.6%, alongside Computershare (CPU) down 2% and Gloucester Coal (GCL), also down 2%.
More profit taking on Sigma Pharma (SIP) meteoric rise has seen it drop another 2%. Big movers include Nexus (NXS) up over 6% and Platinum Australia (PLA) continuing its rise, up over 5.5%.
Daily Chart
The daily chart shows how the current price activity still hovering around the low point of the Japanese/MENA lows of March. It seems 4500 points is now resistance (i.e the price above the market is not willing to pay) switching from support.
Note how prices are failing to bust the upper channel line at approx. 4560 points. A close above this resistance line and heading above 4600 points would suggest a rebound/impulse rally has some steam behind it but until then, the next target is 4200 points for the index.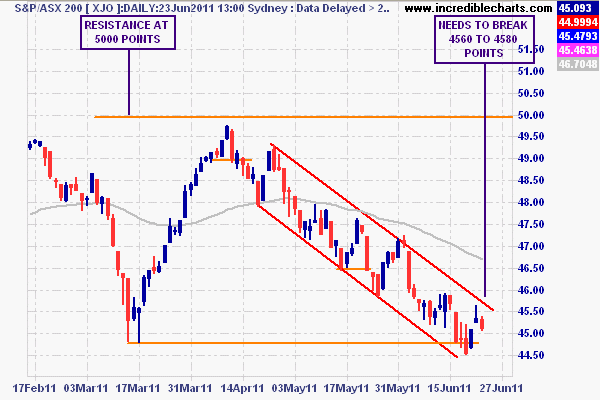 Latest posts by Chris Becker
(see all)