The S&P/ASX 200 jumped over 1% on the open again from positive leads from Greece, but has steadied after midday, now at 4540 points, up 32 points or 0.71%
Asian markets have also responded in kind, with the Nikkei up over 1.3 percent to 9582 points, the Hang Seng also up 0.7% and Singapore lagging at 0.25%.
Other risk assets are following in lockstep, although the AUD is just below 1.06 against the USD, gold up at $1547 USD whilst WTI crude is steady at $93.59 USD per barrel.
Movers and Shakers
It's green across the board again, mostly, with banks and resources stocks doing well. ANZ and CBA are up almost 1%, whilst WBC is lagging behind at 0.47%. NAB is also up 0.6%
BHP continues to rebound and almost touched $43 but is now at $42.50 or up 1.2% with RIO experiencing larger gains, up 1.7% at $79.95 per share.
In other ASX200 stocks, Cochlear (COH) continues to fall, down 0.85%, whilst CSL is facing problems in the US due to FDA/regulatory concerns and is down 0.37%
Macquarie (MQG) is also going against the trend and is down 0.76%. Fosters (FGL) is only up 1% after its stunning rise yesterday on speculation of takeover. Platinum Australia (PLA) continues to rebound and is up over 5%
HFA is the biggest loser down 2.5%, whilst profit takers step on Sigma Pharma (SIP) meteoric rise and have sold it down 2% (Disclosure: I was one of them).
Daily Chart
The daily chart shows how the current price activity still hovering around the low point of the Japanese/MENA lows of March. It seems 4500 points is now resistance (i.e the price above the market is not willing to pay) switching from support.
I've included a cyclical indicator on today's chart, that shows the short term rallies amongst the overall correction since mid-April. A false breakout occured at the end of May with a reading above 0 – and this could occur again during this impulse rally. It's still early days yet, and as Houses and Holes recently pointed out, many traders and institutions will use any subsequent rally to sell down and add to short positions.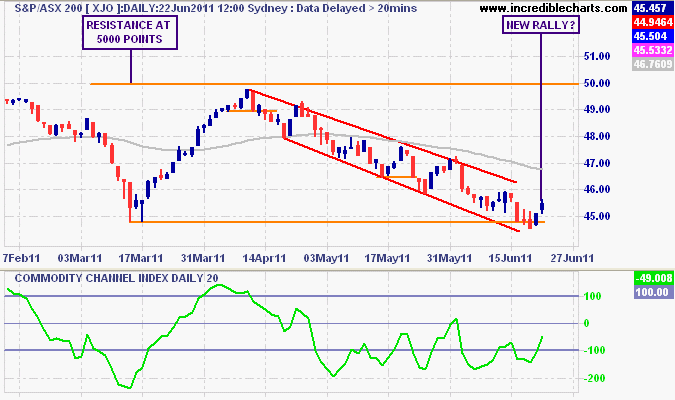 Update: here's the same chart but with the upper trend channel extended, as requested by Bullion Baron. It would suggest that for this rally to be more than just a counter trend in the correction, a close above 4580 points is required.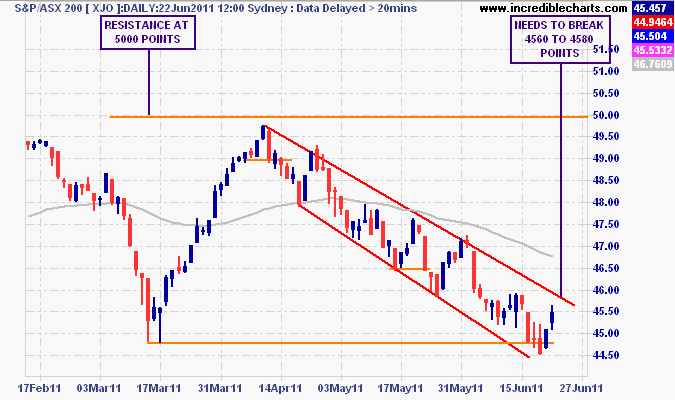 Latest posts by Chris Becker
(see all)