The Reserve Bank released its latest Chart Pack yesterday. As a technical analyst/chartist, I prefer a visual representation of data and have always found this series of charts fascinating. The whole pack can be downloaded here (1.28 mB or so) or viewed by section here.
Although it covers many areas, I'm going to look at 3 sections: interest rates, inflation and GDP.
Interest Rates

The main (only?) focus of the commentators regarding the RBA is the Cash Rate, which is determined at the monthly meetings. The graph below shows the published cash rate (in red) and the real cash rate (adjusted by CPI and in blue).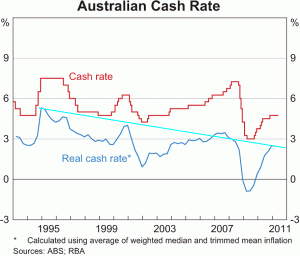 For all the wailing about mortgage rates (which are still determined by the cash rate), it is clearly evident that rates are still at near-historic lows. More importantly, adjusted for CPI, the real cash rate is extremely low – not even 3% – not exactly a tight monetary policy.
This chart shows three things: first, contrary to popular opinion, the current cash rate is very low; secondly apart from the too slow response of the early 2000's RBA rate rises, it is at a 20 year low and thirdly, the trendline in the real cash rate points to a low inflation, possible deflation trajectory (light blue line).
You could take this one of two ways: either the obvious stress in the housing market is pointing to a much lower threshold for pain amongst households with historically high debt levels or we've become a bunch of serious whingers.
Next, let's look at bond yields which reflect the low interest rate environment – starting with the Aussie 10 year.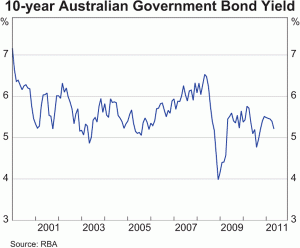 Now, some would say that high bond yields are reflective of a nation with poor monetary policy (e.g Greece, Ireland) or a history of default (e.g Latin America). What is clearly evident is that emerging and the developed world bond yields are converging, with average yields below 6%. This is reflective of a huge move towards government debt as an asset class over the last 30 years, as most nations have private and public pension schemes and finances that rely upon a liquid and growing government debt market.
The question is – is this a bond bubble? According to PIMCO, the world's largest bond investor, the US market certainly is. The paradox is that government bonds – in almost any country – barely provide a real yield after inflation, but what else provides stable, albeit pathetic returns?
RBA has controlled inflation?
Now about that inflation – the measured CPI rate is wildly volatile – not exactly the hallmark of a well regulated monetary system. Notice the broadening triangle pattern since 1999 after moving out of a low inflation era.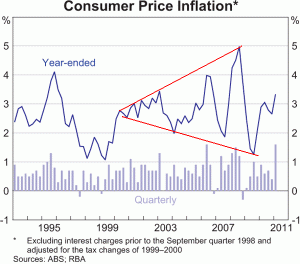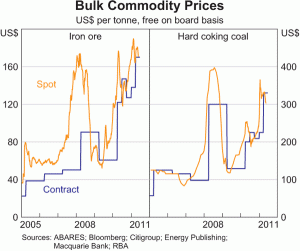 Latest posts by Chris Becker
(see all)