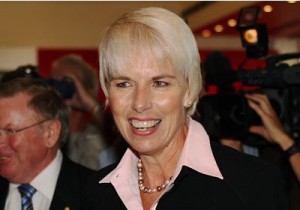 Earlier today, Delusional Economics published a ripping post, Bad bank provisioning, analysing Westpac Chief Executive, Gail Kelly's, public reassurances that the Australian housing market is robust and that the recent rise in mortgage delinquencies is not a major concern for the economy or the banks' profits.
Delusional concluded with the following insight into the motivations behind Ms Kelly's public assurances on loan arrears:
I think one of the reasons for such disclosure [on mortgage delinquencies] is that there hasn't been a time in the last 20 years where bad debt provisions have been such a substantial driver of return on equity for the banks. In a market of falling rates of credit issuance an increase in bad debt provisions will have a much more visible effect on banking profitability than it otherwise would. The banks next quarter profit reports will certainly be an interesting and enlightening read to get a handle on how big the issue actually is, but given the sensitivity of the issue shown by Ms Kelly I suspect you will be seeing similar messages from all banking chiefs.
Yesterday's Australian Financial Review (AFR) included an article, entitled Westpac's Kelly rejects housing fears, providing the following explanation from Ms Kelly on the recent rise in delinquencies:
She said the combination of the record number of mortgages written in 2008 and 2009, and slow credit growth, was responsible for the rise in mortgage delinquencies.

Normally, new lending growth can offset a rise in arrears, which usually peak two to three years after a loan is initiated.

"Usually the new size of the portfolio offsets that somewhat, because with the new lending there are lower delinquencies", Ms Kelly said.

"But because new lending growth has been lower recently, it magnifies that delinquency pattern".
This blog has talked a lot about the ponzi-like nature of the Australian housing market, whereby ever-increasing amounts of mortgage credit are required to sustain rising house prices. Now it appears that increasing mortgage credit is also required to prevent mortgage delinquencies from rising!
No doubt the banks and government will be hoping that delinquencies stabilise soon, as experience overseas shows that rising loan arrears typically precedes rising unemployment (see below RBA chart):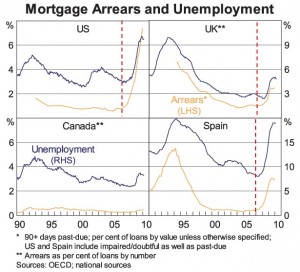 It will be interesting to see whether the same relationship between mortgage arrears and unemployment holds for Australia. Only time will tell…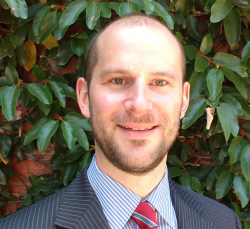 Latest posts by Unconventional Economist
(see all)