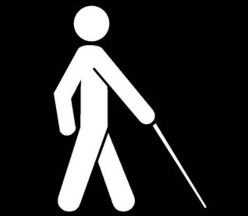 BIS Shrapnel are never afraid of making a bullish property forecast. In July last year, near the peak of the last housing cycle, BIS chief, Frank Gelber, made the following bold prediction on the future direction of house prices in Australia [my emphasis]:
Frank Gelber gave members at a Real Estate Institute of Victoria lunch a very optimistic forecast for house prices, as reported in the Sydney Morning Herald.

"At the end of the day, we haven't got a bubble in our residential market. We're undersupplied, not oversupplied … [House] prices will go up another 30 per cent over the next three years"…

"We're not over-geared, we're not overvalued and we're not oversupplied," he said. "I can't remember in the last 30 years a time when I have been more comfortable and optimistic about investment in the market".

Australia's recovery would not be affected by global economic uncertainty, he added.
Well we all know what has happened since then (chart from RP Data):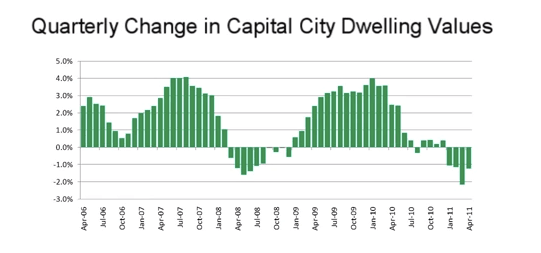 Now BIS Shrapnel has released its latest forecasts for house prices. And while they have moderated their outlook significantly, BIS is still forecasting solid growth for WA, New South Wales, and North Queensland. From SmartCompany:
The Australian property market is not set to crash any time soon, a new report from BIS Shrapnel has found, with prices expected to remain steady in 2011 and grow moderately over the next two years…

Zigomanis also says while prices will remain flat for the rest of the year, growth will be moderately higher over the next two years due in part to the ongoing chronic undersupply of dwellings.

"There is an underlying deficiency in Melbourne, obviously not as pronounced as it was two or three years ago, and we're building a lot more now. But there is still going to be upward pressure there."

The BIS Residential Property Prospects to 2011-2014 report may relieve fears the current correction will lead to a crash, describing current downward pressure as temporary and tipping long-term growth…

Throughout the rest of the year, affordability is expected to remain strained, putting a dampener on price rises. But over the next three years, Perth, Sydney and Brisbane are expected to see the biggest rises through 2014 due to new dwelling construction remaining under demand levels.

Growth outlook by region

Sydney: Median price forecast of $640,000 in June 2011. Prices to increase at 5.7% per year to 2014 due to low construction and vacancy rates.

Newcastle and Wollongong: Will benefit from migration from major cities due to unaffordability. Prices to increase in Newcastle by 18% by 2014, and by 16% in Wollongong.

Melbourne: Upward pressure falling as construction ramps up, and economic growth to flow through into wages. Price growth to be 6% in the next three years.

Brisbane: Median house price of $440,000 in June 2011 representing 4% decline over the year. State economic weakness, flooding and underlying demand weakened by migration all lead to downward pressure. Price gains to be at 4.7% over the next three years.

Gold Coast and Sunshine Coast: Prices moving along with Brisbane, but wide range of property and low flow of migrants mean prices are set to grow at just 3.7% over three years.

Townsville and Cairns: Economies impacted by low resources investment and weak tourism, but resources market to pick up in 2012-13. Price growth for Townsville to be 16% over three years, and 14% for Cairns.

Adelaide: Median house price of $410,000 to be static in 2010-11. Construction exceeding demand, leading to price growth of just 8% over next three years – in real terms, this is a decline of 2%. After a moderate rebound of 14 per cent in 2009/10, Adelaide's forecast median house price of $410,000 in June 2011 is estimated to remain static in 2010/11.

Perth: Housing prices in decline since 2007 due to rising economic conditions and strong construction. But stronger population growth will lead to deficiencies, with growth to be 19% to 2014.

Hobart: Growth to be supported by strong migration, although this will cease at some point in the next three years as mainland city price growth moderates. Growth to be just 5% over the next three years.

Canberra: High incomes to support house prices, with median to rise 7% over three years to 2014.

Darwin: Prices underpinned by resources sector, but affordability poor. Lack of resource investments in the future will reduce upward pressure. Prices to rise by just 7% in three years to June.
Interestingly, BIS' forecast of solid house price growth in Perth – 19% over the next three years – has drawn strong criticism from WA housing 'experts', who have also questioned BIS' previous forecasting track record:
WA property experts have rubbished a forecast that Perth house prices will increase 19 per cent over three years…

However, at least three other property experts criticised the report as being exaggerated and too optimistic.

Real Estate Institute of WA president Alan Bourke said the 19 per cent prediction was "way too high" and based on incorrect interpretations of population data.

"They're underpinning [their prediction] with net migration into WA, whereas … we're seeing 20,000-25,000 less [people] coming to the west than there was a couple of years ago," he said.

Australian Bureau of Statistics data released last week showed there was a net gain of 47,400 people into WA last year. That compares to about 72,000 in 2008-09.

Mr Bourke said BIS Shrapnel had been incorrect in the past.

"They had exactly the same prediction two years ago … and we saw really no movement at all in the past two years," he said.

"They certainly haven't been accurate, far from it."

Property Council WA executive director Joe Lenzo said he did not expect Perth house prices to rise within the next nine to 12 months and then only gradually.

"There's sufficient evidence that prices will increase [but] I wouldn't be putting 19-20 per cent on it," he said.

"BIS Shrapnel has a habit of pushing the envelope on either the upside or downside, depending on what they're talking about."
For mine, Real Estate WA's criticism is most interesting. Generally, I would expect the real estate lobby to hail such a forecast as a reason for buyers to enter the market in the hope that it will encourage sales and boost commissions. However, it could be the case that with the Perth market having been in the doldrums for years now, Real Estate WA has shifted its focus to conditioning reluctant vendors to accept lower prices. And BIS' bullish forecasts might be counter productive in that they could encourage vendors to hold out for higher prices, hence the animosity.
Further down the article, Australian Property Monitor's (APM) also questions BIS' Perth forecast:
Australian Property Monitors senior economist Andrew Wilson… believe[s] there is potential for the market to climb out of the stalemate from mid-next year but were cautious to predict bullish growth by 2014.

"Given the fact that the Perth property market has really been in decline for the last three to four years we predict an upside but our figures show that the Perth property market is still very flat and there's no definitive signs of recovery or stabilisation," Dr Wilson said.

"I think it would take all the boxes to be ticked for the recovery to strengthen over the next two to three years."
Like BIS, APM were also caught-out in March last year predicting a doubling of house prices in Sydney over the next decade, with even stronger gains expected in Perth and Brisbane. From the Sunday Telegraph [my emphasis]:
UP TO half of Sydney homeowners are set to become property millionaires, with house prices predicted to double in the next decade.

Figures prepared exclusively for The Sunday Telegraph by Australian Property Monitors (APM) show Sydney's median property price is on target to reach $1.2 million, averaging 7.6 per cent growth per annum…

APM economist Matthew Bell said Sydney house prices have grown on average seven to eight per cent per annum over the past 20 years and this was set to continue.

"We are a relatively affluent country with very good long-term prospects in terms of resources boom and population growth – I just can't see us underperforming," Mr Bell said. "When I was young, a million dollars was a lot of money – now it's less money and that is just the power of inflation."

While Sydney prices are strong, it may not make the same gains as other cities with stronger projected population numbers…

"If I had to invest somewhere in Australia it would be Perth followed by Brisbane because you have strong incomes, a resources boom and strong population growth," Mr Bell said.
While it is fair enough to change one's forecasts as circumstances change, surely revisions of the magnitude of BIS and APM are worthy of investigation and scrutiny by the mainstream media?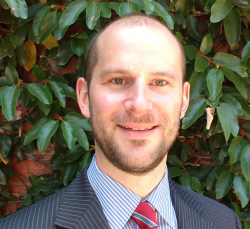 Latest posts by Unconventional Economist
(see all)